With the success of our popular Where's My Water? and Where's My Perry? mobile games, today we're launching our newest game in the series — Where's My Holiday?, featuring both Swampy the Alligator and Agent P.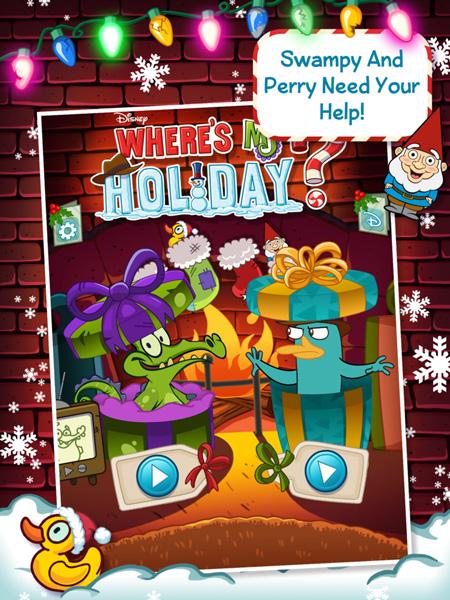 It's been quite a year for Disney Mobile Games with five of our games reaching the App Store #1 spot and the "Where's My…" series hitting 100 million downloads since Where's My Water? first hit the App Store in 2011. Since launch, Disney's first character originating on a mobile platform, Swampy, has inspired a merchandise line at Disney Store, a board game from Hasbro and his own animated web series airing on Disney.com and Disney Channel.
To celebrate, fans can download Where's My Holiday? for free and play along with Agent P and Swampy in 12 all-new holiday-themed levels. The game is available for iOS in the App Store and Android at Google Play.
We can't wait to share exciting news with you in 2013 as we continue to grow the "Where's My…" franchise!