Happy Birthday Swampy!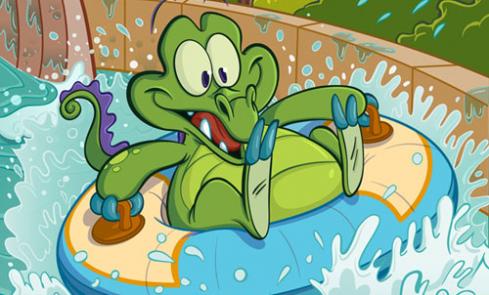 On September 22, 2011, Swampy the Alligator first swam into the hearts of families around the world in the smash hit mobile game Where's My Water? for iOS and Android devices. Swampy represents a historic landmark for the Interactive group as the first Disney character to originate on a mobile platform.
Since Disney Interactive introduced Swampy to fans, Where's My Water? shot to the top of the App Store charts for multiple weeks, reaching the #1 position in 90 countries. Disney Mobile Games has also added more than 350 additional levels in the original game, released a free version of the app for iOS and Android and launched the newest addition to the line-up, Where's My Perry? (iOS, Android) bringing characters from Disney Channel's Phineas & Ferb into Where's My Water?'s innovative gameplay mechanics. Together, Where's My Perry? and Where's My Water? games have been downloaded more than 100 million times!
Swampy-fever hasn't stopped at Disney Mobile Games, inspiring new and upcoming products and experiences in division across the company. In June, Disney Consumer Products launched the Where's My Water? line of toys and apparel including plush toys, t-shirts, iPhone cases and of course, bath toys.
This Summer, Walt Disney Parks & Resorts also introduced guests to Swampy at Typhoon Lagoon at Walt Disney World Resort through in-park signage, merchandise and rubber ducky pool floats.
And after a year, Where's My Water? shows no signs of slowing down. This fall, fans can look forward to the new web series, "Disney Where's My Water? Presents: Swampy's Underground Adventures," premiering on Disney.com and the Disney on YouTube network as well as special black-and-white levels in Where's My Water? Free (iOS, Android) inspired by Disney and Tim Burton's stop-motion animated film Frankenweenie featuring a Sparky cameo and all new theme music.
We're excited to welcome Swampy to the Disney family and can't wait to see what's in store for our favorite gator in the years ahead!