Disney's Oz The Great and Powerful opened March 8 with more than $79 million at the domestic box office – the biggest opening of 2013 and the third highest March debut ever. It also opened day and date in 46 territories around the world, contributing to a global total of more than $148 million.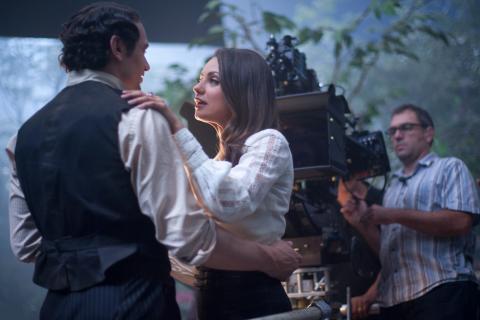 Innovation drives technology at our animation studios, but of course it's a key aspect of our live-action filmmaking as well. Each movie presents new challenges throughout the production and postproduction process.
With spectacular scenery, peculiar plants, curious creatures, and plenty of mystery and magic, Oz The Great and Powerful is Oz like you've never seen it. To make it come to life, the filmmakers knew much of the film would have to be digitally created.
At the same time, director Sam Raimi wanted to make the set environment as real as possible for his actors, including James Franco as the famous wizard; Zach Braff as a talking, flying monkey who befriends the wizard; and Mila Kunis, Michelle Williams, and Rachel Weisz as three witches of Oz.
Production designer Robert Stromberg, who previously worked on Disney's live-action Alice in Wonderland, built 24 full or partial sets to create a vivid environment for the actors.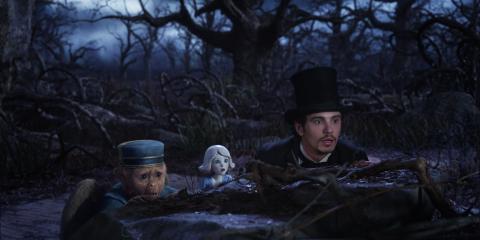 However, there are a couple of entirely digital characters, like China Girl (played by Joey King) and Finley (Braff), and Raimi wanted the actors to be able to interact whether they were physically on the set or not.
The solution was a system dubbed the puppet-cam, worked out by Scott Stokdyk, the film's visual effects supervisor, and his team.
Braff and King frequently worked in recording booths outside the soundstage, and their face and vocal performances were transmitted in real time back to set via small monitors positioned at the end of poles. (Typically, a CG character's face position would be indicated by a ball attached to the pole.)
Cameras attached to the monitor setup sent the on-set footage back to the recording booths, and the actors and director communicated via audio feeds.
The result was a new way to accomplish physical and CG character interaction – and an Oz with some of today's most innovative film wizards behind it.