Toy Story Land, an immersive new land at Disney's Hollywood Studios that invites guests to become honorary toys and "play big," was dedicated this morning in a ceremony presided over by Disney Parks, Experiences and Consumer Products Chairman Bob Chapek. The colorful 11-acre land brings Pixar Animation Studios' beloved Toy Story films to life in new and exciting ways, taking guests "to infinity and beyond" as they experience two new attractions, a delightful new dining establishment and unexpected surprises at every turn as they enjoy a "toy's eye view" in Andy's backyard. The land opens to guests on Saturday, June 30.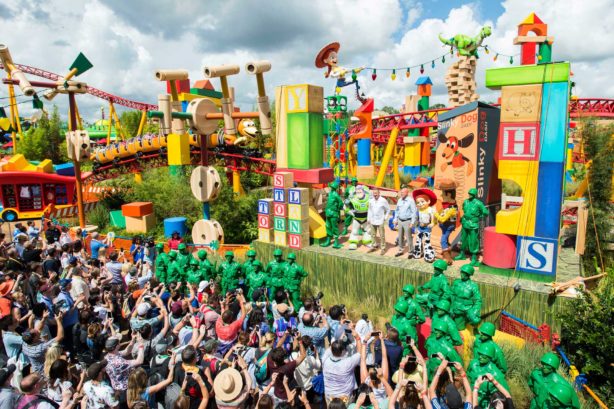 "We're welcoming everyone who has ever dreamed of being a part of their very own toy story to a whole new land where that's actually possible," Chapek said at the dedication. "And we're taking a big step in the evolution of Disney's Hollywood Studios as we transform it from a place that took you behind the scenes into one that actually puts you and your family at the center of the action."
That action includes new attractions Slinky Dog Dash, a family roller coaster, and Alien Swirling Saucers, where guests whirl and swirl around toy planets and space stations with the fan-favorite green Aliens from the Toy Story films; exciting updates to the Toy Story Mania! attraction, which debuts a new entrance that's designed to resemble the box that "Andy's Toy Story Mania Midway Games Playset" came in, along with a third track to allow even more guests to enjoy the popular attraction. As guests "shrink" to the size of a toy to experience Toy Story Land, their surroundings will naturally appear to be that much bigger—as exemplified by Woody's Lunch Box, a walk-up window that serves up new takes on old-fashioned favorites in an eatery that counts a super-sized thermos among its exquisite details. Play is celebrated throughout the land, where the décor spotlights classic toys and games that fascinate the young and pour on the nostalgia for the young at heart, from lampposts shaped like Tinkertoys to benches built from Lincoln Logs and K'nex pieces.
The new land has come together through a collaboration between Walt Disney Imagineering and Pixar Animation Studios, a partnership that formed decades ago. Today Chapek recalled his first introduction to Toy Story, via early schematics and drawings that illustrated how special the animated film and its world would be. "Now, 20-plus years later, it's no wonder that fans around the world have made a place for Toy Story in their hearts," Chapek said today. "What kid—or kid at heart—hasn't wanted to see their toys come to life and play right alongside them? We can think of no better way to kick off the future of this great park than by inviting you to do just that in Andy's backyard. With this new land we're taking what we do best, creating magical experiences, and combining them with the heart, the humor and the adventure of Toy Story."
Toy Story Land is just one of the many new experiences coming to Disney's Hollywood Studios. Today Disney Parks, Experiences and Consumer Products announced Lightning McQueen's Racing Academy, a new show that will place guests in the middle of the world of Disney•Pixar's Cars, debuting in early 2019; and revealed a new image of the eagerly awaited Mickey & Minnie's Runaway Railway attraction planned to open in 2019. Construction also continues on Star Wars: Galaxy's Edge, where guests will live out their own Star Wars stories when the new land opens at Disney's Hollywood Studios in late fall of 2019.