Pixar storytelling is an inherent part of Disney parks and resorts around the world, where guests defeat evil Emperor Zurg alongside Buzz Lightyear; converse with a beloved character from Finding Nemo in Turtle Talk with Crush and even shrink to the size of a rat on the attraction Ratatouille: L'Aventure Totalement Toquée de Rémy. In 2018, Pixar Animation Studios and Walt Disney Imagineering (WDI) are expanding the animation studio's iconic storytelling in what has been called a "Year of Pixar" at Disney parks. Disney•Pixar Toy Story Land debuted at Shanghai Disneyland on April 26, and an "Incredible Summer" is now under way at Walt Disney World Resort, where Toy Story Land opens at Disney's Hollywood Studios park on Friday, June 30. Beginning this Saturday, June 23, guests at the Disneyland Resort will experience a newly re-imagined land in Disney California Adventure park when Pixar Pier opens during the resort-wide celebration, Pixar Fest. All of these new experiences immerse guests in the worlds of Pixar in unique ways that could only be made possible with the amazing, longstanding collaboration between Pixar Animation Studios and Disney Parks.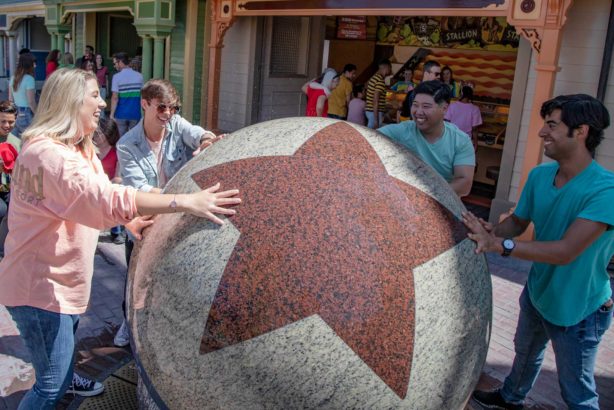 Roger Gould, Pixar Animation Studios' creative director for theme parks, explains that the studio looks for an emotional connection for fans as they bring to life Pixar stories in Disney parks, and he notes that both Pixar and Disney share a common purpose. "I think it comes down to the fact that we're getting to take people to places they've never been before, which is really, really exciting—whether it's under the sea, or around the world, or into outer space, or inside the human mind, or someplace as improbable as the land of the dead," says Gould. "There's something transformative about that, which is obviously what Disney parks are about—transporting people into new and special places."
New Pixar experiences in Disney parks begin with a team at Pixar that includes animators, lighting experts, and special effects specialists. Liz Gazzano, Pixar's executive producer for theme parks, shares, "And then once we get going on a project with WDI, our little team [expands to] become one giant team with Imagineering. How it works best is when we all just sort of end up finishing each other's sentences at the end of four years. It becomes very close knit."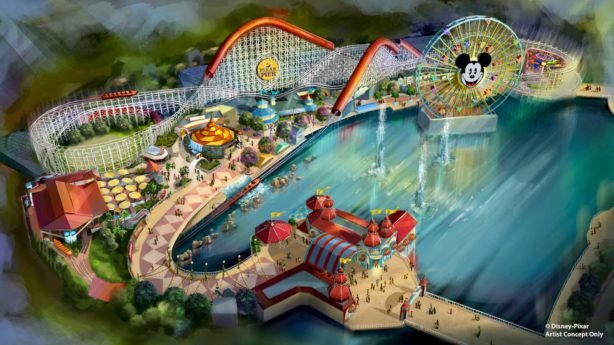 Together the teams have created such spectacular lands as Cars Land, also in Disney California Adventure park, where guests stroll through the world of Radiator Springs, and Toy Story Land, which invites guests to shrink down to the size of a toy. WDI Producer Jeffrey Shaver-Moskowitz details that they approached Pixar Pier, officially debuting this Saturday, a bit differently. He describes the reimagined land as a collection of moments and stories that provides a wonderful opportunity to explore the Pixar stories that have not yet been told within a Disney park, and he points to the thrilling Incredicoaster ride as an example of that. "You get these immersive moments in places like Incredibles and Toy Story, but [Pixar Pier] still gives us freedom to introduce our new characters—because we know there are new films coming out. There are new characters that are going to be joining the Pixar family, and we wanted a place where those characters always have a home—and our Pier provides that for us," he says.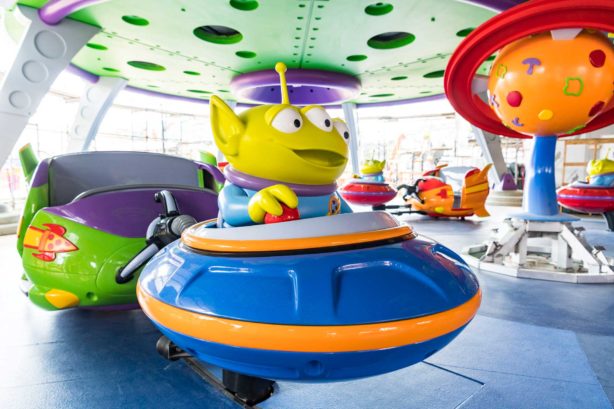 On the opposite coast, the immersive 11-acre Toy Story Land is home to three attractions, including the brand-new Slinky Dog Dash and Alien Swirling Saucers, and places guests in Andy's backyard where they enjoy a toy's-eye-view of the world. Kathy Mangum, regional executive for WDI, emphasizes that the land connects people from all over the world and of all ages and allows them to have shared family experiences. She explains, "It really takes the experience of watching a movie really into a whole other dimension where you can feel it, taste it, ride it and meet the characters. It just expands on it beautifully."
"We always say that if we do our job right, when the film ends and the credits roll, the audience will believe that the world continues," says Gould. "Just because Mike and Sulley finally made it into Monsters, Inc. doesn't mean their story ended. It'll keep going. And that's what we've been able to do in the parks, is keep those stories alive and moving forward in so many different ways."