A trio of Super Heroes is about to go higher, further, faster… together.
In Marvel Studios' The Marvels, Carol Danvers aka Captain Marvel (Brie Larson) has reclaimed her identity from the tyrannical Kree and taken revenge on the Supreme Intelligence. But unintended consequences see her shouldering the burden of a destabilized universe. After examining an anomalous wormhole linked to the Kree revolutionary Dar-Benn (Zawe Ashton), Carol's powers become entangled with those of teenage super-fan Kamala Khan aka Ms. Marvel (Iman Vellani) and S.A.B.E.R. astronaut Captain Monica Rambeau (Teyonah Parris)—who, of course, is Carol's estranged niece. Together, this unlikely trio must team up and learn to work together to save the universe.
The 33rd movie in the Marvel Cinematic Universe (MCU), The Marvels—a sequel to the 2019 box office phenomenon Captain Marvel—opens in theaters today. In an exclusive Q&A, director and writer Nia DaCosta discusses her vision for the film, her hopes for the characters, the advice she sought from veteran directors—and much more.
As a child, you were a big fan of Marvel Comics and X-Men: The Animated Series. How did it feel to later be given the opportunity to write and direct a Marvel Studios movie?
Great! When I first started making films, this was something I always wanted to do. I felt like I could have some fun and also do something really great. It was amazing and exciting.
What did your initial conversations with Marvel Studios about The Marvels entail?
It's interesting. From the initial outline that I got when I was pitching to now, it's quite different. However, these three women being in the film, switching places—a lot of the thematics that were under the surface had been there from the beginning. I just wanted to pull that more to the surface. Family became a huge theme. Home became a huge theme. Figuring out the emotional underpinning of the relationships between the three of them was huge for me. That was how I'd think about it. I would think, "What can I bring to this?"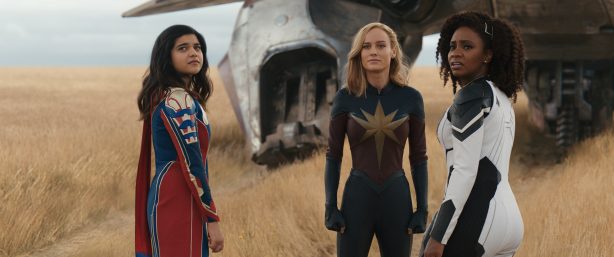 What intrigued you most about bringing Carol, Kamala, and Monica together?
They're all so different. It was really cool to be able to represent three different female Super Heroes, and the way they relate to each other was really exciting. Having a superfan [Kamala] meet her idol [Carol], and then having a hurt young woman [Monica] meet her aunt again after decades apart was interesting. And that's all happening while they're trying to figure out why they're switching and trying to save the universe. All of those things together was exciting. That I got to work with these three particular heroes was cool.
What interested you most about continuing Carol's journey to find her place in the universe, while also showcasing more of Kamala and Monica in a bigger, cinematic way?
It was really important to me that we understood more about who Carol was when she wasn't saving the world. I wanted to see where she lived, how she relaxed, what kind of music she listened to—all of that stuff. Who is she as a human being? If we were going to do another Captain Marvel film, I thought that was super important. In Ms. Marvel, we got to see so much of Kamala's family, so much of her life, so much of her background, so much of her history—so much of her. It was really exciting to bring that to the big screen, but also push her into even more unfamiliar territory. And then Monica… she's really the one whose story we had to tell the most, in the sense that we've seen the least of her before this film. I wanted to make sure we saw her become the hero that she becomes throughout the film. The balance of the three characters was one of the things we had to figure out in this film.
How were you able to use so many supporting characters without muddying the waters?
Trial and error! [Laughs] It really was trial and error, but also just bringing to the fore everything we loved about these characters and following the thematics of what we wanted to talk about. For me, it was family. It was home. Who represents family better than the Khans? Seeing how Kamala can go out and take on the world because her family is there supporting her every step of the way, that is something I think Captain Marvel needs to remember and to connect with. They kind of represent that theme for everyone in the film.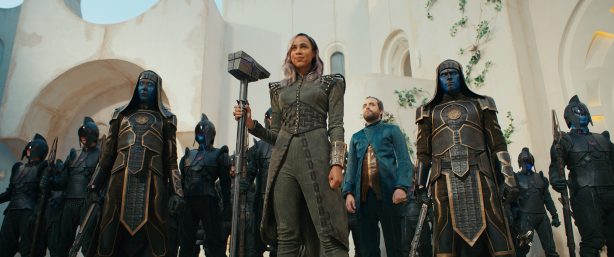 How did you decide to make Dar-Benn—a relatively minor, male character in the comics—the villain? Not having a backstory could almost be a double-edged sword.
Before we had a specific villain [in place], we knew what we wanted the villain to want and what we wanted them to do. And because thematically the film is about home, it had to be connected to Hala, to the Kree, and to them fulfilling a need to survive, basically, by taking from other people and being villainous about it—because that's sort of their M.O. It was cool to reference the comics, but then also do what we wanted. We wanted to have some evil, imperialist energy, too, so that made sense for the character. And when Zawe came in, she just really had fun with it. She's such an amazing actress, and she was so excited to leave it all on the floor, just like the rest of us did. Working with Zawe was really, really fun.
What's the key to wrangling dozens of cats on set?
Being very fast so they don't get away and working with the best animal trainers in the UK!
The Marvels is the biggest movie you've done to date. What was it like to direct a project of this scale and to gain more experience during the post-production process?
It was something I had really wanted to do, and I was given the opportunity to learn on this movie. The way I approached it was by being very honest and saying, "I've never done this before. So, while I'm learning how this works, I will be as clear as possible about what I want to see at the end of the day." My VFX supervisor and my stunt coordinators would tell me what elements were required to shoot something. And as we kept going, I learned more. Eventually, I was able to do it really succinctly. We developed a shorthand. There was a lot of support and a lot of goodwill inside of Marvel to help me throughout that journey.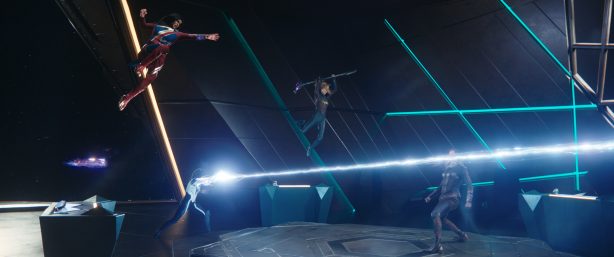 You consulted Ryan Coogler (Black Panther, Black Panther: Wakanda Forever), Chloé Zhao (Eternals), James Gunn (Guardians of the Galaxy franchise), Taika Waititi (Thor: Ragnarok, Thor: Love and Thunder), and Destin Daniel Cretton (Shang-Chi and The Legend of The Ten Rings) while making The Marvels. What advice did they share? How did it feel to have the support of so many experienced MCU directors at your disposal?
I got so much advice. It was really great. Destin, in particular, was such a wonderful resource. I think some of the best advice I got was to just be yourself and bring everything you can to this—give everything you have creatively. And I think that's all you can really do.
It's nice to hear that in a film about family, you found a family within Marvel as well.
One hundred percent.