"It's the most wonderful time of the year," as the song goes, and it's also a wonderful time of giving here at Disney.
As part of Disney's year-round commitment to giving back, we extend a helping hand to communities in need through a combination of volunteer time and donations during the holidays — and we'll share some of these efforts here over the next few weeks.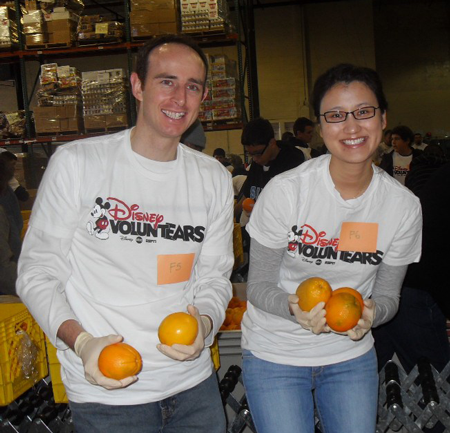 Our season of giving began last month with Family Volunteer Day, and it continues with a $100,000 donation today to the Los Angeles Regional Food Bank. The donation will support the organization's BackPack Program, which provides more than 39,000 backpacks for low-income families. The backpacks are filled with enough nutritious food for six meals, and will be distributed every Friday during the 2013-2014 school year. This program is the only effort in Los Angeles County that serves the needs of hungry children over the weekend.
To date, we've provided more than six million nutritious meals to families across the country through our partnership with Feeding America. These ongoing efforts are part of Disney's Magic of Healthy Living — our global initiative to build healthier futures for kids and families.
The Food Bank donation is just the beginning of this month's giving efforts. From a holiday party at a children's hospital to toy donations in partnership with Toys for Tots, we have a unique opportunity to share our characters and stories to bring smiles to kids who need it most.
Check back this holiday season to hear more about these efforts as our season of giving series continues.