Just over two years ago Disney Junior premiered its first original series, Jake and the Never Land Pirates, a music-filled interactive treasure hunt that follows the Never Land adventures of a crew of kid pirates, leader Jake and pals Izzy and Cubby. Since then, the animated show has become a certifiable hit with the preschool set – and their parents, too! In fact, the Annie Award-winning series consistently ranks among the Top 3 cable television series in Kids 2–5, and for 2012/13 season to date, is the No. 1 cable television series in Boys 2–5.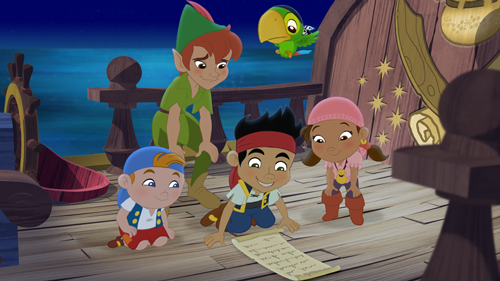 If you tune in to Jake and the Never Land Pirates, you surely recognize that Disney's Peter Pan inspired the series. But just how much do you know about the company's multi-decade history with the "boy who wouldn't grow up"?
Scottish novelist and playwright J. M. Barrie first shared the adventures of Peter Pan in a section of his 1901 novel The Little White Bird. This mischievous flying boy later spurred the 1904 stage play Peter Pan, or The Boy Who Wouldn't Grow Up, and the subsequent novel,Peter and Wendy, published in 1911. Like countless others, Walt Disney was enchanted by the tale and wanted to bring it to the big screen. With a little faith, trust and pixie dust – as well as the work of talented animators, directors and voice talent – Peter Pan saw its silver-screen debut in 1953.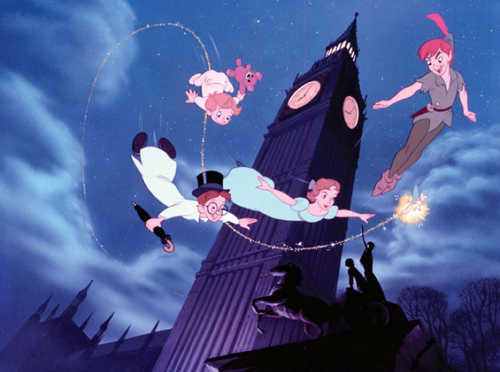 In the six decades since Peter and Tink first flew into theaters, the animated feature – Disney's 14th – has cemented its status as one of the greats. Following its 1953 release, the film inspired Peter Pan's Flight, the now-classic dark ride found at four Disney parks around the world, as well as merchandise, video games, a Disney On Ice production and more. In fact, the film's lovable characters reach the far ends of The Walt Disney Company to this day – Tinker Bell steals the spotlight in the popular Disney Fairies franchise; Peter and the Starcatcher, a play based on the 2006 novel of a similar name by Dave Barry and Ridley Pearson, hit the Broadway stage in April 2012; and on February 5 – the 60th anniversary of the film's premiere – Walt Disney Studio Home Entertainment released the Peter PanDiamond Edition Blu-ray Combo Pack for the first time.
As you can see, with pirates, mermaids, treasure hunts and more, Disney Junior's hit seriesJake and the Never Land Pirates is certainly right at home at Disney. Off to Never Land we go!