From a new musical production of Aladdin being developed in Russia to a Finding Nemo-themed dip in the icy North Sea, today we're sharing some of this year's most interesting updates from across Europe.
Disney and the Saint Petersburg Theatre of Musical Comedy are developing a special performance of Aladdin that will run from March 23-31. The musical, designed specifically for children, will combine award-winning music, special effects and choreography to create an unforgettable experience. The show will feature performances by professionals from Russia, Poland and Sweden. Marina Jigalova-Ozkan, managing director for Disney in Russia, shares, "We are committed to creating shows specially designed for Russian audiences, andAladdin is another example of that commitment. We are delighted that the musical will run in Saint Petersburg, Russia's northern capital."
February 5th marked Safer Internet Day in Europe, giving teams from across Disney an opportunity to teach kids how to "connect with respect." Disney Channel aired special video spots; Disney Store facilitated friendship bracelet making; and Club Penguin created downloadable safety-themed surprises. These efforts were part of a commitment Disney made in July to help internet safety partners spread educational messages across Europe.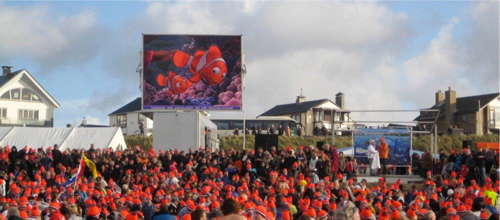 This year, a record 40,000 people rang in the New Year with an icy dip in the North Sea – an annual tradition in the Netherlands. The event, themed to Finding Nemo to celebrate the film's 3D release, featured an LED screen with the movie trailer, music from the film's soundtrack and fun giveaways. And children, known as little divers, each received Finding Nemo 3D goggles. Alongside these activities, Marjet van den Brand, winner of Holland's The Voice competition, gave a vocal performance during the seven-minute Nemo>-styled warm up.
Stayed tuned as we continue to share Disney updates from around the world!