Ralph and Vanellope are back—in more ways than one.
Walt Disney Animation Studios' highly anticipated sequel, Ralph Breaks the Internet, lands in theaters November 21, the same day that a brand-new Ralph-themed virtual reality experience opens across the country, inviting guests to become part of the world of the films. Called Ralph Breaks VR, the immersive new experience allows guests to join everyone's favorite videogame bad guy Wreck-It Ralph and his best friend Vanellope von Schweetz in a whole new experience that puts guests right in the middle of the action—literally.
The VOID, a past participant in the Disney Accelerator program and the global leader in immersive virtual experiences, together with ILMxLAB, Lucasfilm's award-winning immersive entertainment division, teamed up with Walt Disney Animation Studios to create this brand-new experience opening at Downtown Disney at Disneyland, Disney Springs at Walt Disney World and other locations across the country this week. The ILMxLAB + VOID partnership is part of a broader Disney Studios innovation program called StudioLAB that endeavors to advance the art of storytelling through advanced technology.
The VOID and ILMxLAB also collaborated on last year's Star Wars: Secrets of the Empire, a virtual reality experience that enabled teams of players to run around inside a shared environment and compete against Stormtroopers. For Ralph Breaks VR, instead of blasters and lava, guests will launch pancakes and milkshakes against evil bunnies, kittens and drones. In designing the new experience, the teams at The VOID and ILMxLAB tapped into the latest VR technology as well as the physical setup of the space to ensure that Secrets of the Empire is not leaving. Instead, The VOID is able to offer guests the option to choose either Star Wars or Ralph Breaks VR.
In Ralph Breaks VR, groups of four players, disguised as characters from the film called "Netizens," break into the Internet with Ralph and Vanellope to play the newest, coolest video game ever. And as can be expected, everything goes wrong—which is where the fun begins!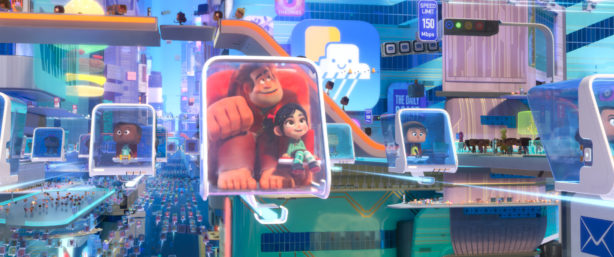 "You basically have to try to get out of the Internet alive before you're eradicated as a virus," says Pamela Ribon, the writer for Ralph Breaks VR and co-writer for Ralph Breaks the Internet. "You don't have to know any of the characters to experience this. It's in the world that we have for the sequel, but it's not dependent on the sequel to have a good time."
In addition to writing, Ribon also lends her voice to a brand-new antagonist for Ralph, Vanellope and guests to face off against: B.E.V., which stands for Built to Eradicate Viruses. "B.E.V. is the security cam who's chasing Ralph and Vanellope and the players as they move through the Internet," Ribon says. "When she finds something that's not supposed to be in the Internet, her job is to eradicate it."
B.E.V. was actually a character in earlier iterations of Ralph Breaks the Internet, but had to be let go as the story evolved. "We've always had a fondness in our hearts for B.E.V.," says Ribon, "so when Ralph Breaks VR needed a villain, I thought, 'Oh gosh, we have one.'"
Ralph Breaks VR is unique in that players actually move around inside the warehouse-sized space, talking to each other, helping each other. Players physically move from room to room, with each location a different candy-colored virtual space in Ralph's world, including the Pancake Milkshake Diner, where players get to launch pancakes and milkshakes to help rescue Ralph. The total guest experience is approximately 30 minutes from check in to check out.
"There is nothing more magical than stepping inside a rich animated world—especially one filled with color, life, humor and delightful characters, as is the case with Ralph Breaks the Internet," says Vicki Dobbs Beck, Executive in Charge at ILMxLAB. "The launch of this project marks another successful collaboration between ILMxLAB and The VOID, with the incredible opportunity to work alongside the talented teams at Walt Disney Animation Studios. Ralph Breaks VR is an experience that brings a smile to your face and the desire to have another go around with friends and family."
Beck goes on to explain that the developers were able mitigate the "motion sickness" which some guests occasionally experience with other VR attractions by matching the "virtual world" that guests see with what they perceive to be happening "in the real world." Or, in other words, they've matched what you see with what you feel. For example, when guests see that they are moving on a virtual train, they also feel the vibrations of that train and the wind in their hair. "That's what sets us apart," she says. "We match the inputs that are coming into your mind with what you're actually feeling."
"Designing the elements that pull you irresistibly into the unique world of Ralph and Vanellope has been an incredibly fun process," says Curtis Hickman, chief creative officer and co-founder of The VOID. "What we've created together with ILMxLAB is an astounding adventure that allows people to experience a unique extension of Ralph Breaks the Internet's characters, environments and stories."
Tickets for Ralph Breaks VR are now on sale at www.thevoid.com