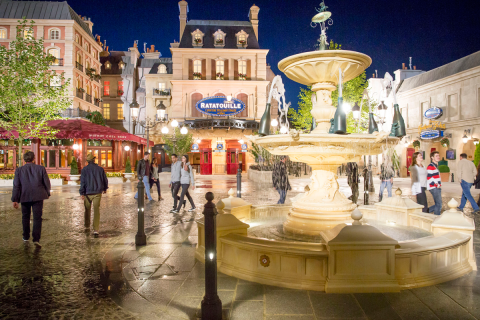 A few weeks ago we shared the story behind the outstanding team of chefs at Hong Kong Disneyland and their recent accomplishments. Thousands of miles away at Disneyland Paris, the culinary teams behind Bistrot Chez Rémy at Walt Disney Studios Park also have some exciting honors to share.
The Themed Entertainment Association (TEA) recently announced the recipients of their 2014 Thea Awards. Bistrot Chez Rémy, a full-service restaurant offering Disneyland Paris guests fine French cuisine from a rats-eye-view, was honored with the Award for Outstanding Achievement, Themed Restaurant. "This venue exhibits thoroughness [and] conceptual clarity," TEA said, applauding Bistrot Chez Rémy for its "dedication to narrative detail." This award recognizes the restaurant for outstanding quality and dedication to guest experience.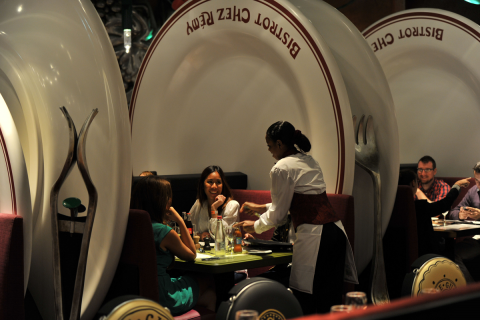 Additionally, Bistrot Chez Rémy was honored as the Gastronomic Event of the Year by a panel of expert food and beverage journalists. This award is especially significant for the Disneyland Paris culinary team as it exemplifies their outstanding gastronomic talent and stresses the cultural importance of food in France's heritage.
These honors are yet another example of how food and beverage offerings have become an integral part of storytelling at Walt Disney Parks and Resorts. Unique restaurants and authentic cuisine are key to developing Disney experiences all over the world. From Flo's V8 Cafe in the world of Cars at Disney California Adventure Park to Be Our Guest Restaurant in Beast's castle at the Magic Kingdom Park, these dining experiences transport guests and immerse them in their favorite stories.
Congratulations to the Disneyland Paris culinary team on their industry recognition and dedication to turning meals into immersive culinary adventures.