Last month, we shared a story about a Disney research biologist who uses Disney Employee Matching Gifts to match her contributions to conservation nonprofits.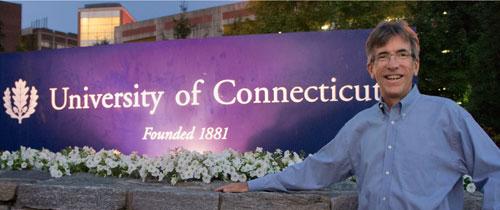 Today, we're sharing an interesting story about how ESPN employee Mike Soltys uses the program to make a donation to his alma mater, the University of Connecticut, to support a scholarship program.
This school semester is the first time the University of Connecticut has awarded funds from this scholarship. The recipient was Joseph Reiser, a communications major. The university looks for students who demonstrate outstanding academic achievement and work in the athletics communications department.
Mike excitedly reveals, "Matching Gifts has contributed $20,000 in the past two years, giving this scholarship fund a great start. I look forward to using the match each year to continue giving to the charities I care about."
Mike and his sisters Anne and Judy helped establish selection guidelines for the University. In addition to the scholarship, Mike – a University of Connecticut graduate and ESPN's first intern – is also available as a mentor to recipients.
"The University of Connecticut is special to me. My father spent much of his career in their athletics department, where he even played a role in the startup of ESPN. He always dreamed of being able to do this for students. When he passed away, my sisters and I wanted to make that dream a reality, and it was amazing to learn that my contribution could be matched through this program," added Mike.
Through Disney Employee Matching Gifts, employees are eligible for up to $15,000 in matches each year.
Mike adds, "The generosity of the program is staggering. I have not heard of a program as generous as this one. It shows the serious commitment Disney makes to us as employees."