The Walt Disney Company is known for supporting communities around the world. It also directly supports causes that matter most to its employees through Disney Employee Matching Gifts: A Program of The Walt Disney Company Foundation.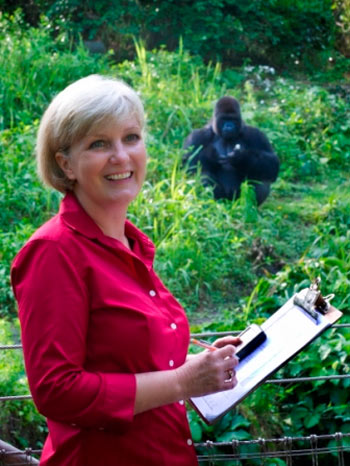 I recently heard how Tammie Bettinger, a senior research biologist at Disney's Animal Kingdom park at Walt Disney World, uses the program to match her contributions to two organizations in her field.
Tammie shares, "In my role working with animals, I have an opportunity to work on conservation education and research with the Pan African Sanctuary Alliance and Jane Goodall Institute, and it's something I'm very passionate about –both personally and professionally. With the matching gifts program, I can do even more for these organizations, and that means a lot to me."
Tammie has been involved with Pan African Sanctuary Alliance for the past 12 years, where she has seen how those funds benefit sanctuaries in 12 countries throughout Africa. Each sanctuary is a rehabilitation center where wildlife officers care for chimpanzees, gorillas and other primates who have been orphaned.
Tammie's donation and match to the Jane Goodall Institute helps support a youth basketball league created for schoolchildren in the Democratic Republic of the Congo.
She elaborates, "One of the unique things about the Jane Goodall Institute is that they sometimes support efforts that aren't directly related to conservation but make a huge difference to communities in which they conduct research. When I heard how this program positively impacts a community in the Congo, I wanted to help."
Through Disney Employee Matching Gifts, eligible employees can match up to $15,000 each year.
Tammie adds, "This matching gifts program gives me a chance to double my contribution to organizations I believe in and, in turn, it shows that my company believes in me."