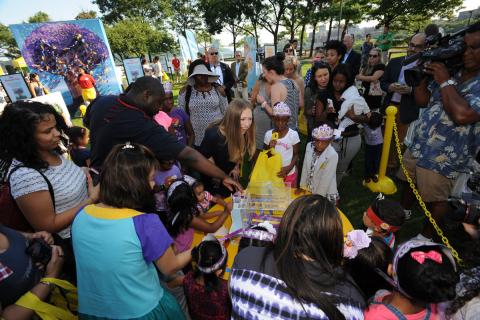 On a picture perfect morning in Harlem, Disney Junior's "Pirate and Princess: Power of Doing Good" tour made its way to Riverbank State Park, where Chelsea Clinton, daughter of former President Bill Clinton and Hillary Clinton, and vice chair of the Clinton Foundation, spoke to kids and families about the importance of youth community service.
"I think it's important that we all engage in service, regardless of our age," Chelsea said. "It's such a testament and a replenishment of not just our families, but our communities. To me, it's the strongest vote that we can engage in for the future."
Organizing volunteers and spreading the message of community service is indeed a passion project for Chelsea, who leads the "Day of Action" program for the Clinton Foundation, seeking to create service opportunities and mobilize thousands of volunteers to give back to their communities.
As part of Disney's Summer of Service, the "Pirate and Princess: Power of Doing Good" tour is making stops across the country to introduce kids ages 2–7 to the value of doing good, including caring for nature and animals and helping others.
Chelsea herself grew up in a family committed to community service and plans to continue that tradition with her own children someday.
"When I was growing up, we did a service project at least once a month as a family," she said. "We would go to church and then we would have a family meal … and then we would go to a soup kitchen or a homeless shelter. My parents did a really tremendous job of ensuring service wasn't just an add-on to our lives, but was embedded in our lives. Marc and I intend to do the same with our children."
Through collaborations with the ASPCA, Youth Services America (YSA), National Wildlife Federation, First Book and Care.com, the tour engages kids in positive actions that benefit others through the benevolent characters and stories in Disney Junior's popular series "Sofia the First" and "Jake and the Never Land Pirates."
"Through the power of our stories and characters, we can help the youngest of children imagine a better world and reflect on what they can do to help others within their own communities," Nancy Kanter, executive vice president, Original Programming and General Manager, Disney Junior Worldwide, said.
Each tour stop includes opportunities to create a storybook at "First Book's Jake and Sofia's Storytelling Maze," share acts of kindness or service at home or school in "YSA's Enchancia Castle," participate in the "ASPCA's Sofia's Animal Friends" activities, engage in interactive lessons of environmental conservation in the "National Wildlife Federation's Jake's Beach Treasures" and to pledge continued service at the "Forever Tree."
"I'm thrilled that [this event] is one of a part of a tour that Disney Junior has launched across the country to encourage young kids, even kids who aren't even yet in kindergarten, to get engaged in the power of doing good," Chelsea added. "You're never too young to start service. It's not only a good thing to do, but can also be really fun, so I'm thrilled to be here supporting Disney Junior's efforts. I was a fan of Disney Channel growing up and I can't wait to be a Disney Junior mom!"