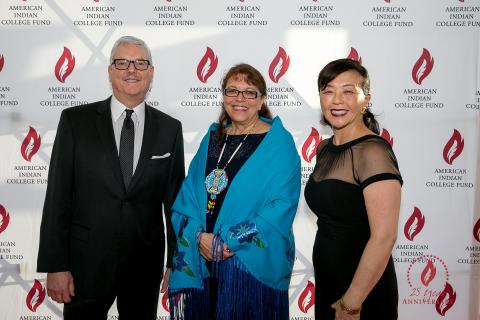 To continue its support of students whose ideas will help create a brighter tomorrow, Disney announced a $250,000 commitment to the American Indian College Fund (the College Fund) this past Saturday in Los Angeles, California. The donation will establish The Walt Disney Company American Indian College Fund Scholarship Program, which will provide Native American and Alaska Native students who have financial need with multi-year support to attend tribal colleges and universities across the nation.
The Company's support will also help the College Fund expand its student initiatives, which includes professional development and networking opportunities, internship programming and the creation of a new scholar and alumni program.
"When we looked at the American Indian College Fund we saw not only an organization doing important work, but one that benefits all tribes and educates future leaders and storytellers," Disney Chief Diversity Officer Paul Richardson said in the announcement. "Their mission aligns with our commitment to the inclusion, celebration, and growth of people from all different backgrounds and cultures."
"The College Fund is so honored to be the first American Indian organization to team with The Walt Disney Company on the implementation of a scholarship program for Native American students," American Indian College Fund President and CEO Cheryl Crazy Bull added. "Collaborations like this help dreams come true and allow our students to experience a little of the magic that is Disney."
Join the #DisneyAmericanIndianCollegeFundScholars conversation on Twitter, and visit CollegeFund.org/Scholarships to begin the application process online.