While working at Disney, I've had numerous opportunities to visit children's hospitals with some of our characters, and I can't even begin to describe the joy that fills a hospital floor the moment the elevator opens and Mickey Mouse appears.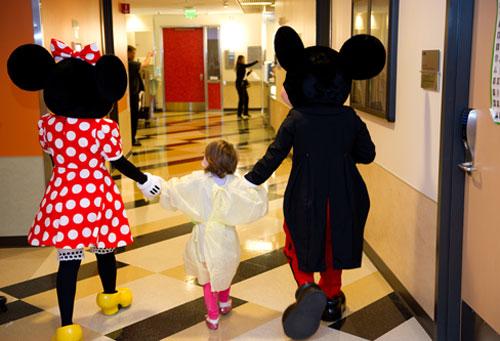 Creating those moments for nearly 30 years at Children's Hospital Los Angeles is one reason the hospital honored The Walt Disney Company with their "Courage to Care Award" at a gala this past weekend.
Disney supports the hospital through a variety of initiatives. Disney's Imagineers designed a fun and comforting space for the hospital's main lobby that helps kids feel welcome from the moment they arrive; Disney VoluntEARS fill rooms with laughter; and the Disney Triathlon Team, through miles and miles of swimming, biking and running, has raised more than $1.8 million for the hospital.
Additionally, The Walt Disney Company Foundation contributed $5 million to the hospital to help build the Anderson Pavilion, a building specifically designed for families that opened in 2011.
Disney's relationship with Children's Hospital Los Angeles endures because we share the same values and goals — creating hope and building healthier futures for kids and families.
In addition to local support, each year Disney donates care packages – filled with Disney toys, books and DVDs – to more than 500 hospitals globally. The company also grants more than 8,000 Disney wishes, including trips to Disney parks, access to movie premieres and celebrity visits for children with life-threatening illnesses.
The Walt Disney Company's support of children's hospitals dates back to the 1930s when Walt Disney himself would visit with children, often accompanied by Disney characters and animators.
Disney's long-standing commitment to Children's Hospital Los Angeles was summed up best by Jay Rasulo, senior executive vice president and chief financial officer of The Walt Disney Company, when he said, "We know that at Children's Hospital Los Angeles, children have the best chance for living happily ever after."