Season's givings, everyone! Since the beginning of November, Disney has spread holiday cheer to organizations and communities across the country and around the world.
As we countdown the hours to Christmas, we thought it would be fun to also countdown some of the biggest projects and initiatives that Disney launched and contributed to this season.
Donors Choose
In collaboration with Donors Choose, Disney is amplifying the impact of teachers who rally support for their classroom projects through a $500,000 matching campaign. Through Donors Choose, Disney has matched donations on more than 1,600 projects and growing, helping to provide kids with the tools they need to learn, thrive and create the future they imagine possible.
Foothill Family Service's Annual Adopt-A-Family Program
Disney VoluntEARS, in partnership with Foothill Family Service's Annual Adopt-A-Family Program, adopted 150 local families in need this season and provided everyday, essential items, including warm clothing, blankets, food, household products and toiletries.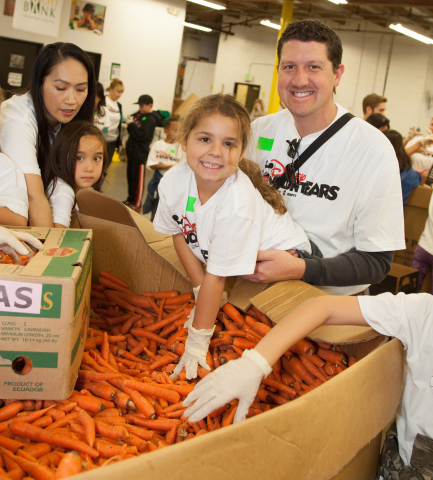 Family Volunteer Day
For more than two decades, Disney employees along with their families have rolled up their sleeves to take part in Points of Light's annual Family Volunteer Day. This year's event was a hit as Disney Channel and Disney XD stars also lent a hand here in Los Angeles—where they worked with teams to sort more than 96,000 pounds of fresh produce for the Los Angeles Regional Food Bank.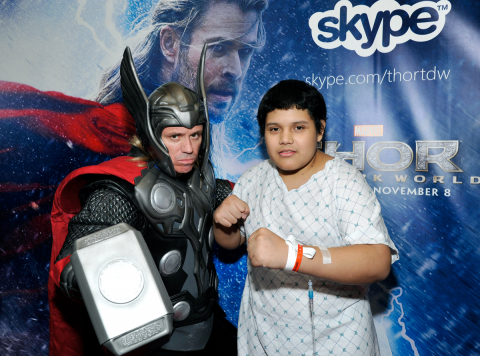 Marvel's Thor: The Dark World Screening and Children's Hospital Los Angeles (CHLA)
As Mighty Avenger Thor hit theaters last month, Disney teamed up with Skype to connect the stars of the film with some very special VIPs. Patients at CHLA virtually attended the premiere via Skype and chatted directly with the film's stars, including Chris Hemsworth and Tom Hiddleston.
Disney Legal Lends a Hand on National Adoption Day
The Disney Legal department's newfound pro-bono group volunteered their time to help guide 14 adoptions through the Los Angeles Country court system. The team also took part in National Adoption Day on November 22 to shepherd 10 more adoptions at the Los Angeles Edmund D. Edelman Children's Court. Their efforts helped make the day run smoothly for 150 families.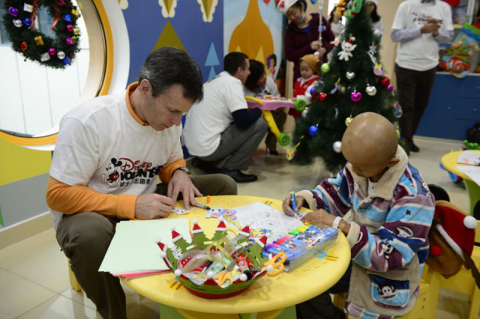 Shanghai Disney Resort VoluntEARS Visit Local Children's Hospital
Across the pond, Shanghai Disney Resort VoluntEARS, along with Walt Disney Parks and Resorts Chairman Tom Staggs, visited the Shanghai Children's Medical Center to spread holiday cheer. The team joined the children and made decorations in a Disney-themed activity center. Mickey and Minnie also made a surprise appearance, bringing joy and smiles to the patients.
Radio Disney's "Festival of Giving"
At the beginning of this month, Radio Disney kicked off its third "Festival of Giving" to encourage kids and families to help those in need this holiday season. From December 6 through 8, Radio Disney stations across the country hosted local community events that benefitted a variety of organizations, including local food banks, animal shelters and Toys for Tots.
Feeding America Donation
In early November, Disney and ABC partnered with Feeding America to launch the Season of Service campaign, which included a $750,000 donation to the nation's leading domestic hunger-relief charity. The initiative was announced on ABC's popular daytime program The Chew, and Disney matched gifts, dollar for dollar—up to $250,000—to help Feeding America's goal of providing 40 million pounds of produce to families in need.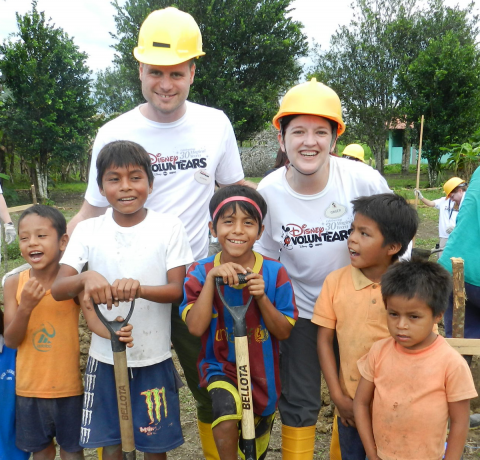 Disney's First Global Service Project
On November 8, 30 Disney VoluntEARS packed their bags to participate in Disney's inaugural Global Service Project in Ecuador. For one week, the dedicated team worked together to build a much-needed classroom in the region, as well as improve access to education for local students.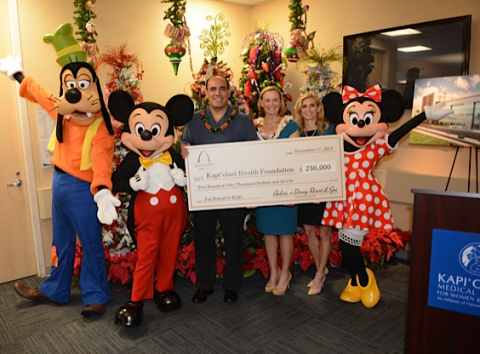 Kapiʻolani Women & Children's Hospital Donation
Aulani, a Disney Resort & Spa, and Disney announced a $250,000 donation to Kapiʻolani Women & Childrenʻs Hospital Capital Campaign. The announcement took place on December 17, and Mickey, Minnie, Goofy and Aulani VoluntEARS were in attendance to visit the children.