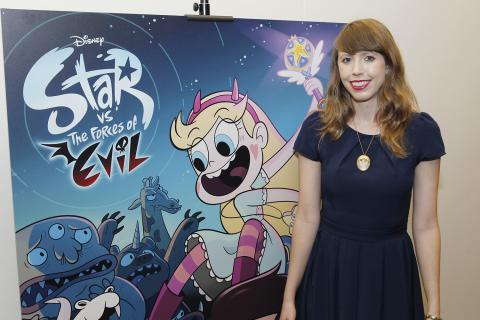 Star vs. The Forces of Evil comes from the mind of creator and executive producer Daron Nefcy, a 29-year-old female graduate of Cal Arts, who was recently named in Forbes' "30 Under 30" and one of Variety's 10 Animators to Watch. With a female lead—Star Butterfly, a teenage princess from another dimension who is sent to live on Earth in an effort to protect her powerful magic wand—it's no surprise that this show and its creator caught the attention of Women In Animation (WIA).
WIA brings together a global community of animation professionals to empower and support women in the art, science and business of animation. The group recently held a special screening of the new series and panel, featuring Daron, Eden Sher (the voice of Star), Lisa Salamone, senior vice president, Production, TVA, Brooke Keesling, director, Animation Talent Development, TVA and Maija Burnett, the director of the Character Animation Program at Cal Arts.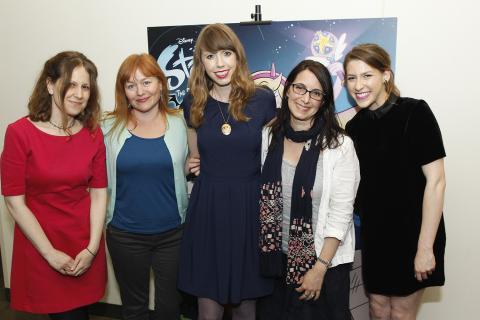 The group engaged in a discussion that spanned topics related to the series, the Star Butterfly character and women's involvement in animation in general.
"At Disney, nobody had a problem with her getting to be her," Nefcy said about her lead character, Star. "What I like about Star personally is that she is girly and she's not just a tomboy, which is kind of nice. I think she really gets to be her own person. She's kind of perfectly imperfect."
And there indeed may be more Star Butterflys on the way with women's influence in animation growing, as evidenced by the statistics of attendees in Cal Arts' Animation Program.
"The percentages in terms of gender breakdown from 10 years ago was about 25 percent female, 75 percent male," Burnett explained. "Now it's the reverse, so it's 75 percent female and 25 percent male."
Those numbers certainly indicate a shift to the direction WIA envisions, which is "a world in which women share fully in the creation, production and rewards of animation, resulting in richer and more diverse entertainment and media that move our culture forward." And according to Lisa Salamone, a 20-year veteran of Disney Television Animation, she's noticed the change.
"It's really great to see the storytelling end of it," she said. "When you look at all of our show org charts, it's peppered now in a much heavier way with female board artists and writers, and it's just great."
Brooke Keesling's job is to find those talented individuals, both male and female, and she spans the globe searching for the best and the brightest.
"I was at the Rhode Island School of Design last week. I'll be at NYU, Pratt and SVA in a month," she said. "The Ottawa Animation Festival, the Annecy International Animation Film Festival—all over the world, all over the country… I look everywhere."
Luckily for Disney, Nefcy was right down the street and eventually right in the building, working on Wander Over Yonder before getting the chance to helm her own project.
The princess from another dimension that Nefcy started drawing in college is now ready to stake her claim in the animation space.