Just five months ago, Good Morning America (GMA) co-anchor Robin Roberts took a leave from the top-rated morning show to undergo bone marrow transplant surgery as treatment for the rare blood disorder Myelodysplastic Syndrome, or MDS.
Today, to the delight of devoted fans everywhere, the beloved host made her highly anticipated return home to the show and her GMA family. In honor of this remarkable woman's triumph, let's look back at the television personality's notable trajectory to the top.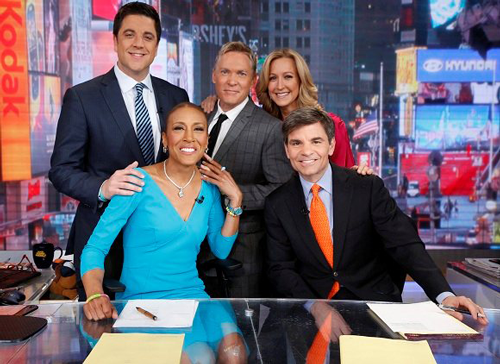 Robin began her broadcasting career in the early 1980s, as sports director at WHMD/WFPR Radio in Hammond, Louisiana, while still in college at Southeastern Louisiana University. She went on to become, among other things, a sports reporter and anchor at WAGA-TV and a morning personality on WVEE-FM in Altanta, Georgia, before joining ESPN in 1990.
From 1990 to 2005, Robin was a contributor to ESPN, where she was one of the network's most versatile commentators. Her assignments included hosting SportsCenter and contributing to NFL PrimeTime.
GMA named Robin co-anchor in May 2005. Since joining her new on-air family, she has conducted interviews with everyone from First Lady Michelle Obama to the New York City hotel maid who accused IMF chief Dominique Strauss-Kahn of sexual assault.
In addition to her work at GMA headquarters in Times Square, Robin has also done extensive reporting around the globe. She has traveled to Brussels with Secretary of State Hillary Clinton; to the Middle East with former First Lady Laura Bush; to London for the historic wedding of Prince William to Catherine Middleton; and to South Africa to report on the World Cup.
It's no wonder that Robin's return to GMA is being celebrated around the nation. She exudes elegance and has a natural charisma that few possess; yet she is able to remain ""one of us."" She is courageous, not only in a national crisis, but also in her personal life when faced with harrowing realities such as her 2007 breast cancer diagnosis and most recently, her struggle with MDS.
Quite simply, Robin is a role model for all of us. And we're thrilled to have her back.