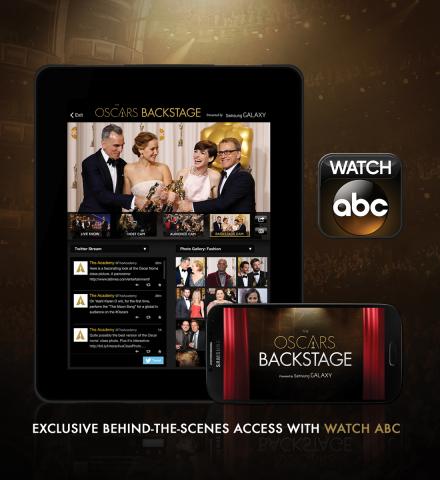 It's almost here. The night movie fans and Hollywood wait 364 days for—the Academy Awards®! Here's a bit of history for you: Did you know the first Oscars® ceremony aired on television in 1953, and the Academy's relationship with ABC dates back to 1976, when the network gained exclusive rights to the broadcast?
Last year, that deal was extended all the way through 2020. Beginning in 2011, Disney/ABC Television Group (DATG) added a whole new dimension to ABC's broadcast by offering a state-of-the-art Oscars app, giving viewers access to exclusive video, trivia and "The Oscars Backstage"—a second-screen experience that features live footage from a multitude of red carpet and backstage cameras. For this year's show, DATG is integrating this unparalleled second-screen experience right into the recently launched, industry-defining WATCH ABC app.
For the first time ever, the entire Academy Awards pre-show and ceremony from the Dolby Theatre in Hollywood, California, will stream live for verified WATCH ABC viewers online and on mobile devices in ABC's eight owned station markets (carriers include Comcast, Cablevision, Cox Communications, Charter Communications, Midcontinent Communications, Verizon FiOS, Google Fiber and AT&T U-verse). The entire telecast will then be available for three days on-demand for authenticated WATCH viewers after the ceremony. On top of this year's exciting digital Oscars access, all Oscars viewers—regardless of whether they verify—can also stream "The Oscars Backstage" right from theWATCH ABC app or the live tab on ABC.com.
Albert Cheng, executive vice president and chief product officer, Digital Media, DATG, and Karin Gilford, senior vice president, Digital Media, ABC.com, are equally excited about launching this year's exceptional Oscars digital experience. As Albert explains, integrating the Oscars into the WATCH ABC app "reinforces our digital product-innovation leadership, and it just reestablishes that we bring great content and innovation to the digital space." Karin notes that DATG aims to develop content, programming and ideas that are scalable. "It can be applied to more than one brand, so by bringing the multi-camera Oscars experience to the WATCH ABC app, it allows us to extend that to more of our live programming in the future."
One significant enhancement from the previous Oscars app is the broader audience DATG will reach by using WATCH ABC: "Upwards of 16 million," Albert points out. And accessing the integrated experience will be easier, too. Instead of using several apps on several different devices, viewers will have the option of watching the Oscars live and experiencing the behind-the-scenes happenings at the same time. In the end, the experience is more marketable than a standalone Oscars app. "Viewers can tell their friends and family about it," according to Karin. "There's a reason to download the WATCH ABC app the next day, and then look forward to the next event that we program this way."
As much as offering robust Oscars content to WATCH ABC users is about leading-edge technology, viewers can also watch content they genuinely can't see anywhere else. "The best part about the Oscars is catching the moments that no one could've ever scripted," Albert says. "We have the ability to capture that serendipitously for anyone who hopes to enjoy that experience."