Walt Disney Parks and Resorts has a long-standing tradition of supporting our armed forces with year-round programs for military personnel, including retirees and veterans. In fact, since The Walt Disney Company launched Disney's Heroes Work Here in 2012, a company-wide initiative to hire, train and support returning veterans, more than 4,000 veterans have joined the ranks at Walt Disney Parks and Resorts. And through Disney's Veteran's Institute, we share knowledge and tools to help other organizations build their hiring programs for veterans. As part of our ongoing commitment, this week our cast and crew are taking time to honor the men and women who have served in the U.S. Armed Forces.
Today, our crew is celebrating Veteran's Day on the high seas. In partnership with the nonprofit organization Blue Star Families, Disney Cruise Line is hosting a group of military families—nearly 140 people—today aboard the Disney Magic for the world premiere of Tangled: The Musical while the ship is docked in Miami.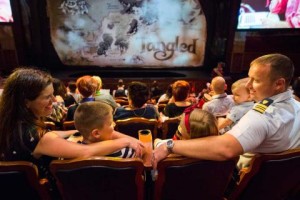 Last week, Disneyland Resort welcomed Medal of Honor recipient Sammy L. Davis as a special guest during the flag retreat ceremony. Davis was honored in 1968 for his heroic efforts in Vietnam, and his real-life actions inspired parts of the Academy Award®-winning film Forrest Gump. Tomorrow, Sgt. Juan Valdez, who served four deployments, will be recognized as the guest of honor at Disneyland's it's a small world Holiday lighting ceremony.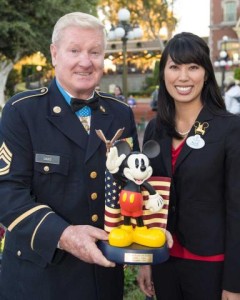 In 2014, both Disneyland Resort and Walt Disney World Resort launched the SALUTE Diversity Resource Group (DRG) to provide veterans with a supportive cast network and resources for development as they transition into civilian life. This afternoon, Walt Disney World SALUTE members kicked off Veterans Day during a VoluntEARS event at Second Harvest Food Bank in Orlando, where they sorted and boxed food for distribution throughout Central Florida.
We're proud to salute our veterans on this special holiday and support them as they transition to civilian life. From all of us at Walt Disney Parks and Resorts, we thank you for your service!