According to the Greeting Card Association, Valentine's Day is the second most popular seasonal card, just behind Christmas, with 145 million cards purchased (excluding classroom valentines). I thought it would be fun to highlight one of our earliest and longest licensee relationships – one that started with Walt Disney himself.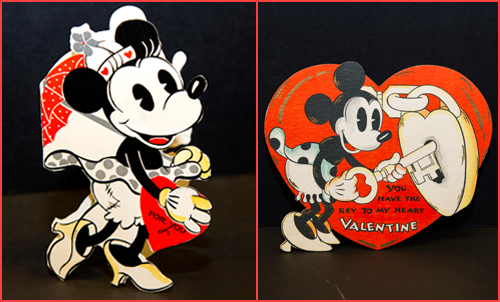 Joyce "J.C." Hall, founder of Hall Brothers, Inc., which later became Hallmark Cards and Walt Disney, shared a unique bond. They both had that entrepreneurial spirit and a passion for creativity. They also grew up in the Midwest about a mile from one another in Kansas City, Missouri. Although they didn't know each other in the early years, a mouse would soon "introduce" them.
In 1931, Roy Disney, Walt's brother, and his business partner visited J.C. with a proposal to put Walt's characters on Hall Brothers greeting cards. Signed by J. C. Hall and Walt Disney himself, a licensing agreement and relationship was born. The first Hallmark greeting card featuring a Disney character was published in 1933, marking one of the first licensing ventures for both companies.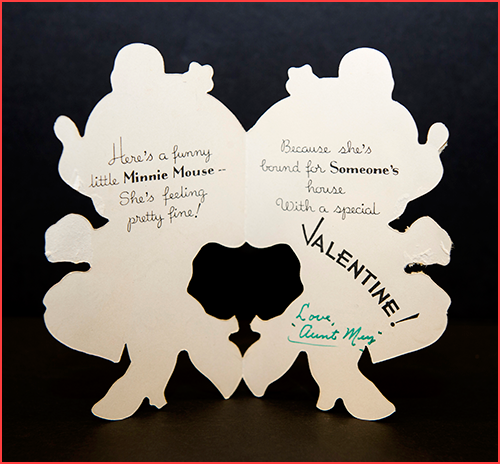 Today we are sharing two early Minnie Mouse Valentine's Day cards from the Hall Brothers (Hallmark), dating back to 1935-1937. The first cards started with our favorite characters, Mickey Mouse and Minnie Mouse, but later included other favored characters such as Snow White and the Seven Dwarfs, Pluto and the irascible Donald Duck.
Our line of greeting cards now includes dozens of characters ranging from Mickey and Minnie to our beloved Disney princesses.
Happy Valentine's Day!