The holiday season is always a time to reflect on the many things we are thankful for. This year, Walt Disney Parks and Resorts made several efforts to give back through volunteerism to the communities in which we work and live.
Here is a look at some of the citizenship projects from Disney parks around the world: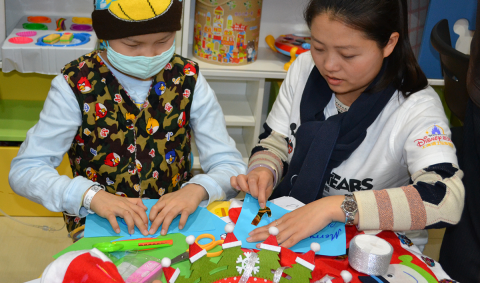 Alongside Mickey and Minnie Mouse, VoluntEARS from Hong Kong Disneyland visited Siu Lam Hospital and Maggie's Cancer Caring Center in Tuen Mun Hospital to spread festive cheer among patients and their families. These gatherings included musical games and special treats, all in the spirit of the holiday season. Read more about the hospital outreach efforts of Hong Kong Disneyland, Tokyo Disney Resort, Shanghai Disney Resort and Aulani, a Disney Resort and Spa on the Disney Parks Blog.
At Walt Disney World, Disney VoluntEARS partnered with The Mission Continues for a veteran's volunteer event at the Boys & Girls Club, Walt Disney World Clubhouse. VoluntEARS, veteran cast members and volunteers from The Mission Continues hosted patriotic arts and crafts activities for children and constructed a flagpole at the center's entrance. The event concluded with a flagpole dedication and a veterans' salute.
Disney Cruise Line hosted holiday outreach visits in St. Thomas, Grand Cayman and Cozumel, where shipboard Disney VoluntEARS and characters greeted and distributed gifts to more than 500 children. VoluntEARS hosted these visits with the support of local Ministries of Tourism to give back to the ports of call that welcome Disney Cruise Line guests into their communities.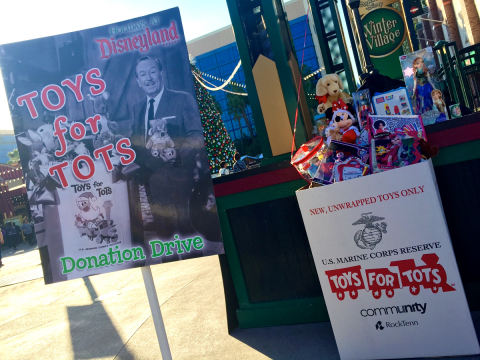 At Disneyland Paris, VoluntEARS hosted Christmas Eve guests at "Mission Noel," a gathering to wrap gifts for children in local communities in support of Toys for Tots. This holiday season, several Disney parks around the globe collaborated with Toys for Tots to provide children all over the world with more than 40,000 toys, books and games. You can also read more about Disney's longstanding partnership with Toys for Tots and this year's effort on the Disney Parks Blog.
At our headquarters in Burbank, California, Disney VoluntEARS invited employees from all throughout the Company to participate in family volunteer activities. The team hosted a VoluntEARS Village at the "Light Up the Season" holiday event for cast members and their families. The village provided families with holiday volunteer activities to do together. Guests could give back through several simple yet meaningful activities right on the spot. Families stuffed stockings for local homeless shelters, decorated greeting cards for children in hospitals, wrote postcards for service men and women through Operation Uplift and colored meal placemats for underserved families in the Los Angeles area.
Many thanks to the Disney VoluntEARS and their families who joined us in making a positive impact on the world this holiday season. To learn more about Walt Disney Parks and Resorts citizenship efforts, visit AboutDisneyParks.com/Citizenship.