From Walt Disney's early hand-drawn, animated cartoon, Steamboat Willie, to the live-action feature The Jungle Book and the interactive experience Coco VR, The Walt Disney Studios has spent nearly 100 years transporting audiences to new and stunning worlds using groundbreaking technology and a little pixie dust.
"With films like The Jungle Book and our upcoming The Lion King, we've seen firsthand the role that technology can play in helping us tell stories in new and powerful ways," says Sean Bailey, President of The Walt Disney Studios Motion Picture Production and StudioLAB Executive Sponsor.
To continue in this legacy of innovative storytelling, we are excited to announce the opening of The Walt Disney Studios StudioLAB—a brand-new tech hub focused on advancing the art of storytelling with cutting-edge tools and methods. "StudioLAB is all about giving our storytellers new superpowers," says Benjamin Havey, Vice President, Technology Innovation Group, at The Walt Disney Studios.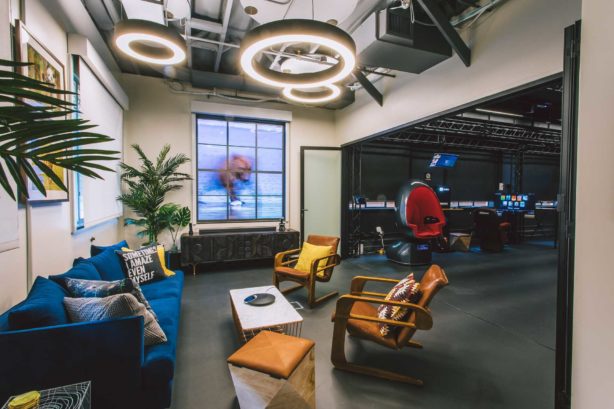 The Walt Disney Studios is already known for creating high-quality stories with heart, but now, Studio Creatives and production entities will have the space to gather and explore new ways of optimizing their storytelling. And to help bring the lab to life, the StudioLAB team set out to collaborate with Silicon Valley leaders Accenture Interactive, Cisco and Hewlett Packard Enterprise (HPE), who came on board as inaugural Innovation Partners.
Located inside the famed old Animation building in the heart of the Studio lot, this brand-new, 3,500 square foot facility is both ultra-sleek and reminiscent of the past, with mid-century modern furnishings that call to mind Walt Disney's original office. This new creative space will enable filmmakers from Disney's film studios—Disney Live Action, Walt Disney Animation Studios, Pixar Animation Studios, Marvel Studios and Lucasfilm—to more easily collaborate with one another, explore new technologies and experience the latest projects, content, tools and devices from StudioLAB partners, as well as the broader technology industry. StudioLAB will offer exclusive VR, Artificial Intelligence and Mixed Reality experiences.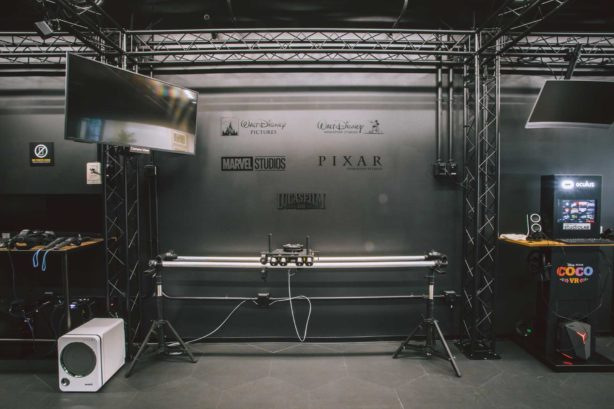 One of the first StudioLAB innovations was Coco VR, recently nominated for the 2018 Emmy® Award for Outstanding Original Interactive Program. Working alongside creatives from Pixar, the StudioLAB team was instrumental in producing Pixar's first ever virtual reality experience.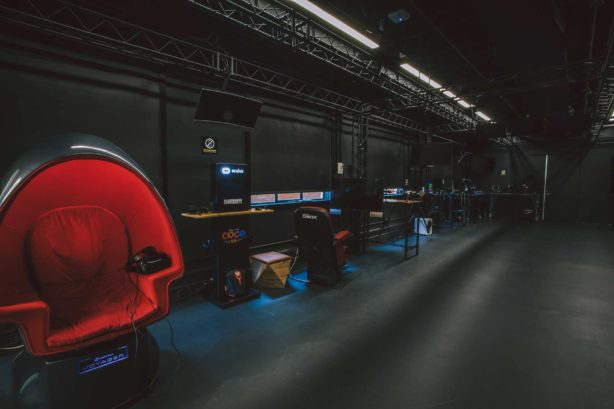 "Our vision for StudioLAB was to create a place where our amazing filmmakers and creative executives can engage in hands-on experimentation and exploration of next-generation technologies to push the art of storytelling forward in fresh, exciting ways," said Jamie Voris, Chief Technology Officer at The Walt Disney Studios and StudioLAB Executive Sponsor.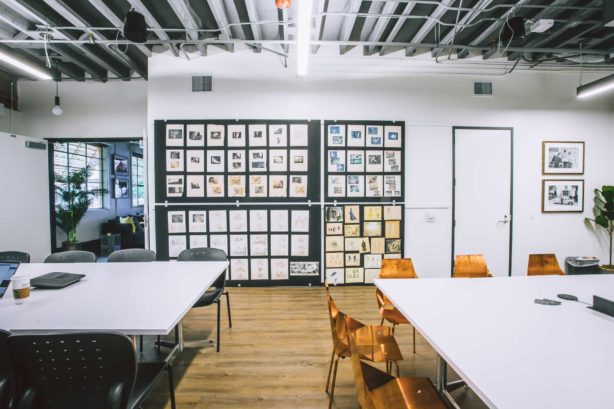 Accenture Interactive, Cisco and HPE each bring their unique expertise and technologies to StudioLAB, which will also help its Innovation Partners develop new and easily adaptable technologies to better meet the needs of the creative community, driving business value for all parties involved.
Accenture Interactive—Accenture Interactive and its design and innovation unit, Fjord, will play a lead role in helping to establish StudioLAB, as well as define and develop cutting-edge entertainment technology with an initial focus on immersive entertainment; artificial intelligence; IoT; the future of movie production; and next-generation cinematic platforms. In addition to collaborating on research and development, Accenture Interactive will partner with the Studios to support StudioLAB operations, including co-crafting the new entity's charter and governance, physical lab design and business operations. The Accenture-StudioLAB partnership will draw upon the extensive experience of Accenture Labs in running a lab to help Disney Studios apply emerging technologies in innovative ways.
Cisco—The industry leader in networking brings its hardware and software solutions to StudioLAB, extending to services spanning network, storage, orchestration and collaboration. At the launch of StudioLAB, Cisco is focused on such areas as enhancing the remote collaboration experience for creatives and studio leadership; providing a more seamless and secure connectivity for filmmakers, the studio, and third parties; and offering efficient and reliable ways to deliver data and assets from set to the cloud.
Hewlett Packard Enterprise—HPE will use its industry-leading portfolio of servers, GPUs and Memory-Driven Computing platforms to build solutions to transform the filmmaking industry. HPE will apply emerging technologies like AI and deep learning to the filmmaking process and creative workflows. Using the latest server innovations to increase speed and velocity will enhance the Studios' movie-making process and immersive experiences. HPE will create a technology ecosystem that allows the Studios to share render resources via private cloud and not waste valuable hardware assets. And looking ahead, HPE will simplify traditional, complex IT environments by rethinking how compute evolves the model of how we consume new technology.