Today, The Walt Disney Company launched its 2022 Disney Ultimate Toy Drive, which supports the Marine Toys for Tots Program. The campaign continues the Company's 75-year tradition of helping the foundation deliver toys, hope, and joy to children in need during the holiday season.
Fans and families can join the Disney Ultimate Toy Drive by purchasing a toy to donate online at shopDisney.com now through December 24, 2022, or by donating a new, unwrapped toy in person at a Disney store or Disney store outlet location, the Downtown Disney District at Disneyland® Resort, or Disney Springs at Walt Disney World® Resort*, now through December 12, 2022.
"Disney is incredibly proud to celebrate this milestone anniversary and continue our longstanding relationship with Toys for Tots to help make the holiday season brighter for children in need," said Jennifer Cohen, executive vice president, Corporate Social Responsibility, The Walt Disney Company. "We all have the opportunity to deliver joy when we give back to our communities, and by working together through efforts like the Disney Ultimate Toy Drive, our combined impact is that much greater.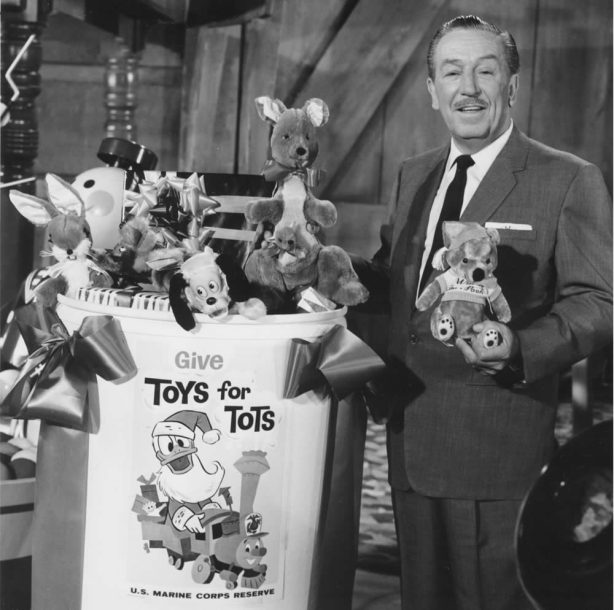 The relationship between Disney and Toys for Tots dates back to the program's beginnings, when Walt Disney and his studio artists personally designed the Toys for Tots train logo that is still used to this day. Since 1947, Toys for Tots and volunteers have distributed nearly 630 million toys to over 280 million children.
"Marine Toys for Tots is fortunate to have a partner like The Walt Disney Company who has supported the program from the very start 75 years ago," said Lieutenant General Jim Laster, USMC (Retired), the President and CEO of the Marine Toys for Tots Foundation. "Disney's multifaceted support spanning decades has allowed Toys for Tots to expand its reach, delivering hope and joy to millions of less fortunate children. Disney's community service goals certainly align with those the Marine Corps has promoted for over 75 years through the Toys for Tots Program. We couldn't be more proud to have a friend like Disney."
Disney is committed to inspiring a better world through the power of stories and has additionally released a heartfelt animated spot today that celebrates the joy of giving to help raise awareness of the Disney Ultimate Toy Drive. Click here to watch.
Throughout the holiday season, The Walt Disney Company will support Toys for Tots in several ways, including by airing a PSA, voiced by The Conners' John Goodman, on its television networks and streaming platforms—such as ABC, Disney Channel, Disney Junior, Disney XD, Freeform, FX, Hulu, and National Geographic—to encourage viewers to participate in the Disney Ultimate Toy Drive. Content from across the networks, including ABC's General Hospital, various ABC News shows and platforms, and ESPN's GetUp! will feature Disney Ultimate Toy Drive and Toys for Tots integrations to highlight the season of giving and the importance of supporting communities in need.
Additional toy collections will be hosted by the ABC Owned Television Stations in New York, Los Angeles, Chicago, Philadelphia, Houston, Raleigh-Durham, and Fresno, as well as at in-person events such as the premieres for Disenchanted and The Santa Clauses, both streaming on Disney+ in November.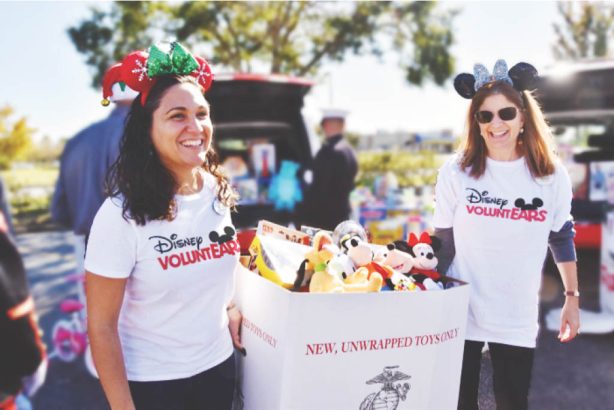 "Ongoing support for the Marine Toys for Tots program has been part of Disney's legacy of support for the U.S. military dating back to the earliest days of The Walt Disney Company," said Cappy Surette, senior manager, External Communications, Disney Parks, Experiences and Products, U.S. Navy Captain (Retired), and founder of the Disney SALUTE Veteran Business Employee Resource Group. Surette coordinates the participation of Disney VoluntEARS in the toy drive each year.
Other companywide support for military veterans includes Heroes Work Here, an initiative to hire, train, and support returning veterans; Heroes Supply Here, a program that promotes the support of veteran-owned businesses; and ongoing events that honor and celebrate active and retired members of the armed forces.
"Service is a trait shared by our military community and by our Disney cast members," Surette said. "Events like our enduring support for the U.S. Marine Corps Toys for Tots program make me as proud to be a Disney cast member as I am to be a military veteran."
The Disney Ultimate Toy Drive aims to inspire hope where it's needed most during the holiday season. For more information, visit www.disney.com/toydrive.
* At Downtown Disney District at the Disneyland Resort, collection bins are located at the World of Disney store, Star Wars Trading Post, and Hotels of the Disneyland Resort. Guests and cast members can also participate on December 10 and December 11, 2022, from 11 a.m. to 4 p.m., when U.S. Marines will be on hand near the Downtown Disney® LIVE! stage to accept donations on behalf of Toys for Tots. At Disney Springs at Walt Disney World Resort, collection bins are located at the World of Disney store, Marketplace Co-Op, Star Wars Galactic Outpost, and the Disney Springs Welcome Center.