The Walt Disney Studios Lot was aglow in twinkling lights and holiday cheer on Saturday, when thousands of Disney cast members, employees, and their guests gathered for the "Light Up the Season" celebration. The event featured an array of wintertime activities for revelers to enjoy as well as opportunities to give back through charitable initiatives and the Company's VoluntEARS program. Bob Iger, CEO of The Walt Disney Company, welcomed attendees to this year's celebration, which resumed for the first time since 2019 after a hiatus due to the COVID-19 pandemic.
"It's just incredibly nice to be here," Iger said. "It feels like a great opportunity for us to not only celebrate, but to really be thankful that that's all behind us and that we are all together here on the Disney lot."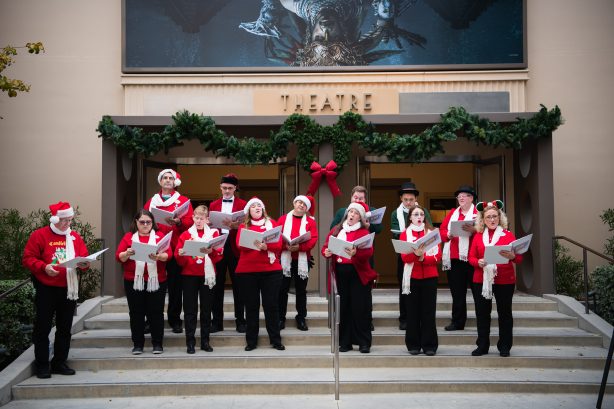 Iger also highlighted the Disney Ultimate Toy Drive donation booth benefiting Toys for Tots, a charitable gift-giving program the Company has supported since it began in 1947. "We've been involved with Toys for Tots for 75 years, and I want to thank the Marines who are all here. They are not only serving us tonight, but they are serving our country, which is really worth our respect." Through individual donations and a Company grant, the drive has collected more than 150,000 toys thus far this year.
Iger concluded his remarks by thanking all cast members and employees "for everything that you do for our Company. I want to wish you the merriest of holidays." Shortly after Iger's remarks, those attending were treated to a tree-lighting ceremony, hosted by Mickey Mouse and accompanied by snow.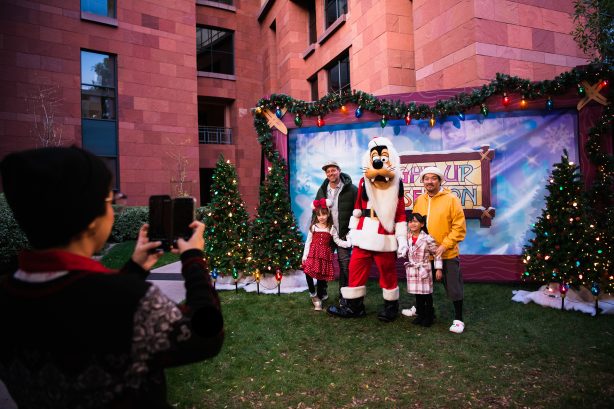 Throughout the evening, members of the Disney community, family, and friends were able to explore the historic Studios Lot and to enjoy live music, holiday crafting, complimentary treats, screenings of Disney holiday favorites, character appearances and photo ops, and shopping at the Disney Studio Store and at a marketplace of local vendors and friends of Disney.
"It's really lovely and emotional that we are all here, and all the communities are represented at this event," said Jill Hotchkiss, vice president of Creative Marketing for Disney General Entertainment/Disney Branded Television, and Executive Champion of Shalom, one of more than 90 Business Employee Resource Groups (BERGs) at Disney. Many of the BERGs had booths at the celebration, providing information, games, giveaways, and more.
D23: The Official Disney Fan Club spread some additional Disney holiday cheer when it hosted a special member-invite encore of "Light Up the Season" at the Studios Lot on Sunday.