Today, as people across the U.S. observe Veterans Day and honor all who served in the U.S. military in war or peace, employees came together at The Walt Disney Studios lot to show their gratitude and learn more about veterans, military families and their service.
Bob Iger, chairman and CEO, The Walt Disney Company; Bob Chapek, chairman, Disney Parks, Experiences and Products; and Jimmy Pitaro, ESPN President and Co-Chair, Disney Media Networks; joined Colonel Jennifer Short, USAF, who in 2017, became the first woman commander of the 23rd Wing—home to the Air Force's legendary "Flying Tigers"—for the special event. The event was hosted by SALUTE, one of the Company's veterans Business and Employee Resource Groups, which are open to any employee with a strong connection to the armed forces and featured Young Marines who led the Pledge of Allegiance to kick off the festivities.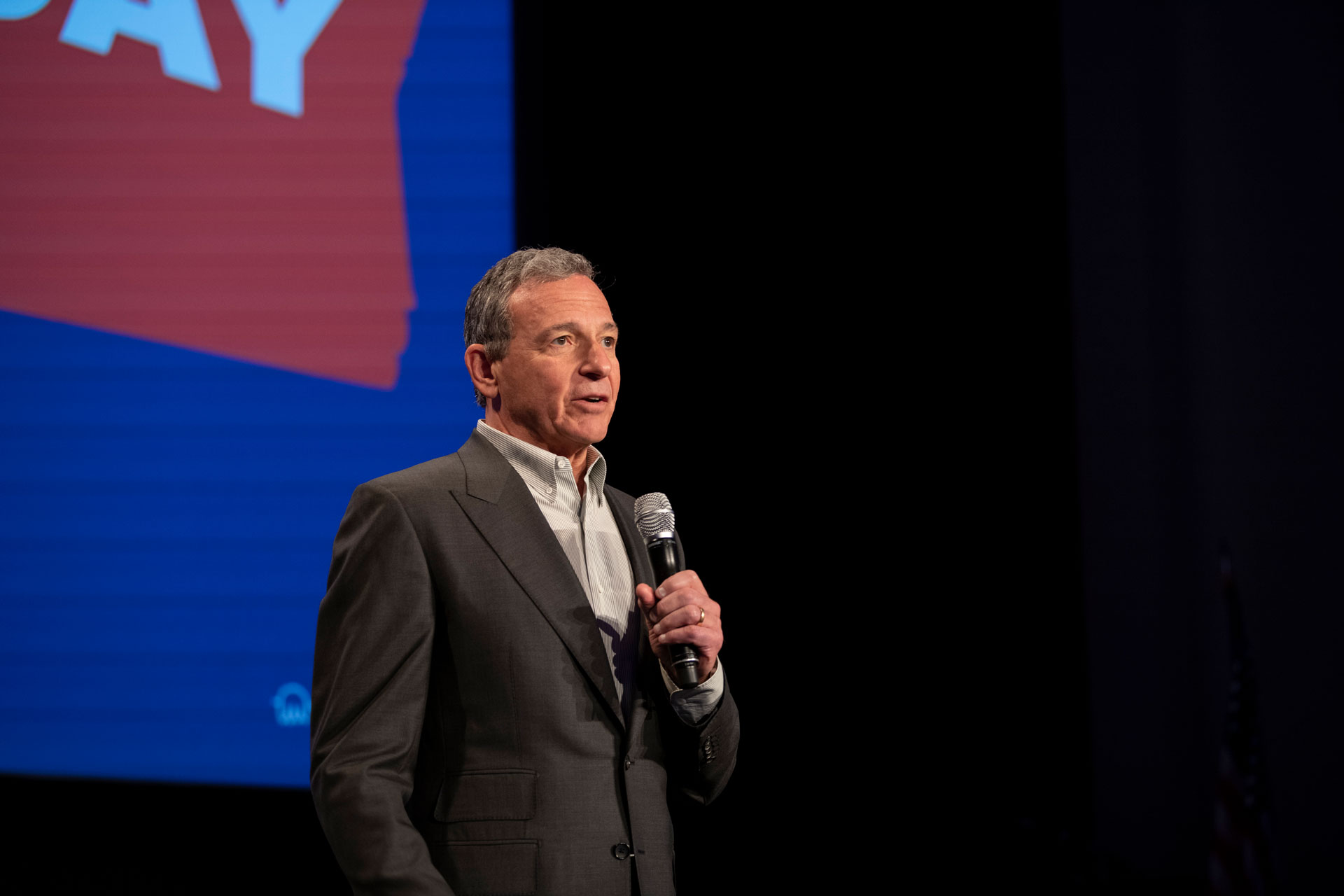 "I stand here today deeply appreciative. If there's any day of the year that we should pause to give thanks to our veterans, obviously it is today," Iger said. "We're all here today as citizens of the United States because of the sacrifices that have been made by veterans and their families in the name of our U.S. government and of protecting our freedoms."
Sage Steele, co-anchor of ESPN's SportsCenter, served as host for the presentation in the Studio Main Theatre. Veterans Day holds special significance for Steele because her father was a veteran. A West Point graduate, Gary Steele was the son of a Buffalo Soldier and he also was the first African American to play varsity at the U.S. Military Academy.
Short spoke of the longstanding connection between Disney and the U.S. military that extends back to World War II. In addition to making films for the U.S. military and government, Disney artists also created nearly 1,300 unit insignias for all branches of the U.S. Armed Forces. Those insignias are significant, Short explained, as they forge a shared connection for those who wear them and also communicate a message about the unit's history, mission and successes. "I know the units whose insignias were created by Disney artists were especially proud to wear them, and I know that because I led one of those units," said Short, highlighting a Disney-designed patch on her sleeve.
In honor of Veterans Day, Chapek recently visited the Disneyland Resort to participate in the daily flag retreat ceremony. He was joined by Veteran cast members to commemorate the important occasion. The Disney Parks Blog shared a look this special tradition, and also spotlighted some of the heroes who are now pursuing careers with the Company. Through Disney's Heroes Work Here program, the Company has hired more than 10,000 veterans since the initiative launched in 2012.
Disney's ongoing commitment to veterans and their families extends beyond employment. The Company's philanthropic support of veteran and military organizations has exceeded $20 million in funding and media support since the launch of Heroes Work Here, and, through the Disney VoluntEARS program, employees have engaged in several service projects with veterans' organizations in communities around the country.