When Burny Mattinson started his career at Disney in 1953, he was one of only 700 employees working at the entire company. Walt Disney Animation Studios had released just 14 animated features, and Disneyland park was still in development. Sixty-five years later, The Walt Disney Company employs approximately 190,000 people around the world, Walt Disney Animation Studios will release its 57th feature later this year, and Disney has opened theme parks in Europe, Japan, Hong Kong, and mainland China, in addition to Disneyland and Walt Disney World Resorts here in the U.S. Mattinson continues to be a key member of the Disney Animation team, and on March 5, 2018, he broke a company record to become the longest-serving cast member in Disney history.
Mattinson's storied Disney career has taken him from his first job as a traffic runner on the Studio lot to work as an in-betweener on Lady and the Tramp, an assistant animator on films such as Sleeping Beauty and One Hundred and One Dalmatians, an animator on Robin Hood and a key animator on Winnie the Pooh and Tigger Too. Mattinson has worked in the story department on countless films, including Winnie the Pooh (2011) and Big Hero 6 (2014), and served as director on Mickey's Christmas Carol in 1983, and in 1986, he wrote, produced and directed on The Great Mouse Detective.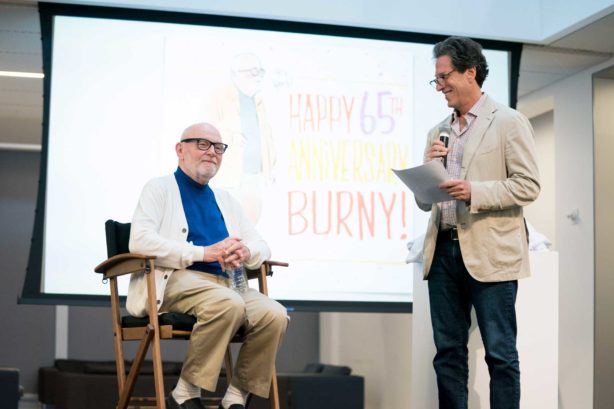 The Walt Disney Company celebrated Mattinson's unprecedented milestone on June 4, 2018, which marked the animator's official 65th anniversary with the Company. Walt Disney Animation Studios President Andrew Millstein saluted Mattinson's fantastic accomplishment, noting, "All of us who work at Walt Disney Animation Studios are better because of your participation and your presence at the Company."
Walt Disney's famed "Nine Old Men" served as mentors to Mattinson, who was an assistant to Marc Davis at the beginning of his career in animation, and who says Eric Larson was "like a dad" to him. What was supposed to be a three-week stint assisting Wolfgang "Woolie" Reitherman turned into something more significant: It marked Mattinson's first major foray into storyboarding. The warm and gregarious Mattinson was a natural fit for the story department, which, he said, "I never left." Throughout his own tenure with the Company, Millstein has been gratified to see Mattinson's generosity with and mentorship of newer filmmakers. "In so many respects it is a defining characteristic of this studio: the generations that work together and the transference of knowledge, passion and artistry; and the principles of how we approach our storytelling and our filmmaking, and what we give to each other. That was apparent then, and it's apparent now," Millstein said.
Oscar®-winning director Don Hall (Big Hero 6) worked closely with Mattinson during the production of Winnie the Pooh. Hall had high praise for the veteran animator's artistry and his incomparable talents as a storyteller, but he found Mattinson's support and encouragement throughout the animation process to be truly inspirational. "If Burny thinks it's a good idea, it gives you the confidence to go forward with it," Hall said.
Mattinson's 65-year career with the Company is a record that's likely to stand the test of time, but not for lack of trying. Hall believes there's a simple reason why artists, technicians and cast members across all of Disney's businesses want to continue to be part of the story at The Walt Disney Company. "Burny wanted to work here since he was 6 years old—and that is the same story that pretty much everybody here has," Hall says. "They were touched or influenced by a Disney film at a very early age, so everybody calibrated their sights to this place as the place to be. Once you're here, you're living your dream, just like Burny lived his dream. I think that's why he's lasted 65 years and he's not stopping."
"It's been an absolute joy," says Mattinson of his time at Disney. "I think one of the things that I found when I first started here—and it has never changed—is that sense of anticipation of what's going to happen here at the studios this next day, and I could hardly wait to get here—and something always did [happen]. There was always something that was remarkable that happened and you felt a part of, so it's just been an exciting period, the whole 65 years."