21st Century Fox executives to assume leadership roles at Disney business segment once acquisition closes
Peter Rice to become Chairman, Walt Disney Television and Co-Chair, Disney Media Networks
Dana Walden to assume new role of Chairman, Disney Television Studios and ABC Entertainment
John Landgraf to serve as Chairman of FX Networks and FX Productions
Gary E. Knell to serve as Chairman of National Geographic Partners
As part of the integration planning for its pending acquisition of Twenty-First Century Fox, Inc. ("21st Century Fox"—NASDAQ: FOXA, FOX), The Walt Disney Company (NYSE: DIS) today announced plans for a new organizational structure for its Media Networks segment, conditional upon closing of the 21st Century Fox transaction. Under the new structure, several 21st Century Fox executives would assume leadership roles at the Disney business segment once the acquisition closes, as 21st Century Fox's businesses are incorporated into Disney.
"The strength of 21st Century Fox's first-class management talent has always been a compelling part of this opportunity for us," said Robert A. Iger, Chairman and Chief Executive Officer, The Walt Disney Company. "Upon completion of the acquisition, this new structure positions these proven leaders to help drive maximum value from a greatly enhanced portfolio of incredible brands and businesses."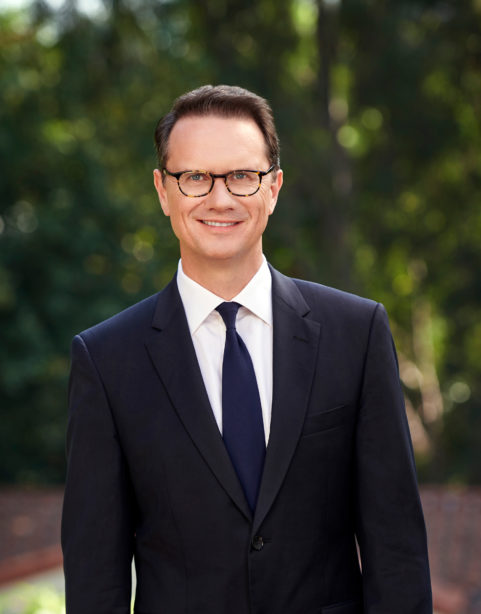 Mr. Rice will become Chairman, Walt Disney Television and Co-Chair, Disney Media Networks, reporting directly to Mr. Iger. The new organization under Mr. Rice will include ABC Television Network, ABC Studios, the ABC Owned Television Stations Group, Disney Channels, Freeform, Twentieth Century Fox Television, FX Networks and FX Productions, Fox 21 Television Studios, and the National Geographic channels.
"I love making television and have been fortunate to work with incredibly talented executives and storytellers. Disney is the world's preeminent creative company, and I look forward to working for Bob, and with his exceptional leadership team, to build on that amazing legacy. I also want to thank Rupert, Lachlan and James Murdoch for the privilege of working on such a wide array of movies and television, both entertainment and sports. It has been a wonderful thirty years," Mr. Rice said.
Mr. Rice's appointment will take effect upon completion of the acquisition. Mr. Rice is currently President of 21st Century Fox and Chairman and Chief Executive Officer of Fox Networks Group.
Reporting to Mr. Rice will be:
Dana Walden, Chairman, Disney Television Studios and ABC Entertainment
John Landgraf, Chairman of FX Networks and FX Productions
Gary E. Knell, Chairman of National Geographic Partners
Gary Marsh, President and Chief Creative Officer, Disney Channels Worldwide
James Goldston, President, ABC News
Ms. Walden's portfolio will include Twentieth Century Fox Television and Fox 21 Television Studios, as well as ABC Entertainment, ABC Studios, Freeform and the ABC Owned Television Stations Group. Ms. Walden is currently Chairman and Chief Executive Officer of Fox Television Group.
Reporting to Ms. Walden will be:
Channing Dungey, President, ABC Entertainment
Patrick Moran, President, ABC Studios
Jonathan Davis and Howard Kurtzman, Presidents of Twentieth Century Fox Television
Bert Salke, President, Fox 21 Television Studios
Tom Ascheim, President, Freeform
Wendy McMahon, President, ABC Owned Television Stations Group
Ben Sherwood, Co-Chair, Disney Media Networks and President, Disney|ABC Television Group, will remain in his current role during the transition period until the acquisition closes.
"I want to personally thank Ben Sherwood for his years of service at ABC and Disney. Ben has been a valued colleague, and I deeply appreciate his many contributions and insights, as well as his professionalism and cooperation in this transition," Mr. Iger said.
Disney's acquisition of 21st Century Fox has received formal approval from shareholders of both companies, and Disney and 21st Century Fox have entered into a consent decree with the U.S. Department of Justice that allows the acquisition to proceed, while requiring the sale of the Fox Sports Regional Networks. The transaction is subject to a number of non-U.S. merger and other regulatory reviews.
Biographies:
PETER RICE
https://www.21cf.com/management/business-unit-leaders/peter-rice/
DANA WALDEN
https://www.21cf.com/management/business-unit-leaders/dana-walden/
JOHN LANDGRAF
https://www.21cf.com/management/business-unit-leaders/john-landgraf/
GARY KNELL
https://www.21cf.com/management/business-unit-leaders/gary-knell/
About The Walt Disney Company
The Walt Disney Company, together with its subsidiaries, is a diversified worldwide entertainment company with operations in four business segments: Media Networks; Studio Entertainment; Parks, Experiences and Consumer Products; and Direct-to-Consumer and International. Disney is a Dow 30 company and had annual revenues of $55.1 billion in its Fiscal Year 2017.
FORWARD-LOOKING STATEMENTS
Management believes certain statements in this release may constitute "forward-looking statements" within the meaning of the Private Securities Litigation Reform Act of 1995. These statements are made on the basis of management's views and assumptions regarding future events and business performance as of the time the statements are made. Management does not undertake any obligation to update these statements.
Actual results may differ materially from those expressed or implied. Such differences may result from actions taken by the Company, including restructuring or strategic initiatives (including capital investments or asset acquisitions or dispositions), as well as from developments beyond the Company's control, including:
changes in domestic and global economic conditions, competitive conditions and consumer preferences;
adverse weather conditions or natural disasters;
health concerns;
international, political, or military developments; and
technological developments.
Such developments may affect entertainment, travel and leisure businesses generally and may, among other things, affect:
the performance of the Company's theatrical and home entertainment releases;
the advertising market for broadcast and cable television programming;
demand for our products and services;
expenses of providing medical and pension benefits;
income tax expense;
performance of some or all company businesses either directly or through their impact on those who distribute our products; and
the completion of the pending transaction with 21CF.
Additional factors are set forth in the Company's Annual Report on Form 10-K for the year ended September 30, 2017 under Item 1A, "Risk Factors," in the Company's Report on Form 10-Q for the quarter ended December 30, 2017 under Item 1A, "Risk Factors," and subsequent reports.