Disney's The One and Only Ivan, which streams exclusively on Disney+ beginning today, is a moving story that examines the beauty of friendship, the power of visualization and the significance of the place one calls home. It's told through the eyes of a special gorilla, a 400-pound silverback who shares a communal habitat in a suburban shopping mall with an elephant, a dog and a host of other animals. Ivan has few memories of the jungle where he was born, but when a baby elephant named Ruby arrives, it touches something deep within him, causing Ivan to begin to question his life, where he comes from and where he ultimately wants to be.
The film is based on Katherine Applegate's bestselling, Newbery Medal-winning novel, which was in turn inspired by the true story of a real-life gorilla that lived for almost 27 years in a shopping mall in Tacoma, Washington, before being moved to a sanctuary. To bring the heartwarming adventure to life on screen, which was accomplished through an impressive hybrid of live-action and CGI, director Thea Sharrock and the film's creative team looked to animal care and conservation experts to help ensure the authenticity of The One and Only Ivan's primate protagonist and the film's positive message of animal treatment.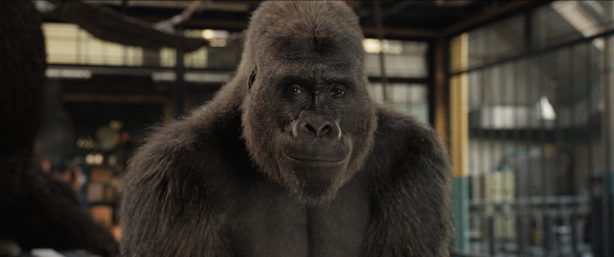 Dr. Terry Maple, former president and CEO of Zoo Atlanta, was instrumental in getting the real Ivan transferred out of the shopping center and into the large gorilla habitat at Zoo Atlanta, where he got to live alongside other gorillas. Dr. Maple served as an animal consultant on The One and Only Ivan, and he is also on the advisory board comprised of animal care and conservation experts that was established before the opening of Disney's Animal Kingdom Theme Park in Orlando, Florida.
Disney's Animal Kingdom served as an invaluable resource for The One and Only Ivan filmmakers, notes Dr. Mark Penning, vice president for Disney's Animals, Science and Environment for Disney Parks, who currently sits on the board of the Association of Zoos and Aquariums (AZA). Dr. Penning, whoobserved production on the film and also consulted on the film's end credit sequence, details on the Disney Parks Blog how Disney's Animal Kingdom inspired the filmmakers who visited the theme park, where they spent time studying the behaviors of western lowland gorilla troops, learning about their family dynamics and observing how they forage for food, play with one another and sleep. They also used the park's Gorilla Falls Exploration Trail as a model for the Democratic Republic of the Congo as it appears in the film. "I'm very proud of the work our teams have done to support The One and Only Ivan and their dedication to ensuring gorillas are well cared for each and every day," says Penning.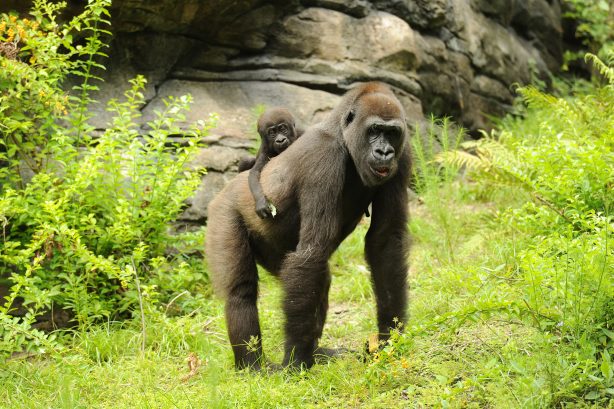 The positive message found in The One and Only Ivan is very much in keeping with The Walt Disney Company's ongoing commitment to animal care and conservation. At Walt Disney World Resort in Florida, Disney's Animal Kingdom, Disney's Animal Kingdom Lodge and The Seas with Nemo & Friends have all been accredited by AZA. Around the world, since 1995, the Disney Conservation Fund has directed $100 million to support nonprofit organizations working with communities to save wildlife, inspire action and protect the planet, with more than $10 million directed to support primate conservation efforts across nearly 35 countries, including grants to support all four sub-species of gorilla like those to the Dian Fossey Gorilla Fund International (Fossey Fund)and GRACE (Gorilla Rehabilitation and Conservation Education) Center.
The Fossey Fund has been a recipient of Disney support for more than two decades. As the world's longest running and largest organization fully dedicated to gorilla conservation, the Fossey Fund works to save both mountain gorillas in Rwanda and Grauer's gorillas in the Democratic Republic of the Congo. Their people-centered approach includes daily protection of individual gorillas and their families, scientific research, training the next generation of African conservationists and improving the lives of people who share the gorillas' forest home. Also working in the Democratic Republic of the Congo, GRACE is now home to 14 Eastern gorillas, each rescued from poachers and brought to GRACE to live together in a large forest enclosure with the hopes of reintroducing them back to the wild one day. In addition, the program works to advance community conservation in the region with programs that include economic empowerment opportunities for women and conservation clubs that get kids involved in helping gorillas and each other.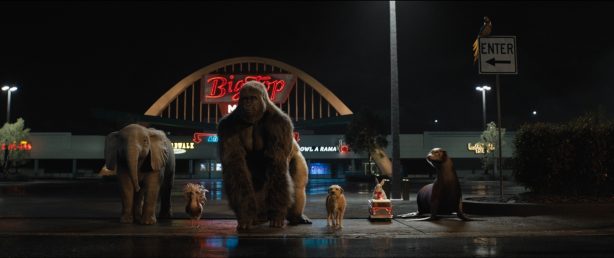 Angelina Jolie, who lends her voice to Stella the elephant in The One and Only Ivan, expressed her support for the film's message during a recent press event, where she also shared her hope that it will inspire younger audiences to take action. "I know this young generation is really very aware of what is happening in the world to our natural habitats, to these animals; what's happening in the Congo and losing ground; what's happening with the gorillas [and] the elephants. And they're angry, and they want to really be clear about what kind of treatment is appropriate," she said. Jolie believes that young audiences will see themselves in the character of Julia, a budding artist who establishes a unique bond with Ivan. "I think [this character] represents them—[and] I think that's strong, for them today to see that their actions can make change."