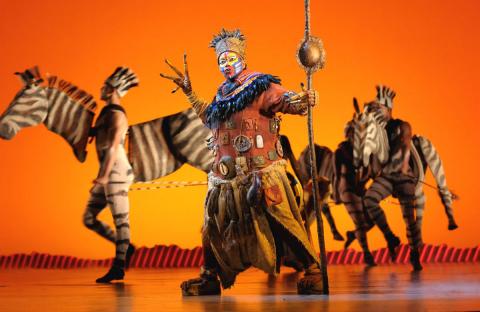 Another box office crown for The Lion King, as the acclaimed stage musical recently achieved a worldwide gross of more than $6.2 billion over the course of its 17 years playing across stages in 19 countries! No other piece of entertainment has been more successful at the box office in any medium. (Previously, the titleholder was The Phantom of the Opera, which has earned $6 billion globally.)
The total includes box office receipts from all of The Lion King's official stage shows and does not represent related merchandise and music sales. More than 75 million people have seen the Tony®-winning spectacle during one of its 22 productions, including current runs in London, Tokyo, Hamburg and Las Vegas. It's been translated into Japanese, German, Korean, French, Dutch, Mandarin, Spanish and Portuguese.
Meanwhile, it continues to reign as king of the Great White Way: Last year, it became the first Broadway production in history to reach $1 billion, and it was the No. 1 box office draw on Broadway in 2013 and in 2014 to date. The various North American touring productions have also collected more than $1 billion in combined gross.
"It's difficult not to become emotional at this realization of the show's impact," Thomas Schumacher, president and producer at Disney Theatrical Productions, told the Associated Press. "Our goal then was to tell the story purely and theatrically so that audiences could feel it in their heart. And, to this day, that is the audience experience whether they see the show in Madrid; Appleton, Wisconsin; South Africa; Tokyo or Broadway. Of that, we are deeply proud."