Of all of the elements that will cause moviegoers to catch their breath upon viewing The Walt Disney Studios' new release, The Jungle Book—which opened in theaters this past weekend, taking in $104.2 million at the domestic box office and $294.1 million globally—a credit near the end of the film, "Filmed in Downtown Los Angeles," is sure to amaze viewers who have just been transported to a lush and lifelike jungle throughout the movie.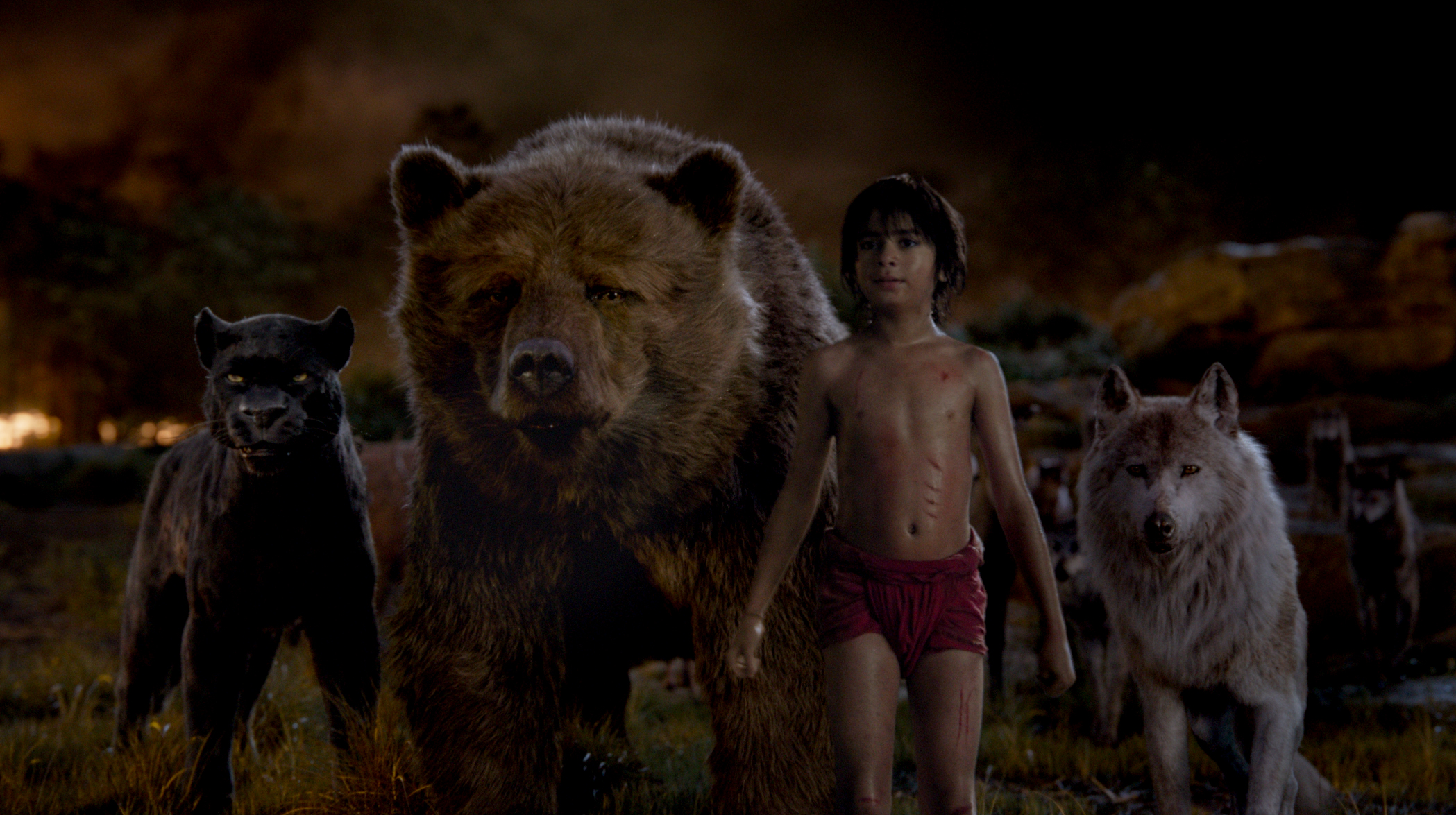 The film is inspired by Disney's 1967 classic animated film and based on the timeless stories of Rudyard Kipling. But in creating the all-new, live-action epic adventure about Mowgli, a man-cub raised by a family of wolves, director Jon Favreau took inspiration from Walt Disney himself as he set about bringing a jungle of photorealistic CGI animals and environments to life on screen. "When I think about Disney's legacy, I relate to Walt's original dream," director Jon Favreau said at a recent screening and Q&A. "Walt Disney's work has influenced my work. He was considered high-tech for the time. He was the first person who locked soundtrack with picture so the characters were perfectly choreographed to the musical score—something that absolutely blew people's minds. Disney was on the cutting edge of technology."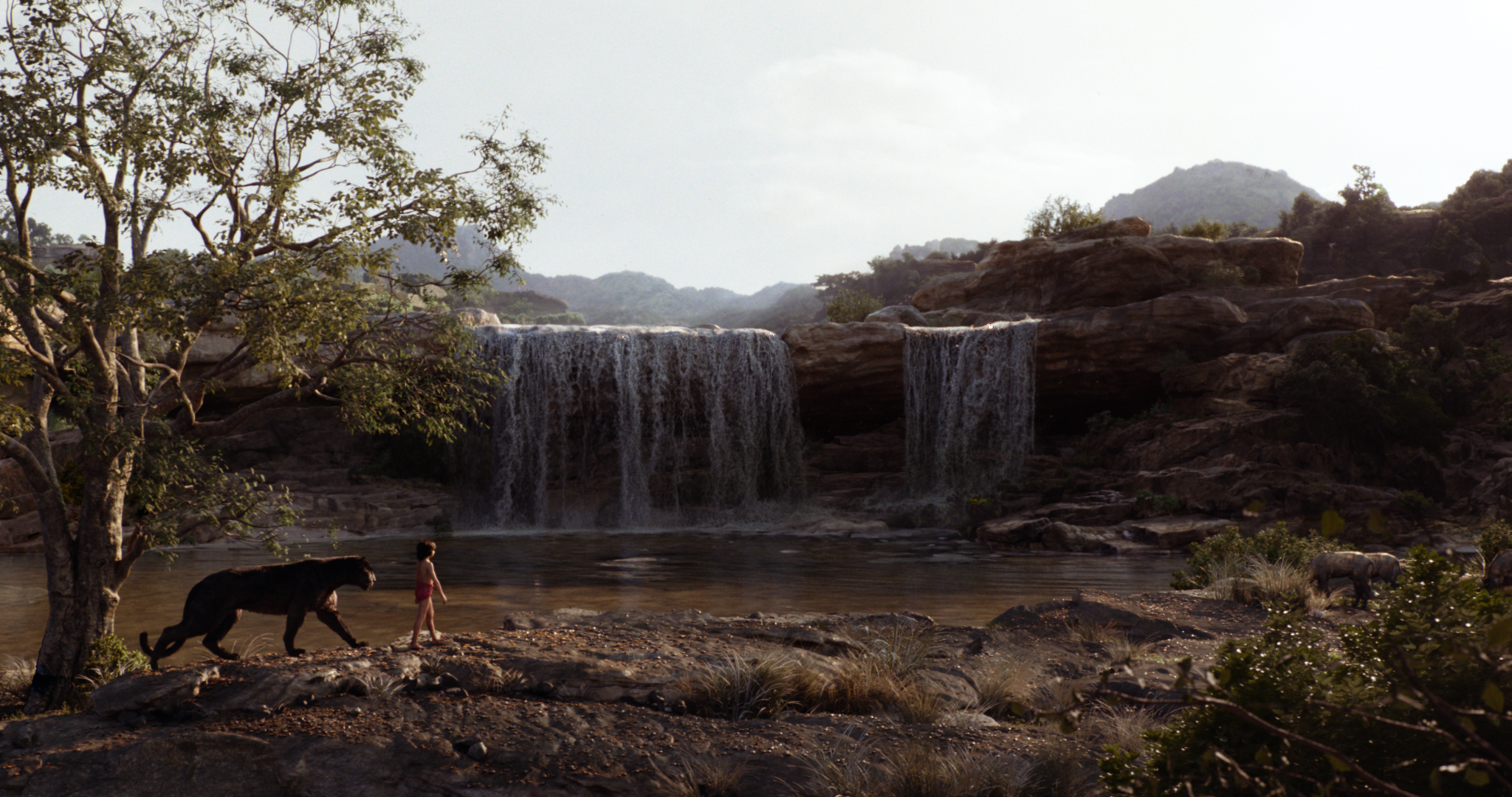 And the technology behind The Jungle Book is innovative, to say the least. Favreau worked with Oscar®-winning visual effects supervisor Rob Legato (Avatar, Hugo, Titanic, Apollo 13), Moving Picture Company's visual effects supervisor Adam Valdez (Maleficent) and WETA's visual effects supervisor Dan Lemmon (The Lord of the Rings: The Fellowship of the Ring and The Return of the King) to marry performances from the acclaimed voice cast—which includes Oscar® winners Ben Kingsley, Lupita Nyong'o and Christopher Walken, along with Bill Murray, Idris Elba and Scarlett Johansson—with action from on-screen animals that look real enough to touch. From the start of production, Favreau told the creative team, "If the animals don't look like they're talking, the movie doesn't work."
The filmmakers studied footage of wild animals, and each animal brought to life in the film necessitated a different approach. "Dogs or wolves are very expressive with their eyebrows, so you could get away with a lot—but not so much with their mouth. Cats don't use their eyebrows. Bears use their lips and eyebrows. Each animal gave us a different set of tools to use," Favreau explained.
Legato detailed that the process was fluid. "You really can't do it in 1s and 0s," he said, referencing binary computer code and explaining how technology and artistry had to go hand-in-hand in bringing The Jungle Book to life. "You really have to kind of play with it. Go one way. Go another way. Go larger. Go smaller. And that's what we tried to imbue this particular film, is it feels like we really conventionally shot it. We used a computer, but you don't see the computer."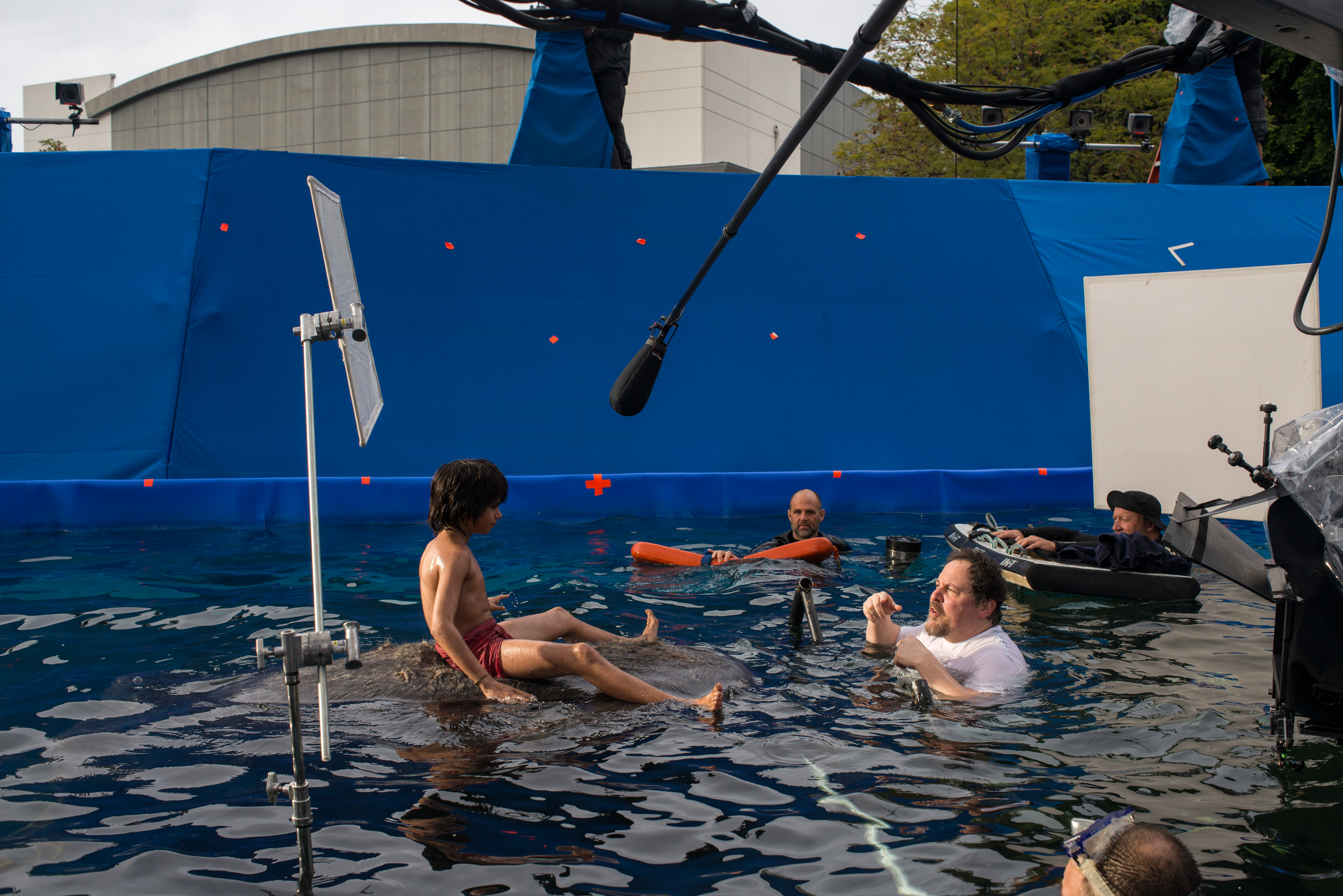 The filmmakers began with an extensive storyboarding process that allowed the artists to design a workflow, a system and VFX pipeline that could capitalize on the most up-to-the-minute movie magic. What audiences will see on film is ultimately a seamless blend of photo-real animation and live-action shooting. Neel Sethi, the young actor who plays Mowgli, is the only live-action actor to appear in the film and his performance was filmed on a Los Angeles soundstage. Practical sets—containing elements that were absolutely necessary for a particular shot—were blended with the CG environment that had been created as part of the pre-visualization process. "It's never really been done this extensively," Favreau said, "in every scene—in every shot. We could look at the monitor and see the virtual set we'd already built and how it married perfectly into that environment. We could move the camera and see off into the distance—we could see every mountain and tree that was supposed to be there."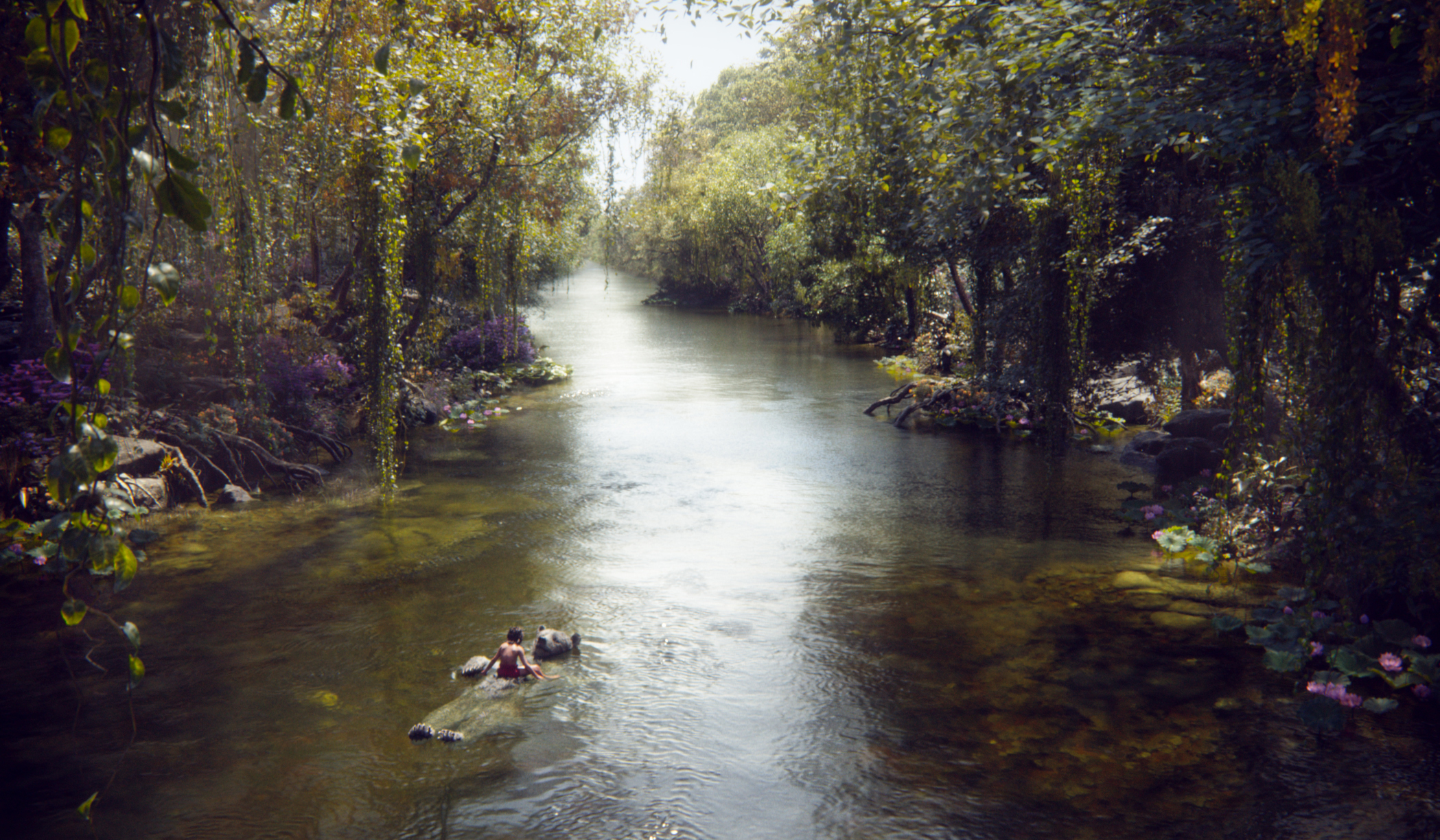 As a fan of the animated classic, Favreau favored this innovative approach toward a live-action The Jungle Book from the start. "The idea of going out to the jungle and shooting this, it just felt like it wouldn't have the magic that the 1967 film had," Favreau observed.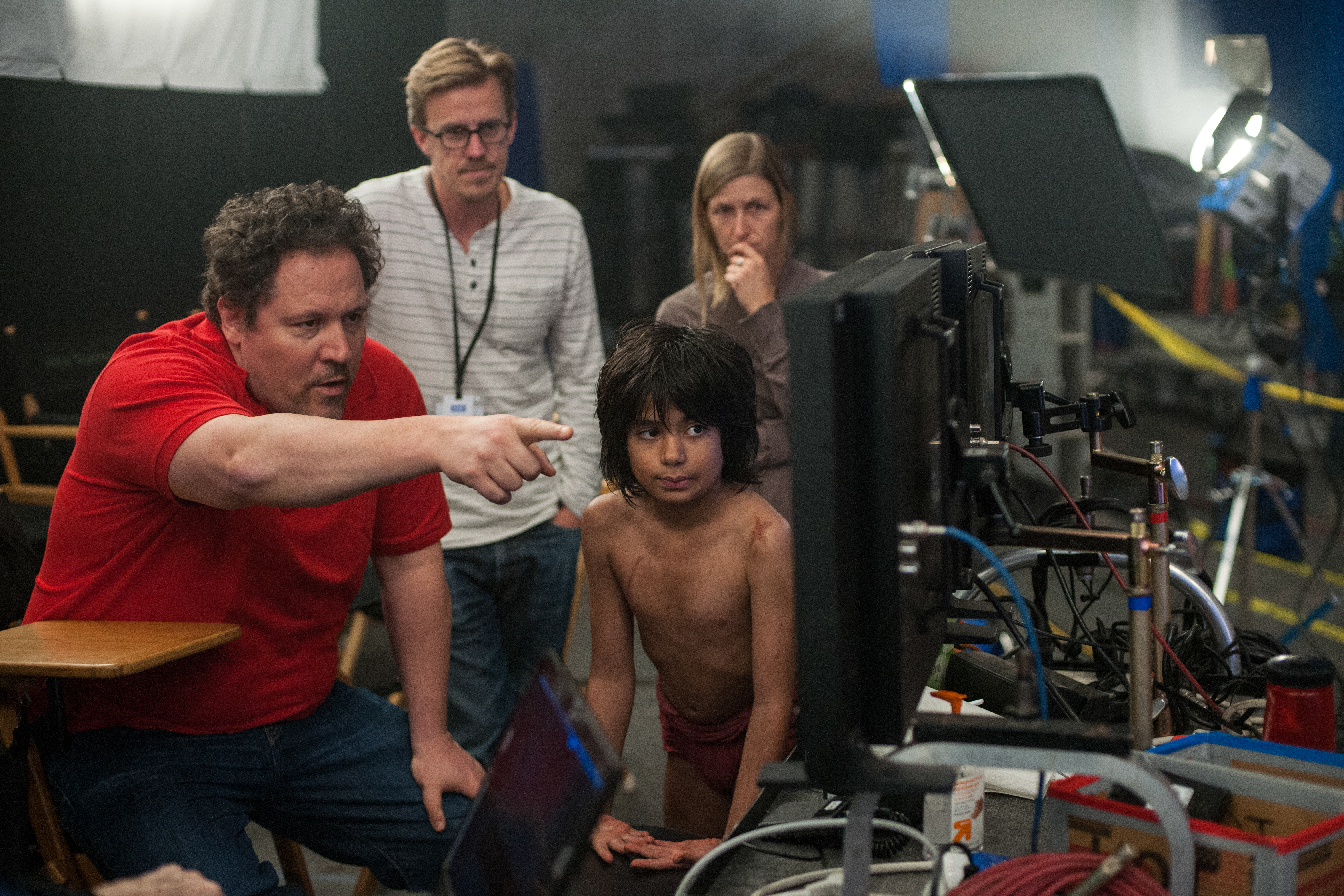 Favreau points to recent films like Star Wars: The Force Awakens, which have embraced film along with new digital technology. "I think we have to push technology as far as we can because there are other things that digital art is better for, and when it comes to such complicated visual effects and putting all these elements together, I want to see digital continue to grow." He added, "I think what's wonderful is now people are starting to appreciate [format], and format is a part of the conversation. And I think the people who win are the audience."