Walt Disney Animation Studios (WDAS)' newest feature film, Zootopia, opening in theaters everywhere this Friday, March 4, draws upon a rich legacy of Disney films with animals at its center, from The Adventures of Ichabod and Mr. Toad (1949) to Bolt (2008). But audiences will see for the first time in Zootopia technical advances in how these animals come to life on screen. Never before has it been possible for animators to visualize such a vast array of animals so realistically, with fur that's more lifelike than any other Disney animated film. This innovation is made possible through Disney's XGen procedural geometry instancing tool.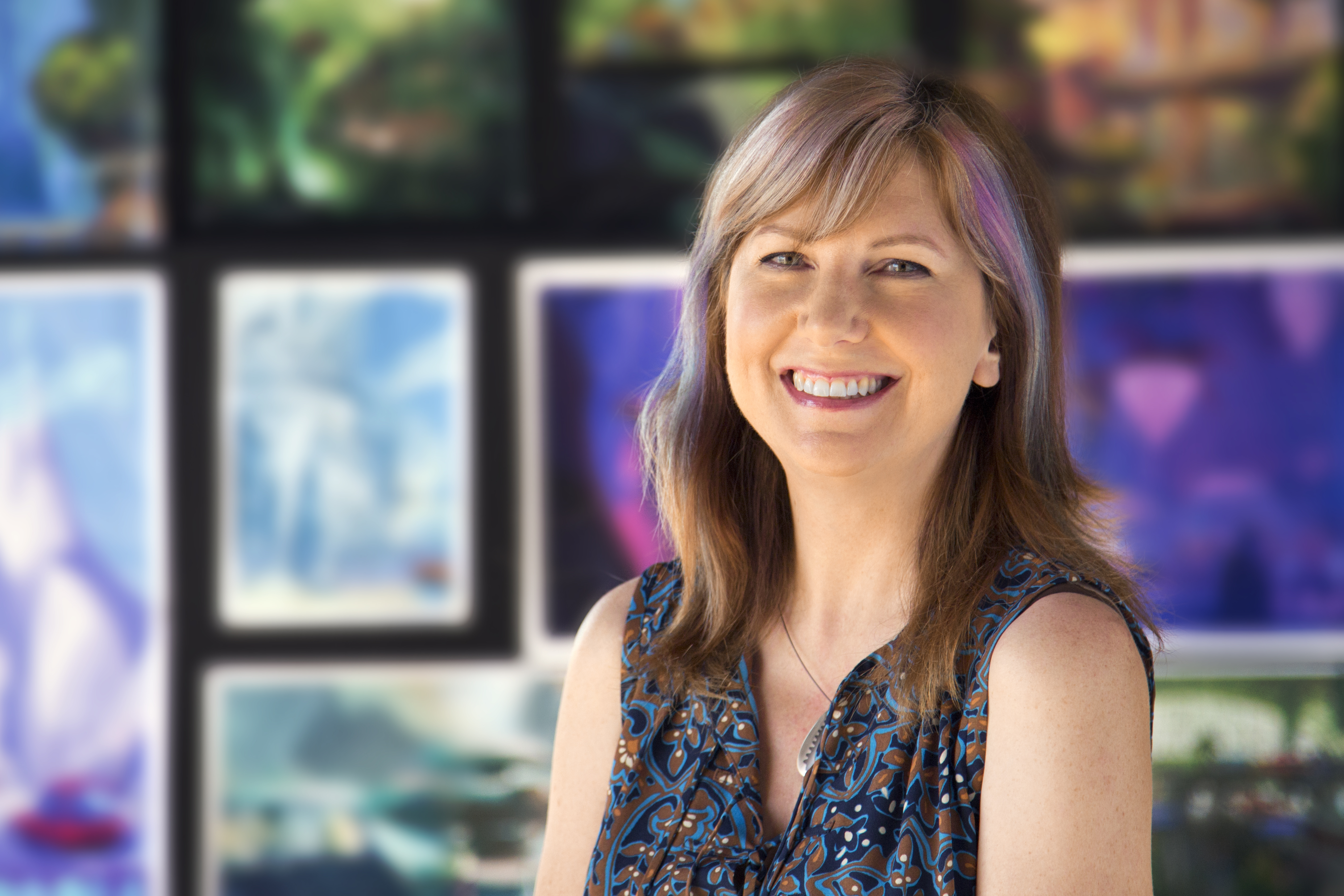 Michelle Robinson, one of Zootopia's Look Development Supervisors, explains, "We can't hand-place every hair—and we don't even necessarily want to place every hundredth hair. XGen is a system by which, through a set of controls, either painting on the character or placing a few specific hairs, it can then interpolate and generate all the rest of the hair by proxy."
Modern animation has come to increasingly rely on the left brain/right brain balance between creativity and animation, and Robinson is part of an ever-expanding group of women working at WDAS who work on the tech side of the filmmaking process. Women go as far back in Disney animation, of course, as the famed Ink and Paint "girls"—who were pioneers for their time—but today's class of women at WDAS are as likely to have studied architecture or computer science in college as they are to have emerged from art schools.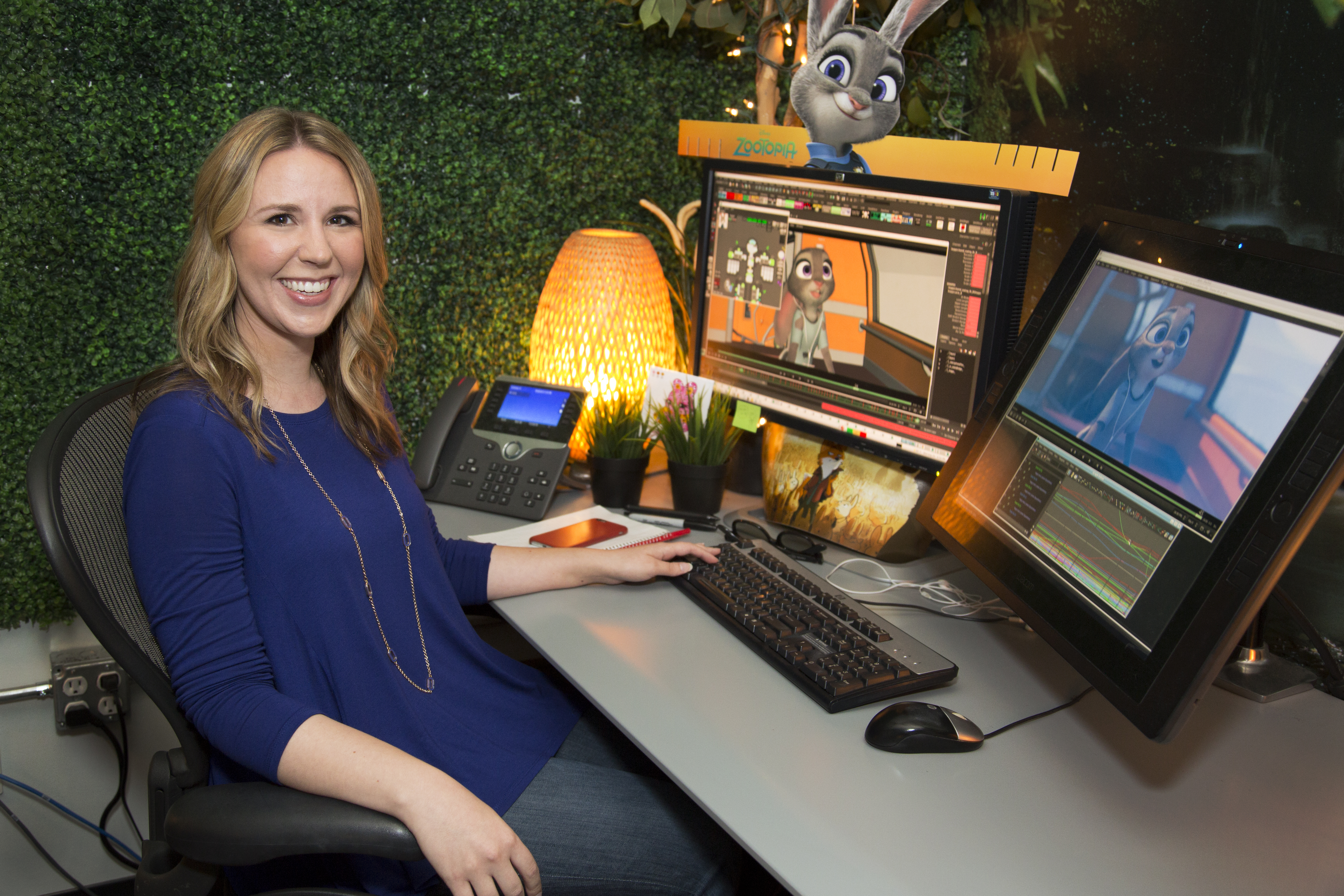 The line between technology and art is no longer as defined as it used to be, Zootopia Animation Supervisor Kira Lehtomaki, who graduated with a degree in computer science but went on to realize her lifelong dream of working as a Disney animator, stresses. "Having come from a technical background, I so strongly believe that a lot of the technology and software people—those people are 'creatives.' You have to be so creative in order to come up with those elegant solutions that work well and efficiently. A lot of times people think of it as one side of the brain or the other—the whole process is a creative process."
Lehtomaki credits the Internet for presenting a wider range of possibilities on the technical side. "That openness of information and technology is no longer just available to an exclusive group of people that were kind of niche and have the same kind of backgrounds and interests. That training can now be available to anybody," she points out.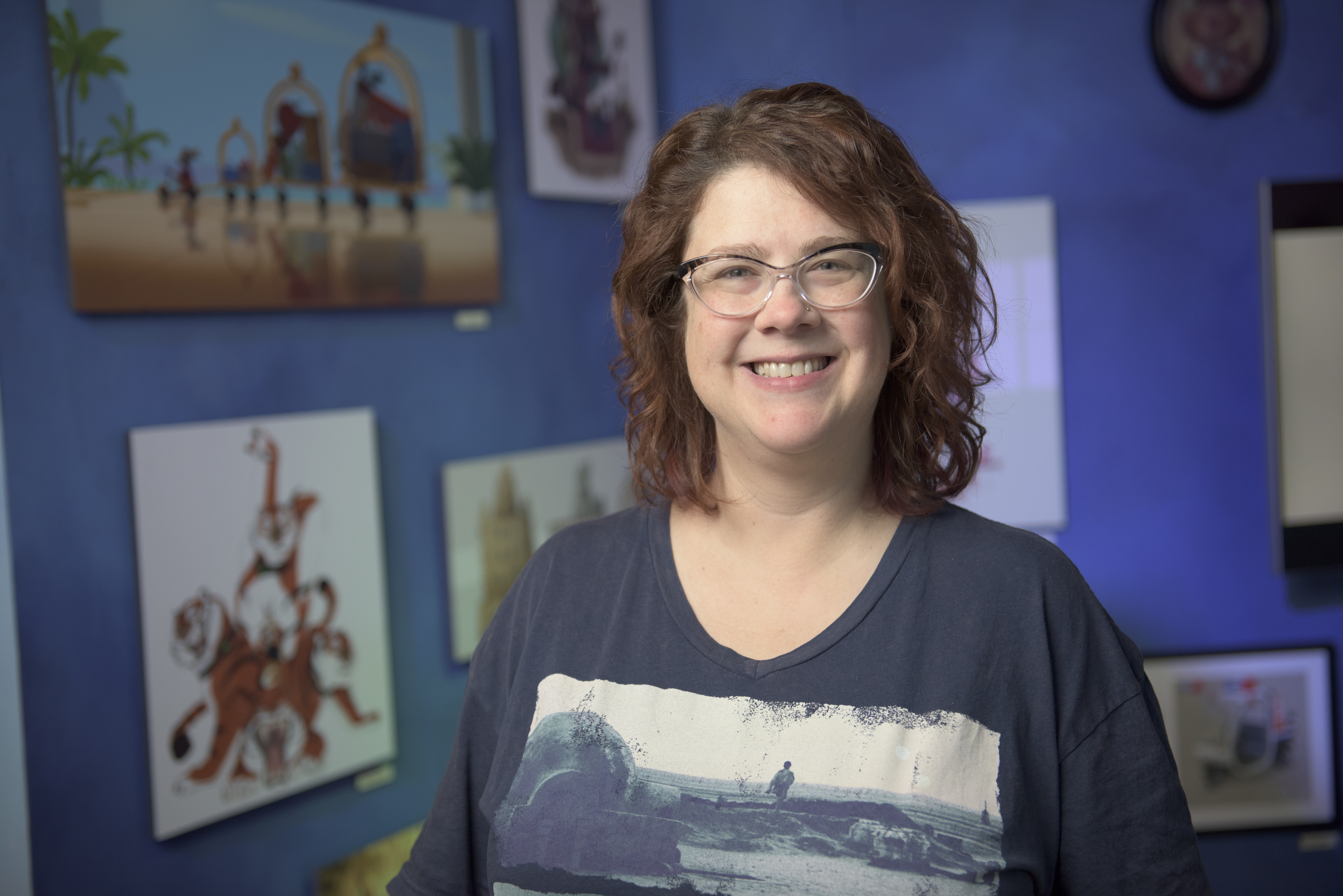 At Disney, Zootopia's Technical Director Heather Pritchett—a 20-year veteran of the Company—recalls, "When I started there were a lot of women in my peer group, but I didn't see a lot of women who had been here a long time." She can now look around the Animation Building and see a range of talent, from newly hired trainees to women who came on board with her years ago. "It's really nice to see that history represented in one place and know that even if you're just starting today, you can see where you'll be in 20 years."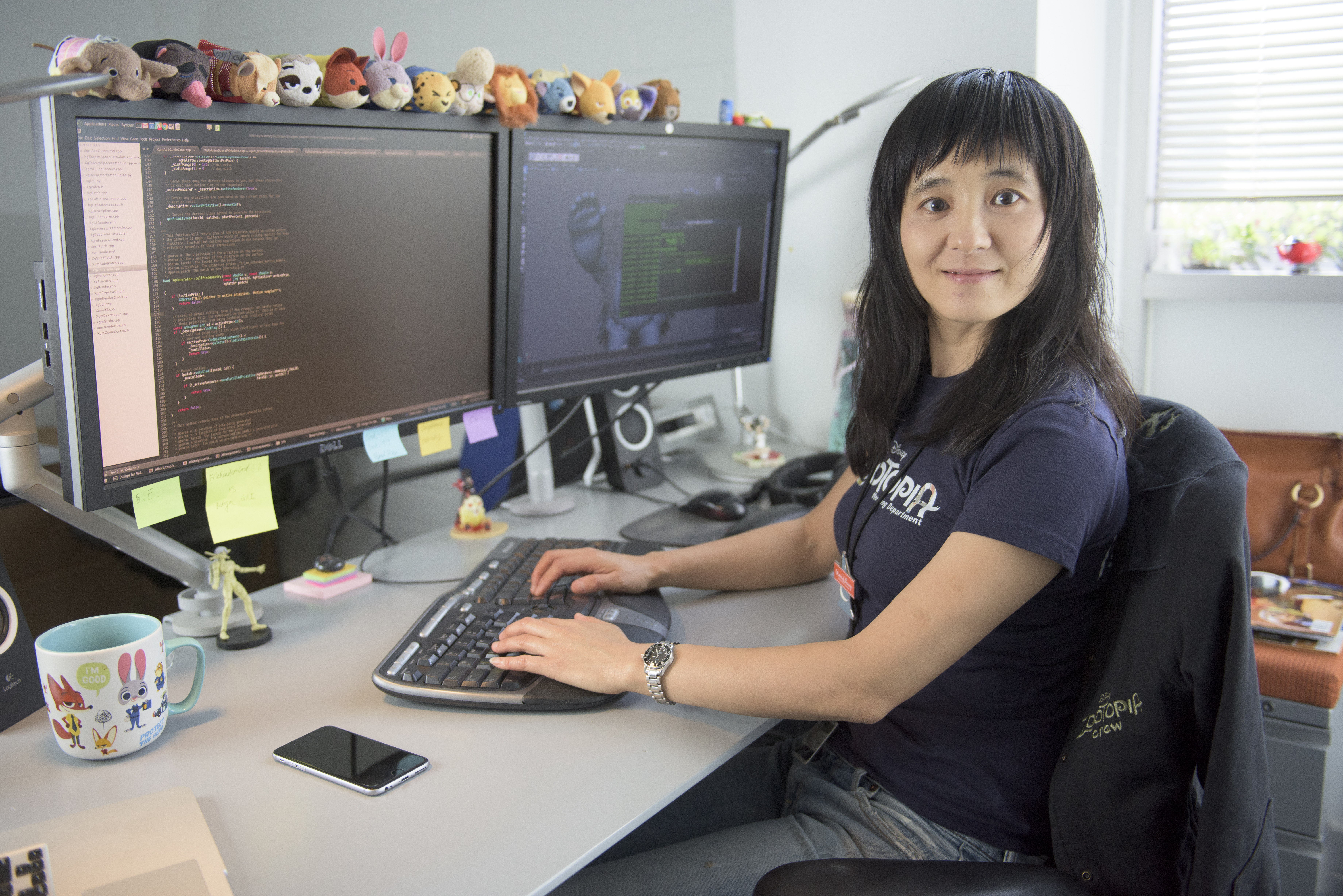 Mentorship and collaboration are important parts of the culture at WDAS that benefit everyone, Ying Liu, of Disney's XGen Leadership Team, says. "We started to embed technology people with the production people so that we can talk together—not necessarily formally—to come up with ideas on how we can make the workflow easier for the artists and drive the software to grow, too. That collaboration is so important."
"The people who ended up mentoring me were the people I describe as having shaped my childhood," Lehtomaki stresses. Robinson concurs that this is woven into Disney's legacy. "There are always people available to guide you through that path in your career. There's always someone ahead of you who has done that and can teach you. And I think that women supporting women is an important part of that," she says.
Pritchett is grateful for having pursued a broad course of study, and encourages students who visit WDAS to get a solid art education or a solid computer education. She tells them, "You will be so much stronger because of it and so much more able to keep up with shifts in the industry when you need to."
For Liu, who grew up in China, the possibility of working for Disney seemed "so far away"—both literally and figuratively. She was inspired to join the Company as a software developer after coming on a tour of the Studio and remembers thinking, "This is so impressive. I'd like to do that." The message of Zootopia speaks to her, and is advice that she passes along to the next generation of innovating women: "Always go after what's in your heart and don't be intimidated by anything. Anyone can be anything."