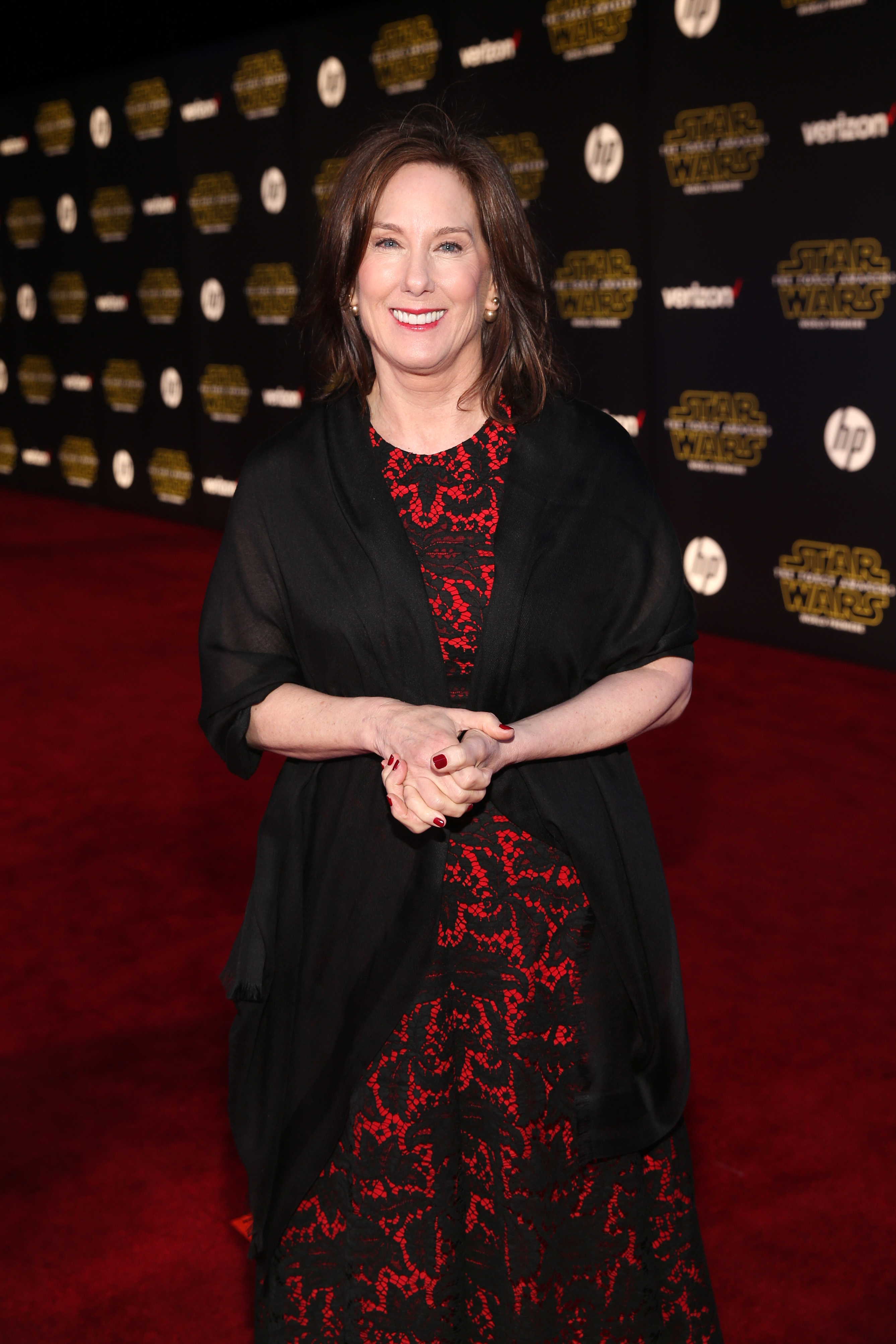 Since Disney acquired Lucasfilm in 2012, the whole Company has mobilized around the Star Wars franchise and the launch of this film. While the new Star Wars films are produced by Lucasfilm under the umbrella of The Walt Disney Studios headed by Chairman Alan Horn, Disney XD just wrapped up its second season of the animated series Star Wars Rebels. In September, Disney Consumer Products and Interactive Media orchestrated Force Friday, a global event unveiling all-new merchandise, and recently released the Star Wars: Battlefront video game, with a special Star Wars: The Force Awakens Play Set for Disney Infinity, which is out today. Walt Disney Parks and Resorts is currently celebrating "Season of the Force" at Walt Disney World and Disneyland, and Disney Chairman and CEO Bob Iger announced at D23 EXPO 2015 in August the planned creation of not one but two Star Wars Lands, in Anaheim and in Orlando.
Leading the charge is Lucasfilm President Kathleen Kennedy, the prolific producer who met Star Wars creator George Lucas not long after he released the very first film in the series, Star Wars: A New Hope, in 1977, and was handpicked by him to take the reins shortly before Lucasfilm joined Disney. As this newest episode of the Star Wars Saga unfolds—and with other Star Wars Stories such as Rogue One on the way—we posed a few questions to Kennedy on how the gargantuan galaxy of Star Wars fits into and expands the wonderful world of Disney.
Q: Was there anything that surprised you when you took the job of running Lucasfilm?
Kathleen Kennedy (KK): I can't say there's anything that surprised me, but in terms of being an executive and running a company as well as making movies, I've never been in a situation like I am now, especially inside The Walt Disney Company, where there's the empowerment of all these different lines of business associated with the content that we make. What I love about it is, it's an extension of the creative process. The strength of narrative is so important in all these different areas of business, especially now with technology. Technology is creating the opportunity to drive the narrative in so many different ways.
Q: If Lucasfilm had not become part of Disney, as a movie producer you presumably would've explored making new Star Wars films. What kind of difference do you think Disney made when it acquired Lucasfilm and these films were announced?
KK: It's been huge. I had to go into a quick learning curve to just understand all the things that Lucasfilm was involved in to begin with, but once the acquisition happened, and once those other lines of business began to integrate inside The Walt Disney Company, the ability to leverage Lucasfilm globally has been nothing short of astounding. I don't think there's any possibility that Lucasfilm could've come close to doing what this company has managed to do with positioning and setting up this franchise on a global scale. There were parts of the world that didn't know that much about Star Wars, such as China and Russia, since they never showed many of the films on the big screen. So there was a huge education process that needed to go on.
Q: Star Wars is famous for its massive, dedicated fan base. With this being the first new Star Wars Saga film in a decade, how has that factored in?
KK: We have some wonderful people inside Lucasfilm that have been nurturing that relationship with the fans for over 30 years. That was one of the first things that everybody at Lucasfilm sat down and really talked to me about—that this is completely unique and it's really important to the success of Star Wars. The marketing team has done an unbelievable job of respecting that and nurturing that and empowering that.
Q: Star Wars: The Force Awakens is just the first of several planned Star Wars movies, some of which are Saga films that focus on the Skywalker family, and others such as Rogue One that are known as Star Wars Stories. What can you tell us about the approach Lucasfilm is taking to the franchise as a whole?
KK: What we're doing is built around the universe of Star Wars, the mythology that George created. It gives us a huge amount of flexibility to look at it as though we're dealing with Star Wars history, and we can pull the history books out and then determine what direction we go, what genre we choose to move in.
Q: In Star Wars: The Force Awakens, Daisy Ridley's Rey is an incredible, strong heroine. One of the interesting things about Lucasfilm is how many of the lead executives are women.
KK: Right now our executive team is 58 percent female, and they're all powerhouses. Our head of games is a woman. The GM of the company is a woman. The head of story is a woman. Four out of the six key people in the development group are all women and strategic planning for the new ILMxLAB is run by a woman. It's pretty great, and the conversation in the room does change. That's something that I'm acutely aware of all the time: When you have a balance like that, there are distinctly different points of view that start conversations in ways that they just don't when you don't have diversity in the room.