Since the earliest days of the Marvel Universe, its Super Heroes have grappled with real-life issues even as they've traveled through time, battled powerful villains and saved an Earth that has always been intended to reflect the world of its audience. That continues to be the case in Marvel Studios' The Falcon and The Winter Soldier, which debuts today on Disney+. The new, six-episode series pairs two fan-favorite characters, Sam Wilson aka The Falcon (Anthony Mackie) and Bucky Barnes aka The Winter Soldier (Sebastian Stan), for a global adventure that follows the events of 2019's Avengers: Endgame. Amid the thrilling action sequences that Marvel does so well is timely and relatable character exploration that touches upon topics such as post-traumatic stress disorder and racial equity. To strike this balance, Marvel Studios assembled a talented and diverse team of filmmakers, with director Kari Skogland (The Handmaid's Tale, The Loudest Voice) at the helm.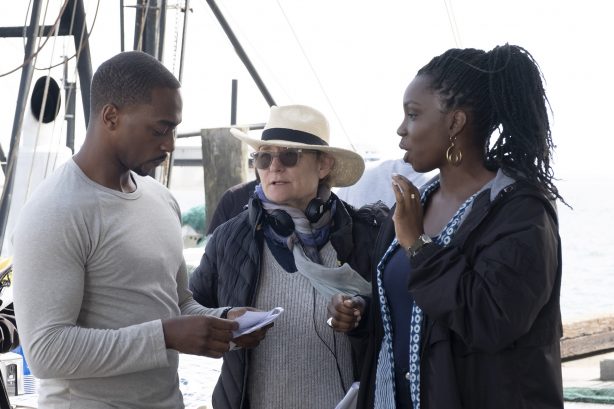 Women filmmakers aren't new to the Marvel Cinematic Universe, where Anna Boden made her mark with Captain Marvel in 2018 and which will see Black Widow from Cate Shortland and Eternals from Chloé Zhao later this year. According to co-executive producer Zoie Nagelhout—who has been with Marvel Studios since before the 2016 release of Captain America: Civil War—it's about finding the best person for the job. "When we were going through that hiring process and talking to Kari, her being a woman wasn't really a factor. She just brought the right ideas to the table," Nagelhout says.
Nagelhout earned her own seat at that table over the course of a "roller coaster" six years at Marvel Studios, which she came to as an intern while still in college. A longtime Marvel Comics devotee, Nagelhout has followed her fandom into a dream career. "I never thought I would begin my career at Marvel, let alone be where I'm at now," she shares. Nagelhout credits The Falcon and The Winter Soldier executive producer Nate Moore with mentoring her and enabling her to become involved with the groundbreaking Black Panther from the very beginning of the film's development. "He is a huge advocate for women and has always been incredibly supportive of me and helping me kind of figure out my confidence and build each step into a role like this," Nagelhout says.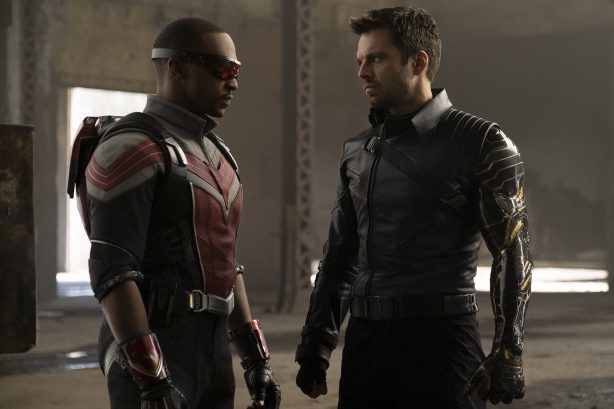 Within Marvel Studios, Executive Vice President of Production Victoria Alonso—also an executive producer of The Falcon and The Winter Soldier—has also served as a shining example of what's possible for women in film, especially in fields that have been traditionally dominated by men, such as visual effects and physical production. "It's huge," Nagelhout says of the impact Alonso's role has on the women who work across Marvel's productions. "When you look up and you see somebody like you, that's really powerful and motivating and inspiring; but specifically someone like Victoria, who's just an open book and an open door kind of person. You feel very much like any problem you're having, any challenge you're facing, you can go to her and she's a warm and supportive person. She challenges people and she pushes everybody to do their best work, but she's also very aware of the emotional toll that these jobs can sometimes take on people and that it's important to foster both sides of yourself—your career and also your personal side—so that you're doing your best work."
The filmmakers approached The Falcon and The Winter Soldier as if they were making a six-hour film, as opposed to six individual episodes. Nagelhout admits that the pace and the amount of content was a new challenge—albeit an exciting one—but that, from a story standpoint, they also found having the extended screen time to be a luxury. "We get to spend more time with these characters. All the fun things and ideas that always come up when we talk about making these stories, we get to fit more of it in when we have more time," she says.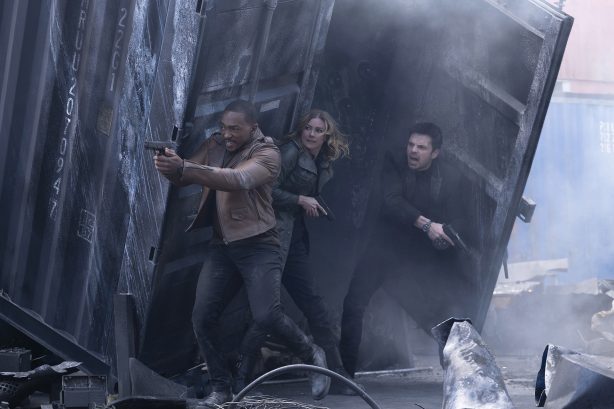 The Falcon and The Winter Soldier centers around Sam Wilson and Bucky Barnes, but the women who share the screen with them each bring their own superhuman qualities to the story—from Bucky's therapist, a no-nonsense former soldier herself, to Sam's sister Sarah, who has struggled to single-handedly keep the Wilson family business going under the most challenging, Thanos-induced circumstances. This speaks to Marvel's commitment to strong women on screen, even when they aren't Avengers themselves. "There was a masculine nature to [The Falcon and The Winter Soldier] from the outset because of Sam and Bucky, so we wanted to make sure we balanced that out with female perspectives across the board. It just makes the whole world feel bigger," Nagelhout says.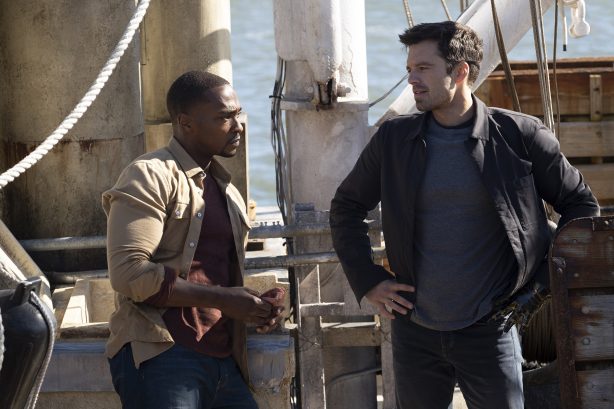 Behind the scenes, the filmmakers only needed to make sure they hired the most talented people to fill each role in order to bring more female perspectives to The Falcon and The Winter Soldier set. Nagelhout recalls standing around the monitors in the production's "video village" surrounded by a talented group of women from different departments. "It was really kind of wonderful, because all these people were the right person for the job," she says. "Everybody was there because they deserved to be there, so it was a pleasure working with them because they're the best at what they do."