'Tis the season! We're celebrating the holidays at Disney Consumer Products (DCP) with a sleigh full of gadgets and innovative toys for every family. From a magical princess castle to storytelling that comes alive, these products embody Disney's commitment to innovation, while reinforcing our rich storytelling heritage. Join us as we spotlight some examples of how Disney is leading the convergence of toys and technology.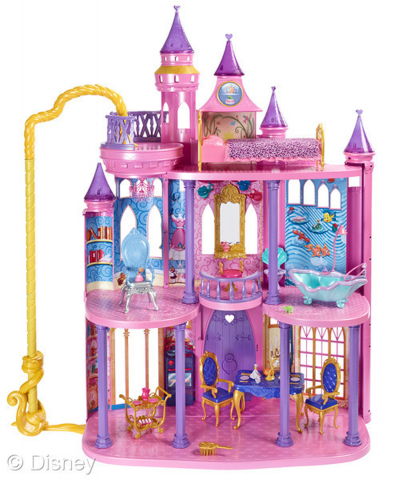 The Disney Princess Ultimate Dream Castle, coupled with the Disney Magic Mirror app, brings kids' favorite princess characters and friends to life through the power of augmented reality. Complementing the Ultimate Dream Castle, the app takes physical play to the digital world, unlocking special interactive activities such as igniting fireworks in front of the castle, designing dresses for Cinderella, baking pies with Snow White and so much more. The Disney Princess Ultimate Dream Castle with Disney Magic Mirror app, a holiday favorite, is featured in Amazon's 2013 Holiday Toy List, Parents magazine's "Virtual Reality" Top Toy Pick 2013, Toy Insider's Top Tech 12 for 2013 and E! Online's 2013 Holiday Gift Guide.
With the recent release of Disney StoryLight, story time for kids at bedtime and beyond has never been so vivid and lifelike. Disney StoryLight—which was created to complement the Disney Storytime app—brings beloved Disney stories to life by augmenting the reading experience and changing the lighting in the room to match the flow of the story. Ultimately, a child's room comes alive as the mood in the space transforms, right as the pages of the e-book flip. And to top off the experience, more than 30 digital stories are available in the Storytime app.
As you can see, the development of the way kids play inspires us at DCP, and we're excited to be at the forefront of the evolution with our collection of toys and products that unlock the imaginations of kids and families everywhere. If you're not already jingling your way to the toy store, visit our Facebook page to learn more about our products. Happy holidays!