Tomorrow, guests will begin to live out their own Star Wars adventures in the largest single-themed land expansion in Disney Parks history, with the official opening of Star Wars: Galaxy's Edge at Disneyland park in California. An epic grand opening ceremony was held last night at Disneyland park for the more than 14-acre land, which will also open at Disney's Hollywood Studios in Florida on August 29. Joining Disney Chairman and CEO Bob Iger at the spectacular event was Disney Legend George Lucas, the visionary filmmaker who first took audiences to a galaxy far, far away with the release of Star Wars: A New Hope in 1977, as well as three beloved actors from the Skywalker Saga: Billy Dee Williams, Disney Legend Mark Hamill and Harrison Ford.
"When I first met with our Imagineers to talk about Star Wars, my message was actually quite simple: Do not be ambitious. Be the most ambitious that you have ever been," Iger said during last night's dedication ceremony. "After all, we are building on the legacy of two extraordinary visionaries, Walt Disney and George Lucas, and both of those men embody quality, innovation and bold creativity. Both knew how to surprise people—actually, both knew how to blow their minds with experiences unlike any that they had had before. And we knew that we had to walk in their footsteps and get this right for all who come to this happy place, particularly for those wonderful and passionate Star Wars fans."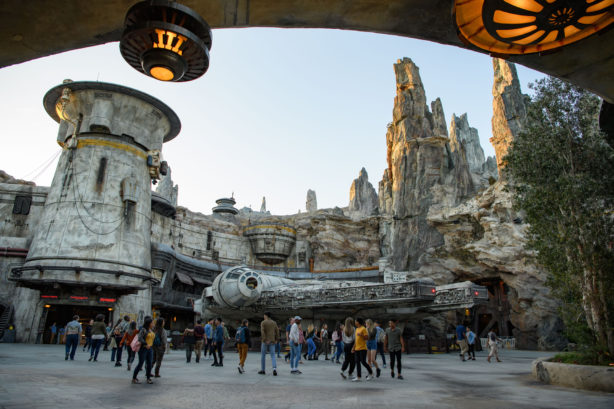 Those passionate Star Wars fans were top of mind as Walt Disney Imagineering and Lucasfilm partnered to create the new land, which will feature two attractions, Millennium Falcon: Smugglers Run and Star Wars: Rise of the Resistance (opening later in 2019). Millennium Falcon: Smugglers Run delivers a thrilling combination of immersive storytelling and interactive gameplay for guests as they step aboard the famed "bucket of bolts" and team up to complete a mission. The incredible attention to detail on the ship is the result of tireless research from Walt Disney Imagineers, who visited Pinewood Studios to study Falcon film sets and archival Lucasfilm photographs as part of the development process.
Star Wars: Galaxy's Edge is also the most technologically advanced land in a Disney park. In addition to incredible innovations in the Audio-Animatronics® figures guests will encounter when they journey to the planet Batuu, Star Wars: Galaxy's Edge has been designed from the ground up to integrate with the Play Disney Parks mobile app, which debuted last year. The app, which transforms into a Star Wars: Datapad upon arrival in the new land, enables guests to engage with the land in ways that are often surprising, allowing them to interact with certain droids and other scenic elements; translate the local language on Batuu, Aurebesh; scan the contents of cargo crates and containers to collect virtual items; and even "eavesdrop" on conversations between characters in Star Wars: Galaxy's Edge.
Cast members are always part of the story in Disney parks, and in Star Wars: Galaxy's Edge, they play an expanded role. As local citizens of the planet Batuu, they are encouraged to develop their own identities and personas within the stories of their roles. Cast members' nametags have been customized for the land, with names translated into Aurebesh, and costumes have been designed to be modular, with a wide variety of options for cast members to choose from as they shape the personality they wish to portray for guests.
The retail experience extends the storytelling in Star Wars: Galaxy's Edge and delivers a level of authenticity and realism that hasn't been seen before in a Disney park. Guests may visit nine different retail locations offering, collectively, nearly 700 unique items that include role play products and customizable items such as lightsabers and droids. Guests will also enjoy a culinary adventure at five different food and beverage locations that feature a wide array of offerings, designed by the Disney Parks food and beverage team in concert with Walt Disney Imagineering, which are true to the local Batuuan culture and its traditions but also evoke favorite memories for fans who may have been pondering the taste of Blue Milk since their first introduction to the world of Star Wars more than 40 years ago.
"Star Wars: Galaxy's Edge redefines what a Disney experience can be," said Scott Trowbridge, Star Wars Portfolio Creative Executive, Walt Disney Imagineering. "It invites exploration and discovery, where we can become characters in the Star Wars galaxy. More and more, our guests want to lean into these stories; not just be a spectator. We're giving them the opportunity to do just that in this land, with a new level of detail and immersion. This is an opportunity to play and engage with your friends and family in a shared experience that will forge lifelong memories."