The latest news from the set of Star Wars: Episode VII is a brand-new Star Wars charitable initiative launched today by Disney and Lucasfilm, in collaboration with J.J. Abrams' Bad Robot.
Continuing Disney's ongoing commitment to creating a brighter tomorrow for kids and families, the aptly named Star Wars: Force for Change was developed with a goal of finding creative solutions to some of the world's biggest problems.
Disney has committed $1 million to support the launch of Star Wars: Force for Change, and the first campaign (which runs May 21 through July 18, 2014) will raise funds and awareness for the United Nations Children's Fund's (UNICEF) Innovation Labs and projects.
In a video from the set in Abu Dhabi, Episode VII director Abrams made the announcement—including the exciting news that fans who contribute to the campaign are automatically entered for a chance to win a trip to London to visit the set, meet members of the cast and be filmed for a scene in Star Wars: Episode VII!
In fact, you get one Grand Prize entry for each $10 you contribute, plus you'll be rewarded at various levels of giving with some sweet Star Wars swag.
If "Use the Force, Luke" has been a frequent refrain in your daydreams (whether or not your name is Luke), now's your chance to do so.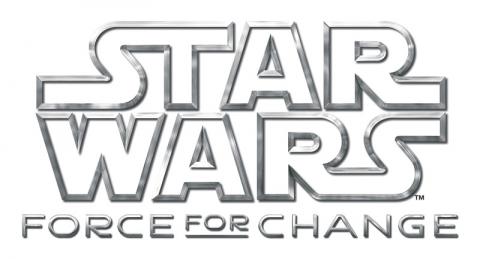 Check out StarWars.com/ForceForChange for full details, and enter for your chance to win at Omaze.com/StarWars. Your support will help UNICEF fund innovative nutrition, water, health and education programs that benefit the world's most vulnerable children.
Star Wars: Force for Change Program: Restrictions and Limitations
No purchase necessary to enter or win. Void where prohibited. Must be at least eighteen (18) years of age or the age of majority in your domicile, to enter and a resident of Argentina, Austria, Canada, Cyprus, Estonia, France, Germany, Greece, Hungary, India, Ireland, Japan, Latvia, Lithuania, Mexico, Netherlands, Philippines, Portugal, Romania, Russia, Slovakia, Slovenia, Spain, Sweden, USA, or the UK, and not a resident of Belgium, Italy, Malta, Singapore, or Thailand. Residents of Australia, Brazil, China and the Republic of Korea are not prohibited from participating, but local rules and laws may restrict or prohibit the award of certain prizes or impose additional restrictions on participation.
Rewards are separate from sweepstakes prizes. Rewards are limited in quantity. Odds of winning depend on number of entries. For free entry: (i) send post card to Sponsor at PO Box 3190, 1217 Wilshire Blvd., Santa Monica, California 90408 by applicable mail date; or (ii) visit Omaze.com/StarWars. Entrants may receive additional entries via Facebook. Maximum number of entries: 10,000 per Entrant. Travel and accommodations are at Sponsor's discretion and subject to availability and change. Winner and Guest may be required to pass a background screening or security check, to receive the prize and/or reward. Visa conditions may apply. All taxes are Winner's responsibility. Not sponsored, endorsed or administered by, or associated with Facebook®. Residents of certain territories may be required to successfully complete a trivia question to qualify. For full entry requirements, details, limitations and restrictions see Official rules at Omaze.com/StarWars. Sole Sponsor: Omaze, Inc., PO Box 3190, 1217 Wilshire Blvd, Santa Monica, CA 90408.