"This is one of the proudest and most exciting moments in the history of The Walt Disney Company," said Disney Chairman and CEO Bob Iger on stage at the Grand Opening ceremony of Shanghai Disney Resort on Thursday, June 16.
Chinese dignitaries, Disney executives and thousands of guests were also in attendance to welcome the latest addition of the Walt Disney Parks and Resorts family—and Disney's first destination resort in Mainland China.
Iger continued a tradition started by Walt Disney himself—one that has occurred at the opening of every Disney park around the world—by reading the park's dedication: "To all who come to this happy place, welcome. Shanghai Disneyland is your land. Here you leave today and discover imaginative worlds of fantasy, romance and adventure that ignite the magical dreams within all of us. Shanghai Disneyland is authentically Disney and distinctly Chinese. It was created for everyone, bringing to life timeless characters and stories in a magical place that will be a source of joy, inspiration and memories for generations to come."
During the ceremony, Iger read a congratulatory letter from U.S. President Barack Obama that stated the resort blends "American business with the beauty and rich cultural heritage of China." President Obama also wrote that Shanghai Disney Resort "captures the promise" of the bilateral relationship between the U.S. and China.
Wang Yang, the vice premier of China, also shared a letter of congratulations written by Chinese President Xi Jinping. In the note, President Jinping congratulated "the successful cooperation between Shanghai and The Walt Disney Company." He also mentioned, "By adding to the classic Disney style a stroke of Chinese characteristics, and by blending international standards with best local practices, the resort demonstrates our commitment to cross-cultural cooperation and our innovation mentality in the new era."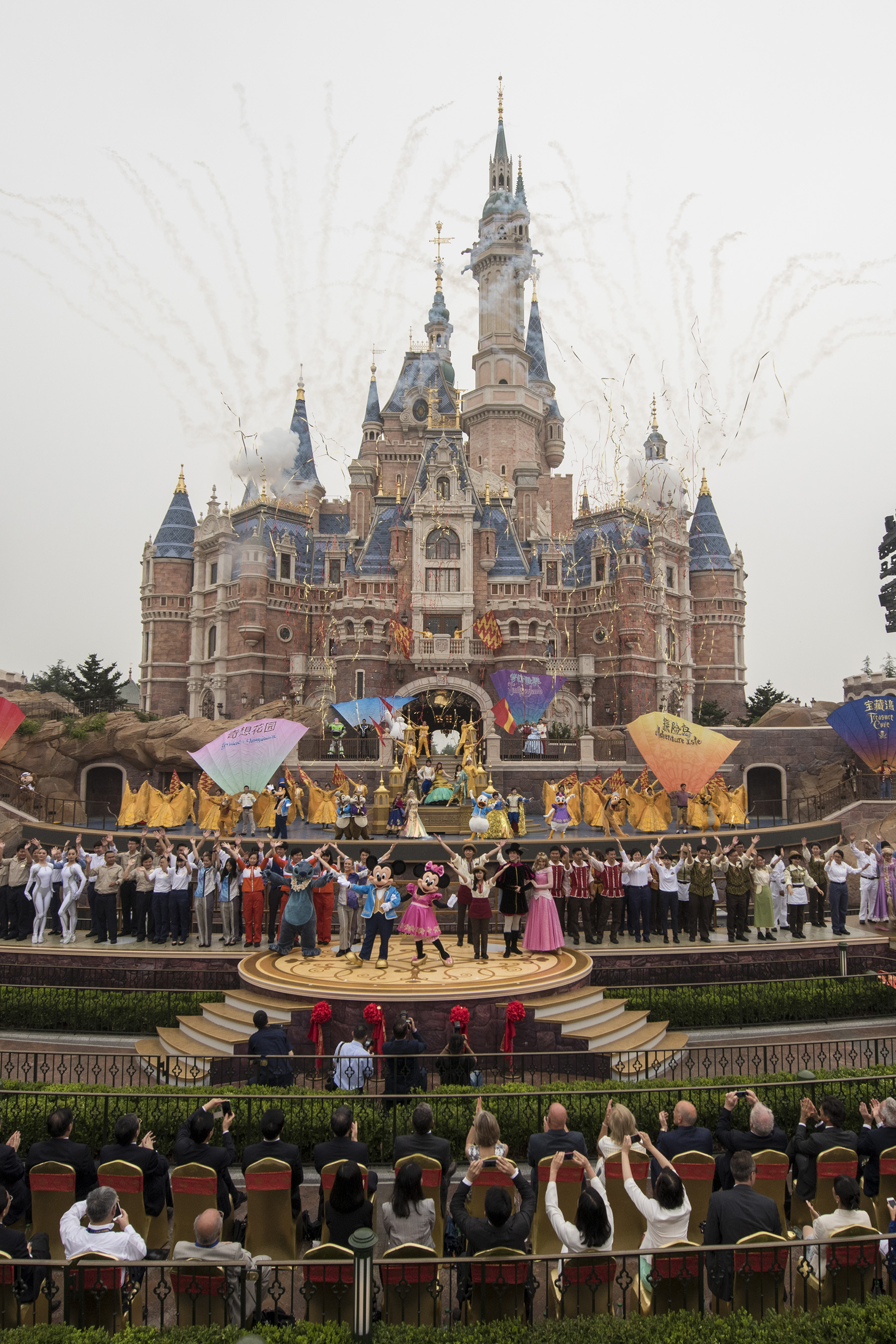 In 1955, Walt Disney envisioned Disneyland, a place where millions of guests could interact with beloved stories and characters—and with their families—in new ways. More than 60 years later, with the opening of the most technologically innovative theme park Disney has ever built, Shanghai Disney Resort continues this time-honored legacy.
Inside Shanghai Disneyland lie six themed lands, each one a unique experience, imagined and created especially for China: Adventure Isle, Fantasyland, Gardens of Imagination, Mickey Avenue, Tomorrowland and Treasure Cove. At the heart of the park is Enchanted Storybook Castle, the tallest, biggest and most interactive of all Disney castles the world over.
Beyond the park, the resort boasts Disneytown and two imaginatively designed hotels—the elegant Art Nouveau-influenced Shanghai Disneyland Hotel and the colorful Toy Story Hotel, inspired by Disney·Pixar's hit films. Wishing Star Park offers a relaxing natural escape with a promenade and lake.
"It's the privilege of a lifetime to lead this phenomenal company as we continue to find new ways and new places to bring our stories to life and to bring people together to create cherished memories that last forever," Iger said. "Today is a celebration of creativity and collaboration, commitment and patience, the triumph of imagination and innovation, and a testament to the strong partnership between Disney and China. Together, we have created an extraordinary destination."