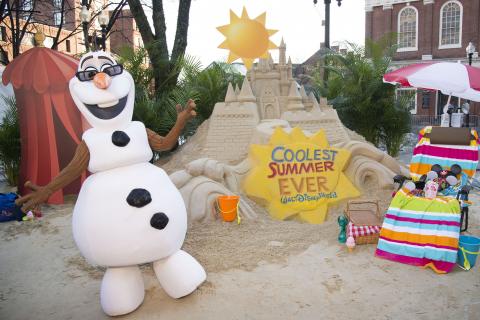 Today, Walt Disney World Resort announced the kickoff of the "Coolest Summer Ever" with 24 hours of nonstop fun during a special event May 22–23 at the Magic Kingdom. To announce the 24-hour event and the "cool" summer season, Disney Parks, with the help of ABC-TV's Good Morning America, brought to life a warm summer scene inspired by Olaf's dream, creating a 20-foot-wide beach complete with a Cinderella Castle made of sand in the middle of winter-weary Boston. You can see how the event came together in the video below:
During the "Coolest Summer Ever," Walt Disney World guests can experience the celebration all summer long at four theme parks and two water parks. Highlights include "Frozen Summer Fun LIVE!" and Star Wars Weekends, as well as new restaurants, shopping and live entertainment acts throughout the resort.
On the West Coast, Disneyland Resort will kick off the summer with a dynamic 24-hour event of its own, May 22–23, to launch the Disneyland Resort Diamond Celebration. Marking the 60th anniversary of the resort, the Diamond Celebration includes the premieres of three new nighttime spectaculars: Disneyland Forever fireworks, Paint the Night parade and World of Color—Celebrate! The all-day/all-night event will include dancing and special character encounters along with enchanting Diamond décor throughout the resort.
Read more about the 24-hour events and summer celebrations at Walt Disney World Resort and Disneyland Resort on the Disney Parks Blog.