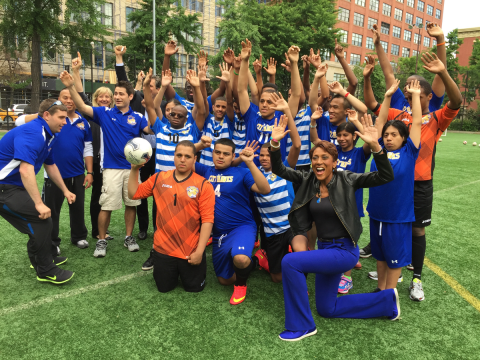 Between her weekday duties as an anchor on ABC's Good Morning America (GMA) and preparation to host the Opening Ceremony for the Special Olympics World Games on Saturday, July 25, Robin Roberts has been burning the candle at both ends.
Still, she made time to tell several behind-the-scenes stories for Countdown to the Special Olympics World Games with Robin Roberts (ESPN, tonight, 9 p.m. ET with re-airs Saturday, 2:30 p.m. on ABC and 8 p.m. on ESPN).
The former SportsCenter anchor was driven to produce this special for ESPN and ABC. She thanks her teammates at both networks for helping her complete this project. Roberts has been involved with the Special Olympics since she was growing up in Mississippi in the 1980s.
"I now fully understand the phrase 'labor of love,'" Roberts tells ESPN Front Row. "It was challenging balancing my duties at GMA with the production of this show and preparing to host the Opening Ceremony. 
"I'll be the first to admit that it takes a village. I have a fabulous team at Rock'n Robin Productions. My colleagues at GMA and ESPN are incredibly supportive. There's no way I could do all that I'm blessed to do without the help of many talented people by my side."
Visit ESPN Front Row to learn more about the special, which includes interviews with Tim Shriver, Brooklyn Decker and Special Olympics athletes.