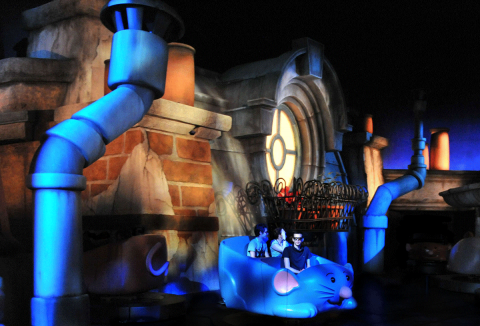 The wait is finally over! Disneyland Paris' 60th attraction, Ratatouille: L'Aventure Totalement Toquée de Rémy (or Ratatouille: The Adventure), opened to guests this morning at Walt Disney Studios Park. Guests made their way to the cobbled streets of La Place de Rémy—the themed mini-land that is home to the attraction—for the grand opening ceremony.
Inspired by the Disney•Pixar movie Ratatouille, the attraction features state-of-the-art animation and larger-than-life projections that immerse guests in the world of Rémy. Guests are whisked over the rooftops of Paris, through the kitchen, and into the rush of a French dining room. The adventure offers a comical rat's-eye view of the crazy culinary journey in your very own "ratmobile."
La Place de Rémy, where the attraction resides, brings the storybook world of Ratatouille to life and celebrates the architecture and culture of Paris. It also features a table-service restaurant, Bistrot Chez Remy, where guests can dine on French specialties including—you guessed it—ratatouille, and a specialty boutique, Chez Marianne, that will open later this year.