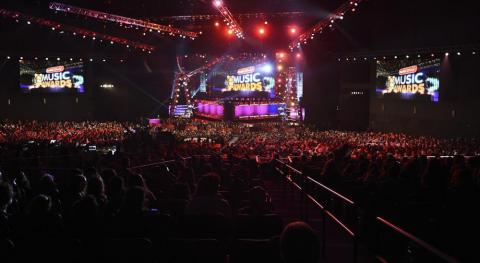 In a rousing television debut, Disney Channel Presents the Radio Disney Music Awards—a celebration of music for kids and families—delivered 3.2 million Total Viewers and ranked as the No. 1 primetime TV telecast of April 2014 across all major youth demographics: Kids 2–11 (1.7 million), Kids 6–11 (1.4 million), Kids 6–14 (1.9 million), Tweens 9–14 (1.4 million) and Teens 12–17 (683,000). It was also the No. 1 telecast across all TV for the month in Girls 2–11 (1.1 million), Girls 6–11 (947,000), Girls 6–14 (1.3 million) and Girls 9–14 (877,000). The event is in its second year.
The Radio Disney Music Awards (RDMAs) ranked in the Top 10 relevant tweets for the week of April 21, according to Nielsen SocialGuide. Compared to all other televised music awards shows this year, the Disney Channel telecast of the RDMAs ranks No. 1 among Kids 2–11, Kids 6–11 and Tweens 9–14 (the competition includes the MTV Video Music Awards, theBillboard Music Awards and the American Music Awards). The RDMAs telecast also defeated the Grammy® Awards among Kids 2–11 (1.7 million vs. 1.3 million) and Kids 6–11 (1.4 million vs. 877,000) and virtually tied it among Tweens 9–14 (1.361 million vs. 1.371 million).
Against similar kids awards shows, the RDMA telecast defeated Cartoon Network's Hall of Games in its fourth year (947,000 vs. 145,000) and defeated the Nickelodeon Kids' Choice Awards in its 27th year (947,000 vs. 872,000) among Girls 6–11.