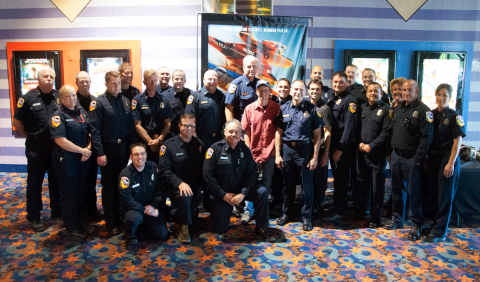 "Truth to materials" is a mantra for every filmmaker at Disneytoon Studios. This tenet comes directly from John Lasseter, chief creative officer, Walt Disney and Pixar Animation Studios, and executive producer of Disneytoon Studios' upcoming release Planes: Fire & Rescue.John encourages every filmmaker to do extensive research—not only to ensure authenticity to the story, but to help drive it.
"With all of our films, research informs storytelling," says Bobs Gannaway, the director ofPlanes: Fire & Rescue, a movie about second chances that follows crop duster-turned-air racer Dusty Crophopper, as he adds another title to his unlikely resume: aerial firefighter. "When we learned that historically, the very first air attack teams were crop dusters," Bobs explains, "it was clear that the plane was telling us where the story was going." To bring that story to the screen, the filmmakers turned to the experts who had the first-hand knowledge and insight that comes only from fighting wildfires on a regular basis.
"We were given the opportunity to work closely with the brave men and women of CAL FIRE [the California Department of Forestry and Fire Protection], who helped us with research to get everything right," Bobs says appreciatively. "The look of the fire, the smoke, the water and retardant drops, and even the radio chatter, it's all genuine. Authenticity is something we strive to express in our films and they played a huge part in making the firefighting in our film authentic."
This is no small feat. Fire is showcased in Planes: Fire & Rescue on a larger scale than any animated film has previously attempted. CAL FIRE welcomed the Fire & Rescue team to the Hemet-Ryan Air Attack Base where they were allowed to sketch, take pictures and video, and observe how the firefighters interact with each other and go about their jobs.
The filmmakers also attended the CAL FIRE and U.S. Forest Service's annual training exercises at the Aerial Supervision Course in Redding, California, where they met with a graduating class of smokejumpers. "They're young, strong, incredibly skilled men and women—all in tip-top shape—who parachute in to fight fires from the ground. We got to see them gather their gear, get in uniform, strap on these enormous backpacks and board the aircraft—all in less than three minutes," the film's producer Ferrell Barron recalls.
Last week Disney held special screenings in Hemet, Redding and Sacramento for the CAL FIRE firefighters, the CAL FIRE executive staff and the U.S. Forest Service representatives and "smokejumper" team, along with all of their families. These dedicated screenings are one way the filmmakers have expressed their appreciation for the invaluable assistance provided by these organizations.
"To tell a story about heroes, we worked with actual heroes. We have dedicated our film to firefighters around the world who are out there saving lives every day," Ferrell says of the men and women who helped them in their commitment to "truth to materials." "This film wouldn't be what it is without them. We made this film for them."