Toys. Monsters. And an entire undersea world of fish. The creative minds of Pixar are always pushing forward with new technology and techniques for creating the most vibrant and believable animated characters in film, constantly striving to advance their filmmaking capabilities.
For their latest film, Cars 3, the team was tasked with adding colors, shapes and expressions to characters that are made of steel, plastic and glass. "It was a real challenge on Cars 3 to make sure these characters were flexible, but also still paying homage to the fact that they are metal," says Michael Comet, characters supervisor. "We wanted to stay true to the fact that these are real cars."
One of the most recognizable aspects about these cars are their colors—their paint schemes—which are much more complex than fans may realize. "In the world of Cars, colors and shapes help define these characters," says Jay Shuster, production designer. "You want them to be true to what they're made of—the steel and the plastics and whatnot."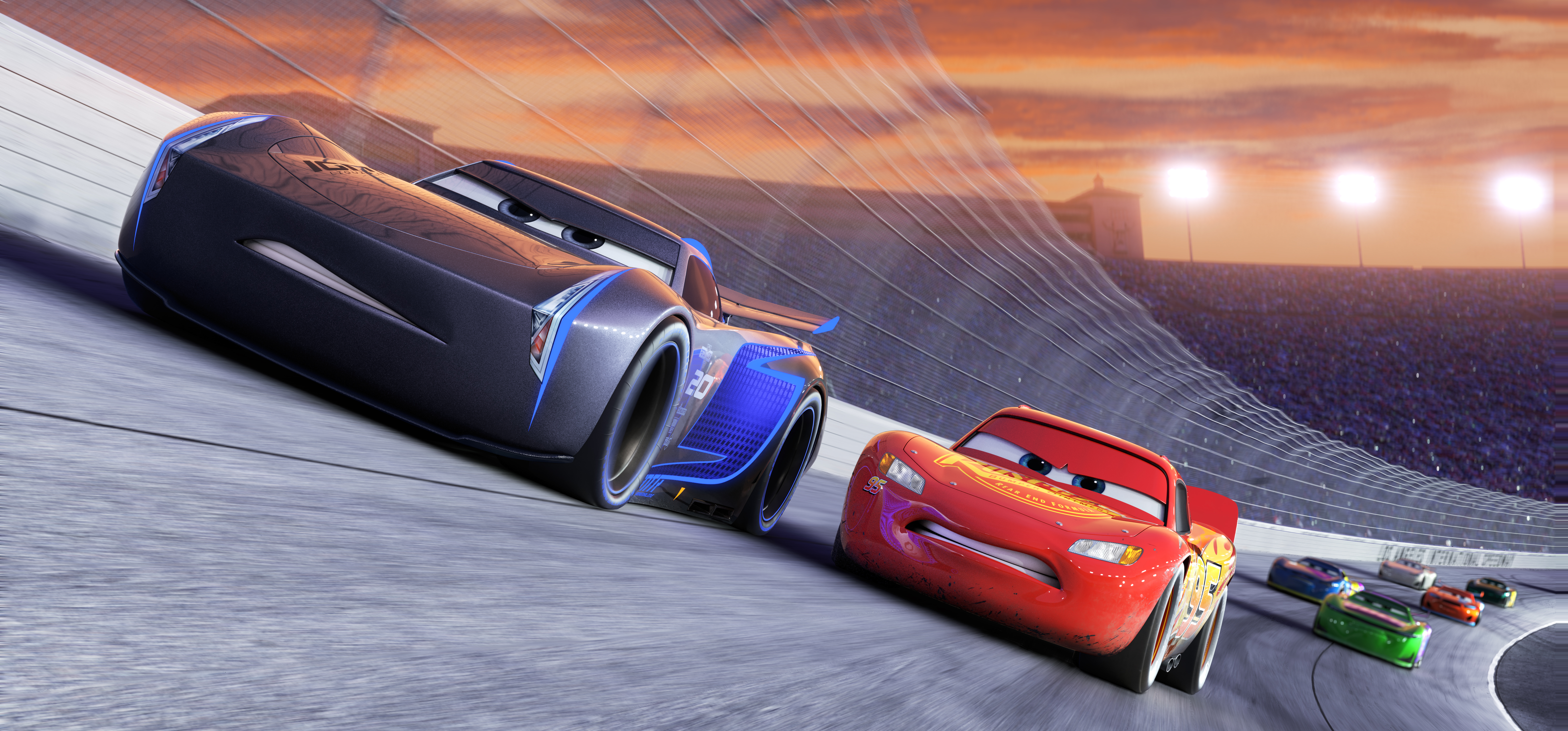 In Cars 3, Jackson Storm (voiced by Armie Hammer) emerges as the new, state-of-the-art rival to Lightning McQueen (voiced by Owen Wilson). "He is the next generation," says Shuster. "And for a character like this, the goal is to use shape, paint and graphics to create a character that contradicts Lightning McQueen in every possible way. We wanted Jackson's graphics to be as bold and elegant as possible."
"We took the international symbol for hurricane and transformed that into his iconic S," says Shuster, referring to the "S" symbol on the side of Storm. "To complete the look, we specified the paint and materials to give him a dramatic, imposing appearance. We exploited shape, paint and graphics to yield a character that needs very few words to express his intentions."
For the other new character in the film—Cruz Ramirez (voiced by Cristela Alonzo)—the Pixar artists decided to use yellow to make her stand out in stark contrast to the darker hues of Storm. "She's got a very vibrant personality, so we wanted something that really shone and popped," says Shuster.
Technical artists start with a basic gray "sculpture" in the computer—no color, no shading, it's just flat. "To add color and add shading, what we do is we have a team of digital shading and painting artists," says Comet. "They can do things like control shininess and color—reflectivity. And then what we do is we take those materials and we apply them back onto these vehicles."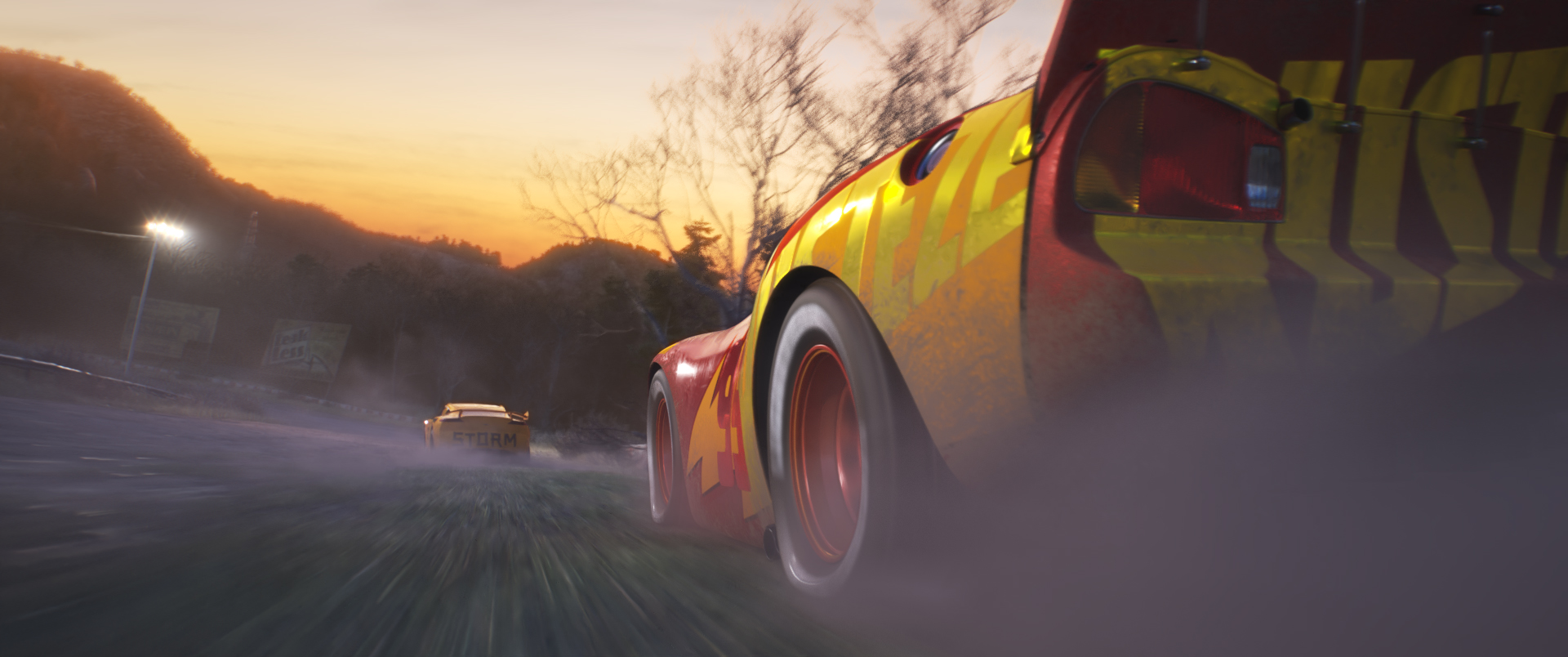 Describing Lightning McQueen's new, shiny paint job, Comet says: "Our technology has really advanced for Cars 3 to the point where everything responds realistically and accurately. For example, he's so shiny, and there are points in the movie where we had to actually animate cars that were off-screen just because you could see it in his reflections."
For a real car, there's usually a clear coat over base paint over primer. For Cars 3, character artists were able to duplicate that in the computer. "We have controls on the surface of our [animated] cars to say how shiny is the paint and how shiny is the actual clear coat and distinguish those two as the computer renders that image," says Comet. "We even did things like little micro scratches. You know, if you wash your car and use incorrect technique, you go in circles, you're going to get these little shiny scratches. We also have that in Cars 3."
From the vibrant yellow of Cruz, to the shiny, reflective paint of Lightning McQueen, to the darker, "metal-fleck" paint of Jackson Storm, the designers and technical artists have created characters that not only resonate because of their personalities and stories, but because their paint and appearance is so lifelike that you almost think it's real. Or, as Shuster says, "We're trying to be more and more true to materials, as our renderers and all of this quality is so real. We want to stay true to the fact that these are real cars."
You can see these fresh, new paint schemes in Cars 3, zooming into theaters June 16.