One person's trash is another person's Tony® Award—especially for scenic designer Donyale Werle and costume designer Paloma Young. The Peter and the Starcatcher creative duo received 2012 Tony Awards for their inspired work on the vibrantly original Disney Theatrical Group production, in which they repurposed discarded objects and rubbish to create a magical, environmentally friendly ambiance.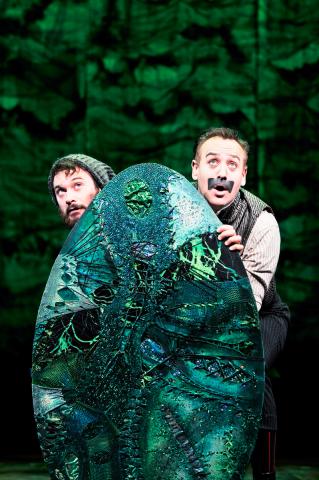 "Costume designers have been salvaging things for years," Paloma says. "We don't throw things out at the end of every show." With each incarnation of the Peter and the Starcatcher—making its next stop in Los Angeles at the Ahmanson Theatre December 3, 2013 through January 12, 2014—most everything was recycled.
"We were driving around one day on a trash run, and there was a bodega that had smoke coming out of it," Donyale says. "The doors had been removed and put on the sidewalk because they were scorched, and we thought they would make the perfect transom. They were still warm from the fire when we grabbed them, and for the entire first run of the show, there was a smell of charred wood." Recycled and sustainable materials have long been integral to Donyale's set designs, and she uses them in delightful ways in Peter and the Starcatcher, a show, she says, that is "about creating something out of nothing."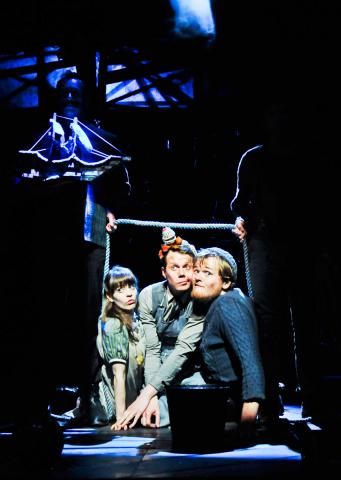 Based on the novel Peter and the Starcatchers by Dave Barry and Ridley Pearson, this play with music is a grownup's prequel to Peter Pan. But more than that—thanks to a smart, funny book by Rick Elice, and the wildly inventive direction of Roger Rees and Alex Timbers—the show is also a celebration of the imagination. A dozen actors take on more than 100 characters in the production. Locations, like a ship or an island, are suggested rather than defined, often with little more than a piece of rope and savvy lighting.
The one defined space is the proscenium, a gateway into the show's fantasy world. "We felt we needed a framework, like a portal, to tell the story," Donyale explains. "The proscenium serves that purpose here; it puts us in a recognizable, Victorian musical hall. And we created the proscenium with trash." More than 3,500 corks, 800 bottle caps and 300 pieces of cutlery, as well as toys, ropes, beads, cooking timers and tools, tops of cans, zippers, CDs, vinyl records, bamboo sticks and mannequin arms, to be exact.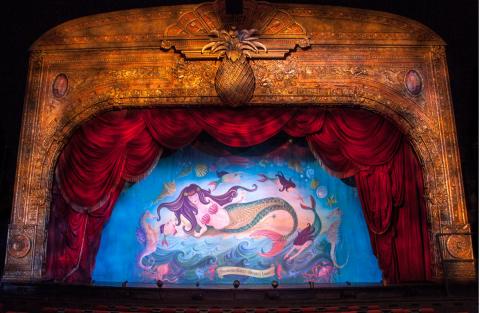 Both Donyale and Paloma are also pleased that children contributed some of the items that are used in the show's design and decorations. "A little bottle cap that a kindergartner collected a few years ago is now going to be touring the country and seen by thousands and thousands of people," Paloma adds. "I think that embodies what this show does. It celebrates performing and the imagination, and how far a small gesture can go."