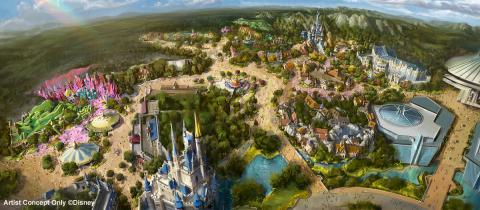 On the heels of the hugely successful expansions of Cars Land at Disneyland Resort and New Fantasyland at Walt Disney World Resort, Oriental Land Company today announced exciting things to come as part of their long-term, 500 billion yen investment in Tokyo Disney Resort.
Starting in March 2015, the resort will undergo a 10-year expansion of both Tokyo Disneyland and Tokyo Disney Sea that will continue its growth as a world-class destination. The largest expansion in the history of the resort will increase capacity at both parks and will include exciting attractions, new entertainment and innovative dining experiences.
At Tokyo Disneyland, plans include a new and expanded Fantasyland, which will significantly increase the size of the most popular land at one of the world's most popular parks. At Tokyo DisneySea, a new themed port will be developed for the area south of Lost River Delta. As part of the overall investment, development will include special viewing areas for parades and shows, and enhanced restaurants and shops. Efforts will also go to supporting infrastructure to ensure sustainable, long-term growth of the parks.
As with all our Disney parks and resorts around the world, Tokyo Disney Resort is an ever-changing destination committed to keeping experiences exciting and new, and helping families make memories that last a lifetime.