Since the days of Steamboat Willie and, later, the multiplane camera, filmmakers at Disney have started with pencil and paper, added the latest technology and created on-screen movie magic that has captivated audiences for generations. The stunning visuals of Disney's The Nutcracker and the Four Realms, opening in U.S. theaters on Friday, November 2, continue that legacy as they immerse moviegoers into fantastical worlds rich with detail and dimension that exceed any adaptation of E.T.A. Hoffmann's story that has come before.
Academy Award®-nominated and BAFTA-winning production designer Guy Hendrix Dyas (Inception) began his filmmaking career at Industrial Light & Magic, where he worked in visual effects. Though well-versed in the most current digital tools of the trade, the artist "thinks with a pencil"—a 6B soft pencil, to be exact. In designing the look for The Nutcracker the Four Realms, Dyas filled several notebooks with sketches he made as he studied Ashleigh Powell's screenplay for the film, embarking upon his creative process with nearly 200 pencil drawings that would form the basis for the film's exquisitely detailed sets and amazing visual effects.
"There was absolute freedom just to dream," Dyas says of his creative partnership with Disney, which began before the film was even given an official greenlight. Working with director Lasse Hallström and a team of illustrators, Dyas guided his hand-drawn images from sketch to concept art to set pieces that include a 30-foot marionette housing Mother Ginger (played by Helen Mirren) and worlds rich with forests, waterfalls, ice and even candy. "I've been able to hold on to that image from the pencil drawing, which was my gut reaction to reading that written word, right through to what you see on screen," he says.
The sets Dyas conceived were designed using 3-D imaging that is not only a more efficient process than traditional drafting but also becomes the basis for the work of the visual effects team. And, of course, on a film of this scale—and with a fantastical story that includes a Nutcracker soldier and a land that is essentially an enormous melting glacier—there were simply some things that could only be created digitally, such as a menacing Mouse King comprised of 60,000 mice. The completely CG character emerged from Dyas' sketchbook, inspired by his memories of reading Bram Stoker's Dracula as a young boy in England.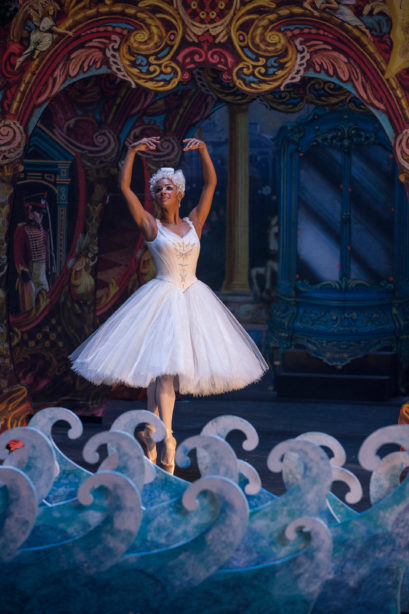 But where they could, Dyas and his team built practical sets that the actors could inhabit and lands they could be immersed in along with moviegoers, who will see Mackenzie Foy, as Clara, run through a forest of trees that stood tall on the soundstage, and who will marvel alongside the Stahlbaum family when the enigmatic Drosselmeyer throws open the doors to his spectacular Christmas celebration. "We had the advantage of being in the U.K., where there are a lot of great craftsmen who still exist from the golden age of cinema," Dyas says, sharing that the film's extended ballet sequence starring Misty Copeland features flowers that actually open like origami, trees that grow before our eyes and an artisan-made curiosity box from which the prima ballerina emerges, among other visual delights. "All of that happened because we came at this project from a very old-fashioned standpoint," Dyas explains, noting that he looked to Disney classics such as Mary Poppins and Bedknobs and Broomsticks for creative inspiration.
Dyas pointed to Disney's 2016 photorealistic reimagining of The Jungle Book and the upcoming 2019 release The Lion King as brilliant examples of how traditional artistry and cutting-edge technology will continue to be inextricably connected. "I think the days where the art department and visual effect were separate entities—that gap has closed," he says.
And while Dyas will continue to use all of the digital tools that he has at his disposal, he has no plans to abandon his notebooks or pencils. "I get paid to sketch things and watch them come to life," he says. "It's the best job in the world."