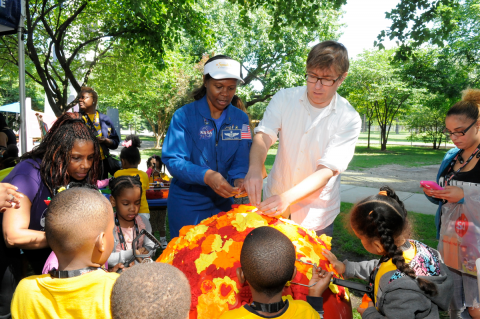 Since its debut in February, Disney Junior's Miles from Tomorrowland has carved out a special place in children's entertainment, featuring storytelling that engages young minds in the wonders of space, science and technology. In just a few short months, the show has become the No. 1 series across preschool networks in Total Viewers.
To help build upon that foundation and further encourage children's curiosity in science, technology, engineering, arts and math (STEAM), Disney Junior has partnered with XPRIZE to launch "Miles from Tomorrowland: Space Missions." The program, which is part of Disney|ABC Television Group's "Summer of Creativity" and kicked off with a special event at the New York Hall of Science on July 16, encourages children ages 2–8 to engage in STEAM learning activities by inspiring them to make their own "out-of-this-world" creations for the chance to win prizes, including a trip to Kennedy Space Center.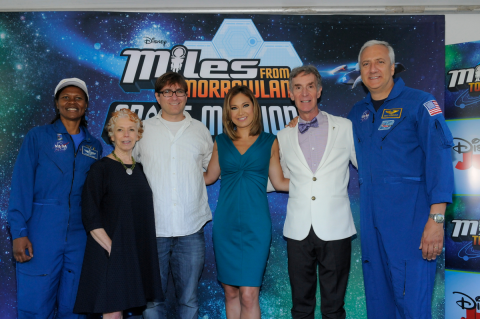 ,"We're excited to be partnering with XPRIZE as we look to enthuse young children about their role in building our future," said Nancy Kanter, executive vice president and general manager, Disney Junior Worldwide. "Since launching Miles from Tomorrowland we've heard from parents that their children are asking questions and wanting to know more about space, science and technology. We hope this initiative will build on that interest and inspire this generation to become leaders in the STEAM fields."
Participants in "Miles from Tomorrowland: Space Missions" are invited to submit creations in three themed categories—technology, vehicles and planets. The grand-prize-winning family, to be announced in September, will receive an exclusive trip to Cape Canaveral, Fla. where they will visit the Kennedy Space Center Visitor Complex, take a tour of Moon Express and have the chance to watch the launch of a SpaceX rocket. Four first runner-up winners will receive a 3D printer from 3D Systems and 100 second runner-ups will win Google Cardboard Viewers. Official rules and details are available at DisneyJunior.com/SpaceMissions.
The kickoff event featured activities that included designing, building and launching a rocket, and also gave children the opportunity to meet an astronaut and experience New York Hall of Science's "Search for Life Beyond Earth" Mars Rover exhibit. They even got the chance to play on a planetary-themed mini golf course designed to teach the laws of motion and gravity.
Spearheaded by New York Hall of Science, Saint Louis Science Center and COSI in Columbus, Ohio, science centers nationwide will have onsite activations ranging from an immersive Miles from Tomorrowland virtual reality experience to building rockets and creating the surface of a planet.
Coinciding with the program announcement, Miles from Tomorrowland guest star and renowned scientist, author, entertainer and CEO of The Planetary Society Bill Nye spoke about the importance of encouraging kids' interest in space, science and technology at a young age.
"Science and technology are the key to our future, so it is imperative that we get young people engaged in these fields as early as possible," he said. "Miles from Tomorrowland is already part of that, and I think this challenge that Disney and XPRIZE are presenting will inspire kids with the message that they can do anything—create machines, spaceships, vessels to travel anywhere they want to explore."