ESPN's college basketball coverage – an important part of the network's programming – ramps up on ESPNU and ESPN3 on October 12. That's when, for the seventh year, more than fours hours of Midnight Madness coverage will be presented.
Midnight Madness generally heralds the first official basketball practices for men's and women's NCAA Division I teams throughout the nation. Presenting the color and excitement of this ritual is an anticipated part of ESPN's commitment to extensive college basketball coverage.
ESPN will air more than 1,600 men's and women's games representing each of the 31 conferences, plus a heavy schedule of studio programming in 2012-2013. Fans can also watch this content on the popular WatchESPN App.
ESPN senior coordinating producer Shawn Murphy shares, "If they are playing, we want to be there. College basketball may tip-off in November, but fan excitement, team preparation and our analysts first moments on the hardwood begin with Midnight Madness on ESPNU and ESPN3 October 12."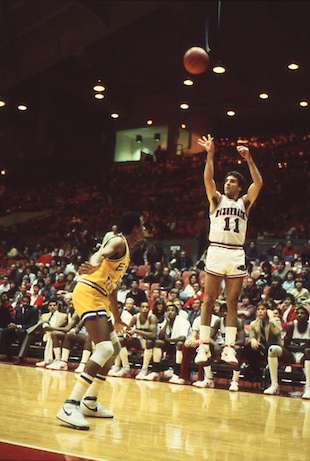 Check out Front Row – ESPN's official corporate blog – to read more about what Midnight Maddness means from the perspective of longtime college basketball analyst Jimmy Dykes who just signed a contract extension with ESPN.